For whatever reason, I rarely think of hotel restaurants when contemplating a meal out—even when I'm traveling. It's a blind spot that likely has cost me a fine dining experience or two. So when I heard the Canterbury Hotel was revamping its in-house eatery, I jumped at the chance to broaden my horizons.

Named for hotel owner and local businessman Turner Woodard, Turner's Restaurant (123 S. Illinois St., 634-3000) maintains a cozy feel despite the decidedly upscale environment.

Don't let the doorman and white tablecloths dissuade you—the lunch menu is very accessible, with standards like a bacon cheeseburger ($11) and chicken quesadillas ($12) in addition to more high-end choices like leek-wrapped scallops ($18) and a double-cut pork chop ($16).

We opted for the Panko Crabcake Sandwich ($14) and the Tuna Nicoise Salad ($14)—and shared the absolutely delightful Fruit Ravioli ($8). But first things first.

Woodard's wife, Diann, was greeting guests when we arrived during a bustling lunch hour and gave us one of the last empty tables. The owner himself showed up after a while, tying on a feed bag of his own. Our server was friendly, giving me a heads-up that the pork chop would take a while to prepare.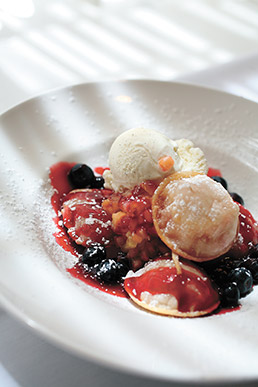 We're not sure what was in the fruit ravioli, but it was so good that didn't matter. (IBJ Photo/ Perry Reichanadter)
The salad was my second choice, mostly because I wasn't comfortable trying to pronounce nicoise (nee-SWAZ, according to IBJ's resident French expert). It turned out to be a solid selection, with thick slices of seared sushi-grade tuna served atop a mix of fancy lettuce and other raw veggies—capped off with a singular piece of oil-cured olive bruschetta.

The dressing had the distinctive tang of ginger, which I doubt was authentic, but I didn't know any better. And it was tasty. My only real gripe was the lack of seasoning on the tuna, which was coated in sesame seeds and nothing else. If not for the dressing, the salad would have been bland indeed.
My friend's crabcake sandwich also seemed to be under-spiced, but it was helped along by an abundance of crab meat and a flavorful garlic aioli sauce. Still, the star of that dish clearly was the unbilled side of French fries—generously sized potato strips, fried perfectly to achieve just the right mix of crunchiness outside and creamy goodness inside.

Our dessert was similarly inspiring, even if we had no idea what kind of diced fruit filled the fried ravioli and covered the plate. Melons, mangoes, pineapple—we made our guesses even as we inhaled the main attraction and the scoop of vanilla ice cream served on top. Maybe next time we'll pay a little more attention.•

—Andrea Muirragui Davis

__________

Second in a month-long series of reviews of possessive restaurants.