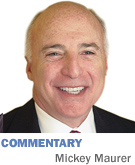 Like most veterans of the entrepreneurial wars, I have made mistakes. That propensity
is magnified by the higher-risk profile I have chosen—startups and turnarounds, both treacherous undertakings.
To create a disciplined investment strategy, I evolved "The Ten Essential Principles of Entrepreneurship You Didn't
Learn in School." At least I didn't learn them in school. Over the course of 10 columns, I will feature each of
these essential principles. This is the third installment.
Mentorship
(Don't be too proud to ask for help.)
In business school, students are supposed to acquire the tools necessary for success in the real world. We probably all learned
to prepare, analyze and evaluate financial statements, projections and business plans, but never in a single class did I learn
that an important factor in business success is securing a mentor.
My mentor was Gene B. Glick, a man with whom I had the privilege to work in the late '60s and early '70s, a time
when my business philosophies were developing. My administrative system is modeled on Glick's office. Later, I learned
from Glick how to intelligently share my wealth with the community.
The ability to remain calm while reacting to the many calamities and adversities of a typical business life is one of the
attributes of the Glick style that I admire most. He was absolutely placid in the face of setbacks or business insults that
would adversely affect the demeanor of most businessmen. I have endeavored to emulate that characteristic.
In 1991, local businesswoman Jean Wojtowicz formed a Minority Enterprise Small Business Investment Corporation called Lynx
Capital Corp. A MESBIC is a government-chartered venture firm that can invest only in companies that are at least 51-percent
owned by members of a minority group or people recognized by the rules that govern MESBICs to be "economically disadvantaged."
IBJ was one of the first investors in Lynx, and I served as the first chairman of its loan committee. We made a number
of loans, and in each of these instances, we agreed to assign someone from the committee to act as a mentor.
I undertook the first assignment, a courier service. Before our meeting, the owner had been furnished a sophisticated business
plan prepared by a couple of Harvard MBAs under the employment of Eli Lilly and Co. They provided computer models and other
business aids and theories to help this individual. Their intentions were well-meaning but practically useless.
The owner and I discussed his "on-the-street" challenges, including how to negotiate bulk gas purchases and how
to motivate drivers as independent contractors rather than as hourly employees. The owner was naïve as to business customs,
but he was an excellent salesman and a quick study. I hope he would agree that the mentor relationship was good for his business.
Sadly, not all the mentors we assigned took their job seriously. Perhaps that is a reason for some of the resulting business
failures. I should have supervised that aspect of the Lynx program more vigorously.
A mentor does not have to be a multimillionaire or even an ultra-successful person. A mentor needs to be able to impart practical
information and advice gleaned from experience of successes and failures and to be committed to the relationship with the
time to impart hands-on guidance.
We all need help, particularly those of us who are beginning businesses. Mentors are for everyone. Smart corporate CEOs source
mentors to assist them in decision-making, often at a cost. They hire expensive management consultants and pay fees to lawyers,
accountants and full- or part-time employees with various specialty strengths to help them in their quest to be successful.
Often, members of their boards have special areas of expertise.
Find a mentor—did you learn that in school?•
__________
Maurer is a shareholder in IBJ Corp., which owns Indianapolis Business Journal. His column appears every other week.
To comment on this column, send e-mail to mmaurer@ibj.com.


Please enable JavaScript to view this content.