The Eiteljorg Museum of American Indians and Western Art is trying to raise $4.5 million to fund a new strategy aimed at boosting attendance.
The museum already has secured $2.6 million of that total and made several changes that could draw thousands more visitors this year.
"This is about the Eiteljorg becoming a more active, engaging, sensory experience," President and CEO John Vanausdall said of the plan, which is dubbed "Project New Moon."
Vanausdall thinks the crowd pleaser will be a model railway created by Kentucky craftsman Paul Busse that's set to be unveiled in November. In June, the Eiteljorg installed four new hands-on activities for kids alongside its reproduction stagecoach. The plan also calls for adding interactive features to the fine art galleries and pumping up special exhibits with live entertainment.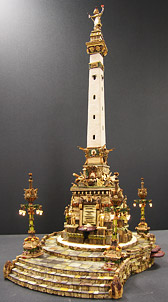 Kentucky craftsman Paul Busse uses materials gathered from nature to make replicas of landmarks, including Indianapolis' Soldiers and Sailors Monument. His work will be on display at the Eiteljorg this winter. (Photo courtesy Eiteljorg Museum)
Paid attendance is especially important for the Eiteljorg because it doesn't have a large endowment. Although a fundraising campaign that concluded in 2005 raised endowment funds to $22 million, that provides less than 17 percent of the museum's annual operating revenue.
After the market collapse of 2008, the museum cut six of its 60 staff positions and pared the 2009 budget by 9 percent to $6.1 million.
Total attendance last year fell 11 percent to 99,127. (The museum does not disclose ticketed attendance figures. Instead, it counts all visitors, including those attending private events.) Admission income fell 28.6 percent to $162,465 last year.
All of the Eiteljorg's new attractions will be included with the price of admission: $8 for adults and $5 for children. "What we're counting on is lots more admission sales," Vanausdall said.
Meanwhile, the museum is cancelling its western-themed festival, WestFest, which was scheduled for Sept. 25. The plan is to "re-imagine" the family-friendly event and bring it back in 2011, spokesman Anthony Scott said.
Some visitors already have seen the Eiteljorg's new interactive philosophy at work. This spring, the museum brought in an exhibit of ornately engraved handguns, "Pistols: Dazzling Firearms," and supplemented it with an Annie Oakley interpreter and demonstrations by master engravers. "Arte en la Charreria," which is focused on Mexican horse culture, will follow a similar strategy when it opens in November.
The effort appears to be helping the numbers. Attendance through June was 58,139—on track to outpace last year.
Admission income for the six-month period was $125,966, or 78 percent of last year's total.
Many Indianapolis residents recognize the Eiteljorg by name. Far fewer know what's going on inside.
In a market-research survey commissioned by the museum, more than 85 percent of adults knew the name, but only about 40 percent had ever visited it.
"It suggests there's a tremendous opportunity to penetrate this market," Vanausdall said.
Vanausdall hopes to make a big impression this winter—and in future holiday seasons—with Busse's railway creation. Busse and his team at the Applied Imagination studio use materials gathered from the forests of Kentucky to create replicas of famous landmarks.The model will follow an American road-trip theme, starting in Indianapolis with replicas of the Soldiers and Sailors Monument and Union Station and moving west.
"Jingle Rails: The Great Western Adventure," which will run into January, has a three-year budget of $700,000, including the acquisition cost and marketing.
In creating the new strategy, museum leaders decided they were lacking a "must-see" holiday tradition, akin to the Indianapolis Symphony Orchestra's "Yuletide" show, or the Indianapolis Zoo's light display.
The Eiteljorg turned to Busse, whose large-scale models at the New York Botanical Garden and Chicago Botanic Garden draw large crowds every winter. Vanausdall noted that Chicago's garden is actually located in the far suburb of Glencoe, but with the Busse display, winter attendance went from nearly zero to 70,000. He has a more modest 50,000-visitor target for the Eiteljorg.
That would top one of the museum's best-attended exhibits, an eight-week Ansel Adams show in 2001 that drew about 40,000 people.
The new attractions and promotions will add some operational costs, Vanausdall said. The next phase of "Project New Moon" will be an endowment-building campaign.