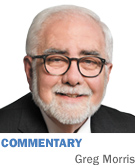 Many people in our community, state, country and around the globe need our help. The numbers are staggering. I'm proud to live in an area where people who can help usually do. They are generous with their time and money. Giving and volunteerism are alive and well here in central Indiana despite tough economic times.

We're a generous community, but to be honest we've been relying on a crutch that makes our generosity look even better than it is. That crutch is Eli Lilly and Co., which last year accounted for 25 percent of total giving to United Way of Central Indiana. Lilly stands far above the crowd when it comes to United Way giving.

Last November, Lilly President and CEO John Lechleiter presented a $12 million check to United Way that represented the contributions of Lilly's U.S. employees and retirees and included a matching amount from the Lilly Foundation. Of the $12 million, approximately $9.7 million went to our local United Way. I know Lilly's goal this year is to duplicate that level of giving, which will be a tall order considering a reduced work force.

While Lilly tries to match or pass last year, the rest of us can bring down Lilly's percentage of the total by raising the bar.

Last year, in tough economic times, United Way's contributions totaled more than $38.8 million—$50,000 more than in 2008. This amazing effort was led by campaign chairman Gino Santini, Lilly's senior vice president of corporate strategy and business development. Outstanding board chairman leadership was provided by Vince Caponi, CEO of St. Vincent Health.

The kickoff for United Way's 2010 annual campaign is just around the corner. In fact, pacesetter companies, those companies getting an early start and setting the pace for the general campaign, are already in gear.

Don Knebel, a partner at Barnes & Thornburg law firm, is this year's United Way campaign chairman. Don has been with the firm since 1974 and has been an active community leader and volunteer. It is appropriate that Don lead this year's effort because Barnes & Thornburg has conducted what United Way calls a breakthrough campaign the last five years. A breakthrough campaign is one in which contributions increase 30 percent or exceed the previous year by at least $30,000.

I know Don has an aggressive campaign goal to announce at the Colts Go Blue for United Way Day, 11 a.m. to 1 p.m. Sept. 10 on Monument Circle. The Colts will have some exciting things to offer. For example, if you text a donation of at least $10, you'll be entered in a drawing for Colts tickets or memorabilia. Colts cheerleaders will be there. It sounds like the place to be.

A great way to get involved and volunteer locally is United Way's Day of Caring. This annual event takes place in a few weeks, Aug. 27-28. It's not too late to sign up. The Day of Caring program is an easy and fun way to participate with family, friends or co-workers in hands-on volunteering projects throughout central Indiana. You can get more information and register for a volunteer opportunity at UWCI.org.

As a board member, I can attest to the fact that United Way makes a difference in people's lives every day. I can also tell you with certainty that we are fortunate to have such a strong local chapter under the skillful leadership of President and CEO Ellen Annala. She has been at the helm since 1998. During her tenure, much has been accomplished with the help of a dedicated staff, volunteers and community leaders, yet there always seems to be a pipeline of projects and needs to be met. And that takes money.

Good luck to Don Knebel and new board Chairman David Resnick, managing partner of Katz Sapper & Miller, with achieving this year's campaign goal. They can do that only with your help.

When you Live United, you give hope to individuals and families in need throughout our region. And you make it possible for United Way to address today's needs and reduce tomorrow's, creating a better future for our entire community.

Please give generously of your time and money. Please give to the United Way.•

__________

Morris is publisher of IBJ. His column appears every other week. To comment on this column, send e-mail to gmorris@ibj.com.