Locally based EnerDel Inc. has been riding high on prospects its lithium-ion batteries will be in hot demand to power plug-in electric vehicles, but another market might be larger.

A Piper Jaffray report estimates the global market for batteries used to store electricity on utility power grids could be $600 billion over 10 years. EnerDel's parent firm, New York City-based Ener1, citing estimates from Deutsche Bank, said the market for lithium-ion batteries for vehicles could reach $66 billion by 2020.

Grid-storage batteries have uses ranging from stabilizing the power grid to filling in the gaps when wind and solar energy output fluctuates.

"It presents a tremendous opportunity for storage, particularly with renewables," said Bruce Curtis, whom Ener1 last month named president of its grid storage business.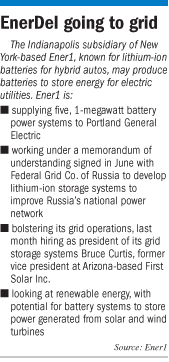 Curtis, who previously was an executive at Tempe, Ariz.-based First Solar Inc., last month called grid energy storage "simply the largest business opportunity I have yet encountered in my career."

To what extent EnerDel's facilities in Indianapolis, Noblesville and Mount Comfort could benefit from the grid storage market, Curtis won't hazard a guess, however.

He said the metro area, which he visits as part of his new job, could at least benefit from product development of grid systems. Ener1 currently has about 500 employees, about 300 of which are based in Indiana. Its local employee count includes a plethora of engineers.

The company's biggest customer to date is an obscure Norwegian automaker known as Think that markets a diminutive electric car.

In spite of its less-than-impressive client list, EnerDel, the former battery unit of Delphi Corp., has wrangled more than $100 million in federal grants and nearly $70 million in incentives from the state and Hancock County toward a third area plant, in Mount Comfort.

It's possible the fuss about EnerDel is partly driven by the prospect of Ener1's becoming a big player in the power grid.

In June, Ener1 announced a tentative agreement to work with Russia's national electric system as part a $15 billion program to modernize its transmission infrastructure. It doesn't hurt, perhaps, that one of Ener1's biggest shareholders is Russian industrialist Boris Zingarevich.

Ener1 is also working with Japanese manufacturer Itochu to develop an energy storage system for a large apartment complex in Tokyo.

Closer to home, Ener1 will provide batteries for a 5-megawatt peak load management project under way by Portland General Electric in Oregon. The project, funded by a $178 million federal stimulus grant, should start earning Ener1 money next year.

"Ener1 expects the smart grid segment to be a significant revenue driver going forward. [It] is pursuing wind storage, frequency regulation and distributed power as areas of interest for grid storage applications," said Barclays Capital analyst Vishal Shah, in a report to clients last month.

He said Ener1 expects that, by 2016, demand for battery packs for grid applications could hit 200,000 packs per year. By contrast, EnerDel's current capacity at its existing plant in Indiana, which is geared to produce batteries for electric vehicles, is 11,000 packs, according to Barclays.

Renewable power driving growth

The use of lithium-ion batteries to smooth demand during peak loads has been looked at for years but not widely implemented, principally because of cost.

Yet the need for energy storage in the utility realm has grown, particularly with the sprouting of wind turbines in the Midwest and solar power on the West Coast. Many states have mandated that utilities provide a rising percentage of power from such renewable sources.

But those forms of generation have brought challenges, including regulating load given the intermittent nature of wind.

"It's putting stress on the grid," said Curtis, who added that conventional stand-by generation to fill the gaps can be costly for ratepayers.

Building large banks of batteries to store large amounts of renewable power might be cost-prohibitive at this stage, given current technology and battery costs. But it may well be practical today to install batteries on a smaller scale to smooth the variable power swings from wind turbines and other renewable sources, said Paul Mitchell, president of the Indiana Energy Systems Network.

Mitchell's group, under the Central Indiana Corporate Partnership, is working to hasten the rollout of battery storage systems, particularly for charging electric cars. For example, electricity from the grid could charge batteries at a home or community electric vehicle charging station when rates are cheaper, during off-peak hours. A motorist could plug into the charging station most any time.

Getting electric utilities to start snapping up batteries will take time, however, said Curtis, noting that "utilities are a conservative bunch" typically.

Stabilization projects

The potential of batteries has been explored by utilities in the region, including Indianapolis Power & Light's "proof of concept" of a 2-megawatt battery system in 2008.

Two tractor trailers were each crammed with lithium titanate batteries made in Anderson by Reno, Nev.-based Altairnano. The trailers were wired to IPL's Glenns Valley substation.

One of the tests involved repeatedly charging and discharging one megawatt for 15 minutes. The units were useful in so-called grid-load leveling, and showed potential for use in renewable power applications, said IPL. But after the test, the units were hauled to an East Coast facility used by IPL parent AES.

"At this time, IPL is not looking at batteries for energy storage anytime soon," said IPL spokesman Matthew McCardle.

Curiously, however, IPL used banks of batteries on its grid around 1920, when the local grid, like many in the country back then, operated on direct—rather than alternating—current.

Curtis sees the battery market growing as more renewable generation comes online. For now, he's trying to grow Ener1's experience in the grid segment and is exploring the potential of a standardized line of products and services aimed at the retail and wholesale segments of the electric utility industry.

One technical challenge of batteries for the grid is that designs must have a longer life. Aspects such as packaging them to withstand crash impacts aren't as critical as in the hybrid auto market.

As for market potential, "I'd say it's too early to tell. We've got a good core technology."

Revenue potential hazy

A Deutsche Bank report on Ener1 earlier this month predicted that the company's work with the Russia Federal Grid Co. "may be the first to generate significant revenue, but the magnitude and trajectory is unclear."

Executives are confident the grid will become a significant revenue opportunity as soon as 2011, said Barclays analyst Shah.

Though distinct from the hybrid car market, ramping up battery production for the grid could ultimately help bring down the cost of batteries for the electric car market, Mitchell said.

"The economies of scale are almost boundless if you start bringing in stationary energy storage as a major market."

Not everyone is so bullish on grid-related battery prospects.

Wunderlich Securities analyst Theodore O'Neil, in a report issued last month, wrote that it seemed unlikely batteries can withstand the thousands of charge/discharge cycles required each year in grid applications.

Ener1 "believes that stationary power represents a developing market opportunity for EnerDel, although we respectfully disagree," he opined.

For now, EnerDel's local operations are focused on Think, for which it has been producing about 100 battery packs a month, with plans to expand to 900 packs in the first quarter of next year, according to Barclays.

Think, which Ford Motor Co. once held a stake in, has been selling the three-door subcompact in Europe. It announced it will begin producing the vehicles in Elkhart, and some analysts say it could sell 2,500 of the cars in the United States next year.

In the meantime, EnerDel is also the exclusive supplier for a plug-in car being developed by Volvo, known as the C30. Ford recently sold Volvo to Chinese automaker Geely, although Ener1 has told analysts it doesn't think that will crash its C30 supply plans.

Ener1 is working on products for 20 different vehicles, wrote Barclay's Shah, though it hasn't announced them.

Presently, most of Ener1's sales are coming not from EnerDel but from EnerTech, a Korean company Ener1 bought in 2008 that makes batteries for uses such as security systems and radios.

The grid storage system business will take time to develop, Mark Wienkes, a Goldman Sachs analyst, said last month. He also noted that Ener1 faces challenges from competitors such as Watertown, Mass.-based A123 Systems, which has a 32-megawatt grid stabilization project under way with AES.

But "we view Ener1's decision to separate grid storage from the automotive business, and to hire an experienced industry veteran to run the business, as having positive long-term implications."•