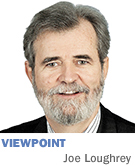 After World War II, President Harry Truman's Marshall Plan paved
the way to rebuild Europe. Today, the world struggles with another financial crisis, one the World Bank says will push another
53 million people into extreme poverty by 2015 than otherwise would have. Our world is quite different from the one Truman
and George Marshall faced in 1947. But the strategy for recovery and broad-based development should be built on a similar
foundation of public- and private-sector collaboration.
The Indiana business community played a critical role in making U.S. foreign assistance more effective under the Marshall
Plan. Native Midwesterner Paul G. Hoffman, CEO of South Bend's Studebaker Corp., became the first head of the government
agency that implemented the Marshall Plan. He, along with CEOs from other leading U.S. companies, recognized that rebuilding
the economies of our trading partners in Europe served the U.S. economy's long-term bottom line as well as the common
good.
These business leaders helped engineer a major public-awareness campaign around this assistance effort in one of the first
public-private global development partnerships. Today, the Indiana business community can again tap into its Hoosier sensibility
and support a new vision of U.S involvement in the fight against poverty.
U.S. foreign assistance has saved millions of lives and helped millions more overcome poverty. Yet, our programs often still
fail to reach the people who most need help. Lacking a vision, our country's approach to global development is complex
and inefficient with too little clear accountability. Reform is needed—reform of strategy, law, structure and resources—for
U.S. development policy and programs.
A smart global development strategy is important to Indiana because Indiana's economic health is tied to the prosperity
of the rest of the world. Global economic growth is in Indiana's interest, especially in developing countries where
an expanding global middle class could create large markets for Indiana exports. A smart strategy that combines aid, trade
and private-sector partnerships could not only fight poverty, but also provide great benefits to Indiana in supporting strong
and stable trade partners.
Two weeks ago, more than 200 prominent individuals and organizations wrote the White House calling for such a strategy. The
group included Indiana organizations such as Cummins Inc., Building Tomorrow and The Timmy Foundation, and Hoosiers such as
former U.S. Rep. Lee Hamilton.
We in the private sector must help in this effort. Through our purchasing, investing, producing and selling activities overseas,
we possess powerful development know-how.
The private sector can help advise the U.S. government on what a 21st century anti-poverty strategy might look like. When
managing a multinational operation, the challenges in any local context are too difficult to understand at the headquarters
level. Sitting in Indiana, I don't know the best way to operate in Brazil or Nigeria, so I trust local advice and local
leadership to develop the strategies. So, too, should U.S. anti-poverty programs allow for strategies and priorities to be
designed locally.
America does not have all the answers. But we can and should provide support where support is needed. And we should understand
that, just as in the business world, the answers in the fight against global poverty lie in local ingenuity and talent.
The opportunity for Hoosier business statesmanship in promoting key reforms is as clear as it was during the Marshall Plan's
early days.•
__________
Loughrey is the retired president of Cummins Inc. and currently serves on the board of Oxfam America, an international
relief and development organization.

Please enable JavaScript to view this content.