Before the first volunteer takes a needle in the arm to test an experimental drug, the proposed clinical trial must first be vetted by a panel of experts, known as an institutional review board, or IRB.

In Indiana, the IRB typically is the province of medical experts at a hospital or university. But recently, two former Eli Lilly and Co. employees launched the state's first commercial IRB, saying Pearl IRB could help attract and support more clinical trials here.

That's been a goal of industry groups such as the Indiana Health Industry Forum's clinical trial task force, which is trying to stoke clinical trial activity and capabilities to support and grow the life sciences and medical device industry.

Indiana lags some neighboring states in clinical trials, with 4,556 in process or completed over the last several years, compared with 7,737 in Illinois and 8,206 in Ohio, according to the National Institutes of Health.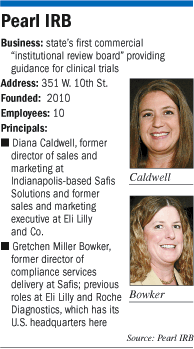 "We are under-indexed in terms of getting clinical trials," said Diana Caldwell, president and co-founder of Pearl.

Robust clinical trial activity can bring economic benefits, such as more business for laboratories and imaging providers, Caldwell noted.

The former veteran of finance and marketing at Lilly teamed with Lilly alumnus Gretchen Bowker to form Pearl. In recent years, the two worked at Indianapolis-based regulatory compliance firm Safis Solutions. Bowker was also serving on IHIF's clinical trial task force. A light bulb went off about the potential for a commercial IRB.

"It's a fabulous thing as far as I'm concerned," said Kristen Jones, president and CEO of the IHIF.

She noted that many of the IRBs in Indiana are made up of personnel from a hospital, who may meet every couple or three months. That can delay the launch of a trial and ultimately cost money for firms trying to get a drug or device to market.

So far, Pearl has put together a core board of seven reviewers from various medical backgrounds, covering the spectrum from drugs to medical devices and diagnostics. The board meets on Thursdays and usually completes its initial review in about a week.

An IRB will pore over the proposed protocol of a trial and qualifications of its investigators. It will look at how the sponsor of the trial plans to recruit trial subjects and whether consent documents are written in such a way that participants can understand them.

A more fundamental question is whether the proposed trial will be safe for patients.

The initial review can cost upwards of $8,000. There's also ongoing study review, which can cost $1,000 or more.

Pearl is targeting hospitals among its potential clients. It would essentially run the IRB for hospitals, likely producing a quicker result. Even if it cannot provide the actual IRB review for hospitals, it hopes to at least provide training to investigators and administrative services tailored to the excruciating regulatory requirements.

A clinical trial can be easily invalidated, at great cost, if investigators fail to follow procedures such as adequately documenting results.

For many, the IRB process is thought of as a "difficult, mysterious and often very frustrating process," Caldwell said.

Yet at the same time, many sponsors of trials, including drug companies, are demanding faster results and increasingly are turning to commercial IRBs to help. Even a small biopharma firm may be under pressure to achieve goals to receive milestone payments from venture capital firms, or from a large drug company with which it is collaborating.

"The sponsors really pushed this [commercial IRB] trend. They want more efficiency and transparency," Caldwell said.

Many of the state's biggest life sciences companies already use commercial IRBs out of state. The closest such IRB is in Cincinnati, Bowker said.

Many of the large clinical trials are conducted in multiple locations, with each site focused mostly on only its role in the trial.

"Somebody has to be looking at that big picture," Bowker said, noting the potential of a central IRB oversight.

So far, Pearl IRB has just a handful of clients. But the women-owned business is looking at markets such as Canada.

The IHIF sees significant potential for more clinical trials in Indiana. Among the group's ideas is to form the Indiana Clinical Trial Alliance.

A clinical research assistance program under the alliance could serve as a "virtual incubator and accelerator" for clinical trial sites.•