There are no Amish, let alone a barn-raising, in Thornton Wilder's classic play "Our Town." Nor does a
blond actress with a malfunctioning skirt make an appearance in Nathaniel Hawthorne's "The Scarlet Letter."
But nobody said that artists, once inspired, can't travel anyplace they desire. Such is the case with Gregory Hancock
Dance Theatre, which offered an "American Classics" program Aug. 13-14 based on those works. (A third announced
piece, "The Crucible," was dropped in favor of a promising excerpt from Hancock's in-the-works full-length
piece, "Lilith.")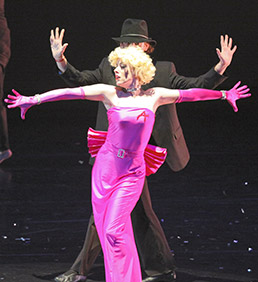 Hancock's "Letter": More Monroe than Hawthorne. (Photo Courtesy Pam Childs Ringo)
In transplanting Wilder's themes to Amish country—and setting them to rousing Aaron Copland music—Hancock
gains in theatricality and scope but loses a bit in narrative and metaphorical coherence. He, his designers and his dancers
do a beautiful job of filling the stage with arresting images. And local-dancer-made-good Christopher Lingner (late of the
"Movin' Out" touring company) and Melanie Heazeltine prove a strong central couple.
While the result was often beautiful, I didn't get a sense, in the end, of Wilder's primary theme, which is the
unappreciated magic of life. Hancock's folks, in their spiritual and physical grace, seem to be appreciating life to
its fullest already.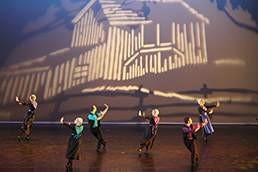 The simple joys of "Our Town" are transposed to Amish County. (Photo Courtesy Pam Childs Ringo)
The connection to the source material was even more tenuous in "The Scarlet Letter," Hancock's choreographed
musings on the passions of—and for—celebrities, specifically Marilyn Monroe. Here, some of the blond-wigged dancers
evoked "The Mary Tyler Moore Show" ditz Georgia Engel more than Marilyn, there was sometimes a distinct People's
Choice Awards background dancers vibe in the air, and the red letter on the lead's dress stood not for "adulterer"
but for "allegory," according to the condescending introductory voiceover ("Labeling is cruel and unjust.").
Even when I don't think one of his pieces succeeds, though, I admire Hancock's theatricality and his seemingly
constant desire to wow. His dancers seemed even sharper here than I've seen in the past, with plenty of space to show
what they can do. Guided by Hancock, they found a comfort zone where the motions and the emotions both seemed inevitable and
surprising.
Next up for GHDT: "Once Upon a Time in Indiana," Oct. 29-30.
________
While we're on the subject of the printed word, I've been focusing much of my reading time lately on books by
locals, including: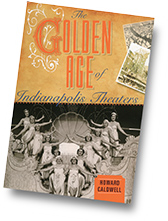 Howard Caldwell's packed-with-photos "The Golden Age of
Indianapolis Theaters" (Quarry Books). Caldwell's book does a fine job of staying on the fine line between reference
book and popular history. I could have used more detailed geography—I spent far too much time trying to figure out where
some of the long-gone theaters were—but I thoroughly enjoyed being introduced to a period I knew little about. And guest
appearances by the likes of Dick Powell add to its pleasures. Side note: Caldwell tells of how Eugene O'Neill's
nine-act "Strange Interlude" sold out the balcony and gallery of the English Theater back in the 1920s. Where
are those risk-taking audiences today?
I've collaborated with former Indianapolis Monthly editor Sam Stall on a number of book projects, so I'll
forgive you for doubting my sincerity when I say his contribution to the zombie novel trend, "Night of the Living Trekkies"
(co-written with Kevin Anderson for Quirk Books) is a fun, blood-spattered adventure, particularly if you've ever attended
a science fiction convention. Here, the undead take over a Texas hotel that has already been taken over by Vulcans and Romulans.
I'm not sure if awkward titles or wacky photos are the way to shake the world into believing in total climate chaos,
but Nuvo's Jim Poyser and his co-writer, identified only as Michael, seem to be having a good time trying in
"Humoring the Horror of the Converging Emergencies." It's an extension of their www.apocadocs.com site.
Bloomington-based Douglas A. Wissing penned the handsomely designed "Indiana: One Pint at a Time" (Indiana Historical
Society Press), which goes beyond mere guidebook to take readers back through history to give the current craze some context.
It also includes beer-infused recipes and up-close-and-personals on area brewers. My only concern is that, with beer business
still booming, a new edition may need to be in the works too soon.
And, finally, I'm kind of ashamed of how many of the answers I knew in Andrew E. Stoner's "Those '70s
Shows: TV Trivia and Puzzles." The oversized paperback is available from Blue River Press.•
__________
This column appears weekly. Send information on upcoming A&E events to lharry@ibj.com. Visit www.ibj.com/arts for
more reviews, previews and blog posts. Twitter: IBJarts
Please enable JavaScript to view this content.