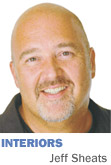 If you are moving into a new home or have been in your home for many years, your window
treatments say a lot about your decorating style.
Operational long drapery panels are still an elegant choice for any room, but have been updated today down to a bare bones
blind with a top treatment. There are several great reasons to treat a window as well as endless design possibilities.
Why treat a window?
Well designed window treatments can provide a multitude of benefits including:
• prevent fading from UV rays
• light control
• privacy
• insulation
• noise reduction
• marketability of your home
• aesthetics.
Dress in layers
An effective window treatment is a layered effect—exactly like you layer your clothing. Just as you would
not wear a heavy winter jacket with summer shorts, you want to coordinate window treatment layers carefully. Heavy, formal,
long, wool drapery panels would not coordinate well with a micro-metal blind behind them.
Perhaps the most important layer many window treatments start with today is a UV protection layer. This can be incorporated
in the glass in modern homes, or added to the glass in older homes using sophisticated film technologies. UV protection in
all climates is critical to protecting your interior finish investments. Hardwood floors, area rugs, furnishings, textiles,
pianos, cabinetry and more are all subject to quick and severe UV fading and damage, which is rarely covered under any warranty
from any manufacturer.
Carol Hart of Timeless Designs, a to-the-trade-only drapery workroom in Indianapolis, says UV window protection has changed
window-treatments strategy.
"Sheers used to be the go-to first layer of a well designed window," she says. "The sheer allowed some
natural light to filter through, acted as a UV barrier and created a privacy screen during daylight hours. But sheers block
gorgeous views. Now, with the advent of UV treatments as a first layer, a second and final functional layer like roman shades
or long draperies is trending in importance."
Some popular multi-layer window treatments today include:
• Bamboo or matchstick blinds with drapery panels
• Roller shades with a fabric valance or cornice
• Wood blinds with a top or long treatment
• Shutters with drapery panels
• Cellular shades with stationary fabric panels.
Blackout and privacy designs
Blackout treatments can be specified to control natural light for sleeping, a consideration when children are napping.
Darkness triggers melatonin release in the brain, and the lack of natural light control in sleeping spaces can disturb our
sleep cycle. It can be difficult to get 100-percent darkness from a window treatment because light tends to filter around
edges. Blackout back linings on drapery treatments are cost-effective and go a long way toward this goal, but a professional
experienced in window treatment design can also assist with total blackout.
Privacy is another consideration when treating any window. Most everyone desires at least some privacy in bedrooms. Tinted
window film can provide much privacy, but it darkens the views during the daytime. Many simple under-treatments such as blinds
and cellular shades can be effective to create privacy screens. The joy of this technique is they can be raised during the
daytime to provide total light and clear views. Most cellular shade producers offer blackout fabrics as well.
Conserve energy
Many new insulating window treatments are now becoming available to the consumer. Even when carefully weather-stripped,
caulked and equipped with a tight-fitting window, windows suffer heat loss that can account for 10 percent to 30 percent of
your total heating bill.
Adding layers to your windows will most certainly increase your comfort and obtain some energy cost savings. You can significantly
minimize heat loss by providing a seal on all edges of a window treatment. Cornices work very well to seal the top of a window.
Draperies can be sealed on the wall edges and floor.
Besides energy savings, an added benefit of window treatments is the acoustical properties they posses. Sound transmissions
can be reduced, making a more peaceful home environment for everyone to enjoy.
Gorgeous windows sell
Most window treatments are a personal preference specified by the interior designer or homeowner and rarely add
to a home's sale price. However, window treatments can attract or repel a buyer.
"Window treatments are typically considered personal property during a home appraisal," says Karen Feeney-Parker,
a real estate appraiser in Indianapolis. "But, if you invest in a costly and large whole-house package of plantation
shutters or automated shading systems as an example, you should present a copy of the invoice to the appraiser. To add value
on an appraisal for these items would completely depend on comparable sales in your area."
Aesthetic trends
Today's window treatment design trends show a movement towards simplicity and minimalism. Floor length, long
operational draperies and roman shades continue to be a first choice for consumers who want a custom, simple and classic look
that functions in just about any room.
Specifying the right textile for a decorative window treatment is still a huge opportunity to create the look and function.
Silk remains a popular choice but must have the correct inner and back linings applied so it drapes beautifully and is UV-protected.
Today's draperies are not only about fabulous fabrics, but also about the hardware as well. Hardware comes in many
shades and forms made of everything from wood to bamboo poles, to stainless steel wires or iron tubes. Popular finials that
cap the ends of rods are much more minimal today, including simple ball finials or flat caps.
Grommet drapery panels on simple steel rods create a sharp contemporary look. The main issue with grommet panels is they
tend to bind on the rod when traversed and work much better for stationary looks.
Matchstick blinds made of interesting materials like bamboo, fruitwood or even synthetic materials remain popular. Automated
shading systems are also trending in importance. For that hard-to-reach window, a shade can be operated with a handheld remote
control. You can also design entire homes with systems that are integrated to measure sunlight and automatically close to
save energy and UV damage—high tech indeed.•
__________
Sheats is the principal Interior designer of Jeff Sheats Designs Inc., a high-end residential interior design firm based
in Indianapolis. Views expressed here are the writer's.
Please enable JavaScript to view this content.