Barb Milton listened to Metallica for four hours to prepare for leading the service.
The crowd of around 60 people was almost entirely dressed in black, partially because, hey, that's heavy metal, and
because, well, that's what people wear to funerals.
Friends and family of the deceased fan of the band wrote notes in marker on the casket. Lyrics and songs of the rock group
were recited and played.
Bruce, left, and Brian Buchanan now own the family business that their great grandfather,
Charles J. Buchanan, founded in 1881. (IBJ Photo/ Perry Reichanadter)
Not your traditional funeral, to say the least. It's one example of how Indianapolis-based Flanner and Buchanan Funeral
Centers, with the help of employees like Milton, has stretched the definition of "funeral" to stay relevant and
competitive after nearly 130 years.
The family-owned business began downtown in 1881 and has grown northward along with the city's population. Today, it
has 14 funeral centers, six of which are on cemetery grounds.
The company conducted 2,200 funerals last year. A funeral for an adult costs an average of $6,200, according to the National
Funeral Directors Association. That would put Flanner and Buchanan's 2009 revenue at $13.6 million, though the company
declined to disclose figures.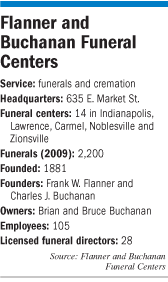 But funerals are not the whole story. The company handles all aspects of "death care"—transporting
the deceased, preparing the body, providing the casket and flowers, writing the obituary, planning and presiding over the
funeral, arranging for a catered meal, counseling the bereaved, even assisting with life insurance claims. Clients include
about 250 pets a year. Through affiliated companies, Flanner and Buchanan also manages cemeteries for other owners.
Last year, Flanner and Buchanan helped open Kessler Woods, Indianapolis' first "green" burial ground, within
Washington Park North Cemetery. It offers biodegradable caskets, shrouds and urns, and abstains from using traditional embalming
fluids—which normally contain formaldehyde, methanol and ethanol—or a burial vault, in which many caskets are
placed. There have been four burials there so far, and others are planned.
A much earlier innovation came in 1904, when the company built the state's first crematory on Illinois Street. The
company opened a more efficient facility downtown in 2005.
Flanner and Buchanan distinguishes itself by serving more than 30 faiths—from Baptist to Buddhist, Egyptian Orthodox
to Evangelical Lutheran—as well as secular clients.
"You have to embrace new religions and new ethnic groups that come into the city," said Bruce Buchanan, a co-owner
and principal who joined the company in 1987, a few years after his brother, Brian, who now serves as president. They finalized
their purchase of the business about four years ago.
The company has been changing with the city's demographics ever since being founded by the brothers' great-grandfather,
Charles J. Buchanan, and his brother-in-law, Frank W. Flanner. In the early days, the company steadily adapted to funeral
customs of new waves of immigrants who settled here, Bruce Buchanan explained.
Today, the company especially focuses on traditions of the city's black and growing Hispanic communities. Sixty percent
of the company's services at its Washington Park North location now are for black families. Other facilities also get
especially high demand from certain groups.
"Our Speedway location, they do a lot of Hindu, Muslim [and] Indian services. So if I get a call in Carmel, I can call
over [to the Speedway location] and say, 'Walk me through this,'" said 28-year employee Jerry Roberts, who
manages the company's Carmel mortuary. "Broad Ripple does primarily services for the Greek [Orthodox] Church.
So if we get a Greek [funeral], we know who to call. … It really gives us the ability to serve everyone."
Funeral companies must be able to understand and serve new religions and faiths, said Jonathon DeHart, chairman of the 35-year-old
funeral service education program at Vincennes University.
"A lot of times, it requires us to get out of our own comfort zones," he said.
Milton, the Flanner and Buchanan celebrant who presided over the Metallica-themed service, enjoys taking a tailored approach.
She typically spends several hours meeting with family and friends of the deceased as she crafts a service. Sometimes, the
event blends individual preferences with traditional religions: A funeral combining Jewish, Buddhist, Gothic and military
traditions was one of Milton's most memorable.
Then there was the service she led for a Purdue University alumnus, at which his wife, children and their spouses—all
Boilermakers—honored their loved one with a rousing rendition of "Hail Purdue!"
"It's more about the holistic celebration of the person's life," said Milton, who has been with Flanner
and Buchanan for 11 years.
Philip Gibson of Carmel used Flanner and Buchanan for the funerals of his parents, both in the past year. Gibson's
father, the late canon Charles G. Gibson, was a longtime pastor of Christ Church Cathedral on Monument Circle and preferred
Flanner and Buchanan to other mortuaries.
"[Flanner and Buchanan is] extraordinarily costumer-oriented," said Gibson, a former executive at Eli Lilly and
Co. He applauds Flanner and Buchanan for its honesty and integrity with regard to "laying out the costs so that there
are no surprises."
Adding and enhancing services has benefited Flanner and Buchanan when population trends have not.
The national death rate has declined over the past 20 years—to 7.9 deaths per 1,000 population in 2009—and is
expected to remain flat for the next decade, according to projections by the National Center for Health Statistics and the
U.S. Bureau of the Census. Naturally, the flattened death rate has led to a decrease in demand for funeral services, Bruce
Buchanan said.
The reduced rate is a product of a comparatively low number of children born during the Great Depression. Plus, immigration
declined during that period, said Ted Mau, CEO of the local Washington Park Cemetery Association.
Nonetheless, Flanner and Buchanan has stayed busy because of its longevity and community ties, Brian Buchanan said. And a
change is coming. Death rates are projected to begin climbing by 2020 and rise to 9.7 percent by mid-century, which bodes
well for the company.
In the meantime, the mortuary operator has slowed its geographic expansion but is finding other ways to grow.
The company is offering a discounted service, called "Legacy," which includes a complete funeral package starting
at about $2,500, at its locations in less affluent areas—West Morris Street and East Washington Street.
On Sept. 1, the company plans to launch an online obituary service that allows mourners to download pictures and share stories,
among other things. The company's website now receives an average of 350 visits each day, and its Facebook page has
209 fans. An "Ask Barb" blog answers questions ranging from how to sell unneeded burial plots to where to buy
an extra-large casket.
Flanner and Buchanan is "creating a new standard of what you should expect from a funeral," said James Todd,
who serves on the Indiana State Board of Funeral and Cemetery Service. "They have done research to know what the consumer
wants, but it's also beneficial for a consumer to get that somewhere. In this very same dynamic, the consumer is winning.
Not by death, but by getting the celebration that they want."•
Please enable JavaScript to view this content.