Indiana voters are getting a hands-on opportunity to use software created by a Castleton company that works in the minefield that is government contracting.

An online voter registration component of Quest Information Systems' "FirstTuesday" software has been running since July, when Indiana law allowed voters to begin submitting voter registration applications online.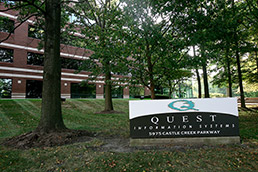 The latest software by Quest for government agencies enables Indiana voters to register to vote online. (IBJ Photo/ Perry Reichanadter)
Six years ago, Quest landed a $10 million contract to rebuild the back end of the state's voter registration system. It had also teamed with Pennsylvania-based Unisys about a decade ago to provide a new computer records system for the Indiana Bureau of Motor Vehicles.

Quest, which has about 65 employees at 5975 Castle Creek Parkway Drive North, has developed software systems for several states' BMVs and voter registration systems, including Virginia and South Dakota.

Its online voter registration system for Indiana is likely to get a heavy workout, with congressional approval ratings tanking. In the first month after going live July 1, with little advertising, more than 1,900 people registered online.

Quest said other states that have deployed online voting have seen up to a 70-percent drop in paper registrations. Project manager of the voter system, Shannon Gibbs, said a key to doing business in this realm is flexibility.

"We know there will be new requirements that evolve over time, especially in the government sector where legislation changes," Gibbs said.