Indianapolis Power & Light plans an aggressive rollout of charging stations with the imminent arrival of electric cars such as the Nissan Leaf, due in showrooms this December.

IPL envisions about 200 charging stations as part of a commercial-scale pilot program. Twenty-five will be in public places such as parking lots and garages, with a similar number to serve corporate and government electric vehicle fleets.

The utility this week disclosed 12 proposed locations for the chargers. The Denison parking garage at 31 S. Meridian St., Circle Centre mall parking garages, the new JW Marriott downtown, the Indianapolis Museum of Art and Indianapolis International Airport are among the locations.
Another 150 units could be provided for use in customer homes. The chargers would likely come with separate meters, allowing IPL to account specifically for the portion of household electricity used for charging an electric vehicle.

IPL plans to file separate charging rates soon with the Indiana Utility Regulatory Commission. It wants to understand how electric vehicle charging will affect its system reliability.

Under one scenario IPL ran, energy consumption was expected to increase 22 percent per household with an electric vehicle.

But there are a lot of variables. For example, vehicles could be charged at different voltage levels.

It's also unclear exactly how many charging stations will be appropriate for a given parking garage.

IPL and local parking operators are among participants in Project Plug-in, an alliance of corporate, academic and government groups being steered by the Energy Systems Network, a not-for-profit created two years ago by the Central Indiana Corporate Partnership.

One of those partners, Duke Energy, has proposed six charging locations in the Indianapolis area, including at the Clay Terrace shopping center in Carmel and Greenwood Park Mall. The number of chargers at each location has not been determined, said Duke spokeswoman Angeline Protogere.

But with many early adopters of electric cars driving into the city for work every day, availability of a charging station in IPL's service territory could be key. The Nissan Leaf and the Think electric cars, which will be first in this market, claim a range of about 100 miles. But that's likely to be less with the air-conditioning switched on or during cold weather.

It's "a pretty significant pilot," said Joan M. Soller, an engineer and a manager of corporate planning at IPL. "I'm thinking we'll have a handful of [charging] locations in public areas by the end of the year."

Indianapolis will soon be "one of the leading electric vehicle cities in the world" based on availability of an integrated charging infrastructure and number of public and fleet vehicles likely to enter use here, said Paul Mitchell, president and CEO of Energy Systems Network.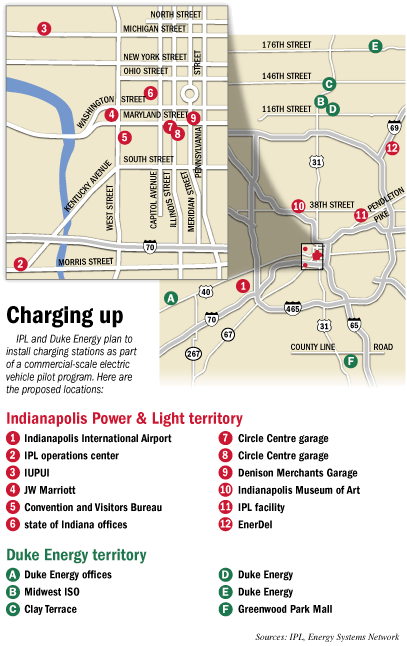 When ESN was formed a few years ago, officials fretted over practical details such as how to bill the customer of one utility who charges his electric car in another utility's territory.

Planners are still looking at such billing logistics, akin to how roaming charges are processed among cell phone carriers. But it became clear such a complex billing system for public charging spaces needn't be deployed immediately, Soller said.

Instead, a credit-card-swipe system could, for example, be integrated with the charging stations IPL is sourcing from a California manufacturer.

But just how many electric cars will be on the road here? Mitchell said 1,000 could be on the road in the metro area within a year.

Of course, "if the automobile companies keep volumes modest and supply limited, then you may not climb to that number."

Besides the Leaf and the Think cars, an electric version of Daimler's two-seat Smart car also will be tested by local fleets. IPL will have some electrics, perhaps only to make deliveries. Already using them is Indianapolis-based EnerDel, which makes lithium-ion batteries that power the Norwegian-made Think. The diminutive, two-seat cars will be manufactured next year in Elkhart for North American consumption.

IPL CEO Ann Murtlow was in car salesman mode, noting that electricity is relatively cheap in Indianapolis. An electric car could save the average household $1,000 a year vs. a gasoline model, Murtlow said.

But, beyond that, "obviously, this is a huge economic development opportunity in Indiana."•