Indiana University had a license or two to print money from the commercialization of its technology over the last year—and did it ever.

And while Purdue University didn't collect as much in royalties from commercialization, it pulled down record levels of research grants that could generate a bounty in the years ahead.

Such is the seesawing among Indiana's two big universities to obtain research grants and, later, to cash in on their intellectual property.

IU had record-topping licensing revenue of $14.2 million in the fiscal year ended in June—more than double the $6 million in the prior fiscal year.
Kerbeshian
Much of the increase stemmed from IU's biomedical technology progressing toward the market, said Marie Kerbeshian, vice president of technology commercialization.

In recent years, Indiana University's Research and Technology Corp., along with its new Office of Engagement, has worked to better assess technology that faculty are developing and to match those researchers with potential industry partners.

"We're kind of hitting on all cylinders … We were more successful I think in getting some bigger deals," said Tony Armstrong, CEO of IURTC.
Armstrong
Most notable recently is technology developed by IU chemistry professor Richard DiMarchi and colleagues. DiMarchi, a former Eli Lilly executive, co-founded Carmel-based Marcadia Biotech, which specializes in diabetes and has collaboration with drug giant Merck & Co.

Some of the Marcadia technology covered under the partnership was developed at IU, which licensed it to the firms.

"Both Merck and Marcadia make up the biggest chunk of that increase," Kerbeshian said.

Typically at IU, 35 percent of licensing revenue flows to researchers, 15 percent to the laboratory, and 15 percent to the campus where the research was conducted. The other 35 percent flows to IURTC and the university.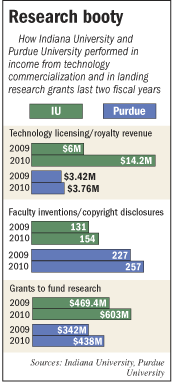 Other contributors to recent licensing revenue include stem cell purification technology developed by Loren Field, a professor of medicine and pediatrics at IU's medical school in Indianapolis.

Wisconsin-based Cellular Dynamics International licensed technology that Field developed at IUPUI, although terms weren't disclosed.

Traditionally, many pharmaceutical companies have not been as interested in early-stage research at universities. But that's changing as the firms cut back and look outside to more cost-effectively fill their product pipelines, Kerbeshian said.

Of course, she added, "medical technology can be a little more boom-and-bust."

Steady growth

Comparatively, commercialization revenue can be a bit more stable long term at engineering-intensive universities, such as Purdue.

Its licensing deal flow has ranked high among Big Ten schools, said Elizabeth Hart-Wells, Purdue's new vice president for technology transfer.

"We have a nice foundation, a kind of a steady state," she said.

Purdue's technology royalties grew modestly in its most recent fiscal year—10 percent—to $3.76 million.

Some of the notable Purdue technology licensed in recent years has been in the energy/power sector. That includes a bioengineered yeast to produce cellulosic ethanol for automotive fuels, with development work led by School of Chemistry Engineering researcher Nancy Ho.

In May, Ho's company at Purdue Research Park—Green Tech America—signed a license deal with firms in China and Denmark that allows them to use the yeast at their plants overseas.

Drawing research dollars

Purdue's technology royalties could jump in the next few years, thanks to the university's largest-ever increase in research funding. It rose $96 million, to $438 million, in the fiscal year ended June 30.

Much of that increase stemmed from funding Purdue lassoed as part of the American Recovery and Reinvestment Act.

Some key research areas at Purdue were big benefactors of the stimulus money, including cyberstructure and IT, defense/NASA work, energy and environment, and engineering and mathematics education.

Purdue researchers will use one of the big grants, $105 million from the National Science Foundation, to further studies in earthquake engineering simulation. Another grant, of $23.5 million, will go for research into creating more energy-efficient buildings.

"Our [research] strengths align with national priorities," Purdue President France A. Cordova said last month.

IU also posted record research grants last year—$603.9 million, up $78.6 million from the prior year.

The National Institutes of Health was the biggest single source, awarding IU $194 million in the 2010 fiscal year for various research projects.

Purdue says it gained momentum in landing grants in recent years with its Discovery Park concept, launched in 2001, that seeks to grow interdisciplinary research.•