It's easy to miss Square Rootz Deli. I drove by twice before putting my parallel parking skills to the test just around the corner from the nearly 3-month-old Fountain Square eatery. But it's worth finding.
Located across the street from the visually stimulating Fountain Square Theatre, Square Rootz (1110 Prospect St., 631-3354) isn't much to look at from the outside, but the interior merits some lingering—from the locally produced art that changes every month to the impressive selection of used albums (yes, albums, as in old-school vinyl) for sale along one wall.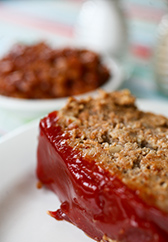 Thick meatloaf helps anchor the menu at Square Rootz Deli in Fountain Square. (IBJ Photo/ Perry Reichanadter)
And then there's the food. The deli's website is still under construction so we had to make snap decisions at the counter, always an iffy proposition. We did pretty well, but after perusing the take-out menu realized we had completely overlooked a handful of salads and some interesting sandwiches like the What A Friend We Have in Cheeses ($7), which combines mozzarella, provolone, sliced apples and honey mustard on grilled multigrain bread.
Instead, we went with the order-taker's recommendations: a TMC sandwich ($8), Dustin's BLT wrap ($7) and Meatloaf Plate ($6 with one side dish, $8 with two).
We're still not sure what TMC stands for, but I'm guessing Tasty Mozzarella & Chicken. My sandwich featured the cheese and meat along with spinach, sundried tomatoes and a creamy sundried tomato basil spread on buttery grilled sourdough—finger-licking good, for sure. I added on a side of green beans in hopes of balancing out the decadence. I felt virtuous, anyway.
My friend opted for the meatloaf and a side of baked beans, which owner/chef Jeff Reuter clearly had spent time with. Unfortunately, the generous serving of beans wasn't hot, leaving my friend cool on the dish. The brick-sized slice of meatloaf, on the other hand, was no-mush successful.
We brought the BLT wrap and a bag of fancified potato chips back to the office, where the lucky recipient was so wowed by the portion size that he thought we'd given him two lunches. The wrap, which mixed spinach dip with the namesake ingredients, nevertheless was manageable and the flavor noteworthy. His only quibble: It could have used more lettuce to vary the texture.
For dessert, we shared a moist, brownie-like variation of peach cobbler, which was free because of our check-in on the location-based Four Square app—which only made us enjoy it more.•
____________
Third in our month-long series of reviews of new downtown-ish restaurants.
Please enable JavaScript to view this content.