After losing more than 6,000 donors in a single year, the United Way of Central Indiana is making its first concerted effort to reach people outside their workplaces.

United Way leaders say they're responding to a long-term trend of smaller payrolls at the region's top employers, but they've only recently gained a sense of urgency about it.

The 7-percent drop in donors from 2008 to 2009 probably stemmed from widespread layoffs, United Way officials believe. But CEO Ellen Annala isn't counting on economic recovery to correct the problem.
Annala
In fact, the numbers could get worse. The local United Way's single-largest supporter, Eli Lilly and Co., is in the midst of permanently cutting its work force by 5,500, many of which will be in the Indianapolis area.

"The growth is in mid- and small-size companies," Annala said. "Our staff isn't increasing at all to be able to reach all those. There was a very strong feeling we had to do something extraordinary."

Kicking off a campaign to raise $41 million earlier this month, UWCI hitched its marketing wagon to the Indianapolis Colts. The team is helping promote the campaign in part by offering donor incentives, such as a chance to win a trip to the 2011 Super Bowl.

It's hard to imagine a better bet for mass appeal than one of the nation's top football teams. Yet diversifying United Way's donor base is a tall order.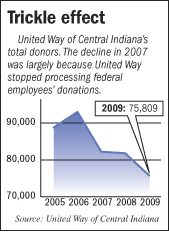 The local United Way draws more than 98 percent of its 75,809 donors from on-the-job campaigns. Companies control the relationship with donors. If a longtime donor retires, for example, it's up to the company to make sure he or she stays in touch with United Way, Annala said.

Despite an eroding donor base, UWCI's fundraising has stayed on an even keel. The organization, which supports more than 100 human-service agencies in Indianapolis and five other counties, raised $38.8 million last year, the same amount as in 2008.

That's because those who did give dug deeper. In 2005, when UWCI had 88,784 donors, the average gift from people at large companies was $258. By 2009, the average rose 26 percent to $324. (United Way defines a large company as one with more than 50 employees.)

Lilly alone raised more than $9 million, or a quarter of United Way's total last year. CEO John Lechleiter personally gave $1 million. And this year, the company actually increased its fundraising target. Jodie Mitchell, a corporate attorney who is leading Lilly's local campaign, said there are still untapped donors among the company's 11,143 Indianapolis employees.

As chairman of this year's campaign, Barnes & Thornburg attorney Don Knebel set a goal of 2,500 net new donors. He and other United Way officials hope many jump on board because of the Colts partnership.

Fans will see a United Way ad on the big screen during home games at Lucas Oil Stadium, as well as in their programs. They'll also hear United Way ads during the Colts' radio broadcasts.

The campaign kick-off on Sept. 10 coincided with the Colts' Blue Friday. Players and cheerleaders were on Monument Circle downtown signing posters, and United Way agencies set up booths.

Attendees were encouraged to "pony up $10" by texting COLTS. Those donors were entered in a drawing for tickets to the Sept. 19 New York Giants game.

In a separate promotion, people who give $100 for the first time, or who increase their giving by $100, will be entered in a drawing where the grand prize is a free trip to the 2011 Super Bowl in Dallas.

Tapping new donors

Acquiring new donors isn't necessarily difficult, said Tim Seiler, director of the fundraising school at IUPUI's Center on Philanthropy. "Maybe a bigger test for non-profit organizations is establishing a relationship with a donor after that first gift so there will be subsequent gifts."

Knebel hopes some of the new donors will provide an entry for United Way to set up new workplace campaigns.

Annala said she hasn't completely figured out how to keep the new recruits interested in United Way's mission. UWCI has a fundraising staff of 20 people, but more than 75,000 donors to reach, so it relies heavily on corporate cheerleaders.

The new effort employs blogging and social media.

"Fortunately, I have a lot of creative, younger staff who know how to do all this," Annala said

The Eli Lilly Foundation is supporting United Way's mass-marketing efforts. The corporate foundation last year gave $50,000 to get the broad-based campaign started with its own website, liveunitedgiveunited.org. This year, the foundation put $100,000 toward the Colts sponsorship.

Early results are modest. The first round of text-to-give promotions attracted 70 new donors.

"It's been a long time since we had this kind of outreach effort," Annala said. "What's interesting is the Colts incentive… is adding a whole lot of energy to the workplace campaigns."

Recast for new economy

Some United Way chapters have recast themselves according to the local business culture, Boston University sociologist Emily Barman said.

Barman published a book in 2006 that compared United Ways in the "new" economy of San Francisco with the "old" of Chicago. Silicon Valley business leaders didn't see the point of having United Way serve as an intermediary.

The organization responded by acting more like a community foundation with giving priorities set by top donors, rather than the needs identified by United Way's independent research.

"In Chicago, there was an affinity between how United Way works and the world view of local business leaders," she said. United Way took hold as a workplace fundraiser in Detroit's auto industry, so its legacy in the Midwest is much stronger.

United Way has been around in Indianapolis, in one form or another, since 1918. Given that tradition and name recognition, Barman said, the effort to reach people outside their workplaces might be successful.

"You have to have a culture of people who see a value in United Way," she said.

United Way no longer relies on corporate leaders to overtly lean on employees to give their "fair share," but workers can still see the value to a company's reputation.

Mark Steingold worked at Lilly for 15 years, before he was laid off from the corporate strategy group this summer. He said he always gave a "comfortable" amount to United Way.

"I wanted to benefit local organizations. I also wanted to benefit Lilly's involvement in the community," he said.

Now that Steingold is working for himself as a consultant, he said, he'll give directly to his favorite charity, the Jewish Community Center of Indianapolis.

Without the corporate tie, Steingold said, United Way might be attractive to "someone who doesn't know where to give, but wants to do good in some way.

"I appreciate the people wearing the white T-shirts—the 'Live United' campaign. I would still say they need to be real clear on what the value is that they're bringing."•