While guest-speaking at a fashion history class at the Art Institute of Indianapolis, I became really curious what the roomful of students planned to do with their education.
So I asked them.
"How many of you plan to get the heck out of here after graduation?" I asked.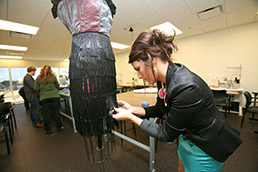 Elise Lyon, a senior fashion design student at the Art Institute of Indianapolis, plans to collaborate with her classmates on a retail endeavor. (IBJ Photo/ Perry Reichanadter)
Three or four hands hesitantly rose out of about 15 students.
Puzzled, I invited six seniors from the two Indianapolis fashion programs—five from the Art Institute and one from Harrison College—to have a group discussion about their goals and where they plan to carry them out.
Over cookies and plenty of laughter, I discovered they're not fazed at all by a lack of career options in Indianapolis. Rather, they plan to create their own.
The Art Institute is slated to graduate 40 fashion students this year, a huge addition to its current alumni count of two.
The numbers are still measly, but between the state's five fashion schools (Harrison College, Indiana University, Purdue University and Ball State University are the other four) Indiana is pouring hundreds of enthusiastic pro fashionistas into the Hoosier work force, an environment with no industry to support their craft.
Amy Leahy, director of fashion programs at Ball State University, said students from larger programs such as hers tend to grab their diplomas and head for one coast or the other. But the local students seem more likely to stay.
"I always said I would move away," said Daylin McDaniel, an Art Institute fashion design senior from Kentucky. "But as I've gotten older, my priorities have changed. I've realized I don't want to be any farther from my family than I have to be."
McDaniel—along with Ian Stikeleather, Damian Pearsall, Elise Lyon, Jeremy Hunt and Kaitlin Wise—represents a student body that sees Indianapolis as a means to retain a Midwestern lifestyle and carry out dreams simultaneously. They all agree they'd like to stay near family.
"We went to Italy for Milan Fashion Week." Lyon said, reaching for a sugar cookie. "It was amazing. There was all the glamour I expected out of the fashion world, but I got homesick. We all did."
Natalie Swindell, academic department director of fashion at the Art Institute, said there's no reason a fashion student can't find work in Indianapolis.
"It all depends on what a student would like to do with their career," she said. "If they're OK with working for a small designer or manufacturer and they can make a living, then great."
But the aforementioned students, who range in age from 22 to 29, have little interest in working for anyone but themselves. They believe the key to an Indianapolis career is entrepreneurship.
Wise will graduate this spring with Harrison's associate degree in fashion merchandising and will officially launch her own line of T-shirts, called T.Party, on Sept. 30. Her collections consist of snarky comments or life lessons she screen prints onto simple T-shirts. One T reminds wearer and reader to "never go to bed angry" while another states, "I love your guts." She sees the future of her business in custom screen printing. Wise has already done shirts for the crew of the web series "Nightlights."  
"As of a few months ago, I'd planned to move to Charleston [S.C.] and maybe be a part of the budding fashion week there," she said. "That fell through for family reasons so I sort of had to figure something out. The response is a little overwhelming."
Aside from Nightlights, other special orders have amounted to about 100 shirts.
Wise says her shirts gained a following on Facebook before she'd ironed out exactly how she was going to sell them. Her goal is to start an e-commerce site.
Pearsall, whose fashion design degree from the Art Institute focused on garment construction, plans to do his part to fill in the city's lack of manufacturing options.
"I see a store that's a showroom for local designers on the ground floor, and everything is made upstairs," he said. "There will be plenty of sewing machines, sure, but also cutters and pattern makers, like in New York."
Stikeleather, who has a bachelor's in business from Ball State, thinks the dream is possible if venture capitalists will support the industry. Lyon and McDaniel agree.
Hunt, who spent much of the discussion in silence, is the only one who isn't completely sold.
"If the local fashion scene remains how it is, I don't really want to be a part of it. There's a quality issue," he said, adding "Do I really want to fight that hard for recognition in Indianapolis? I'm not really sure."
Swindell came to Indianapolis to teach after working in Chicago. She thinks it's necessary to leave, at least for a little while.
"You have to live and work in the thick of the industry to be successful with your own business," she said. "But it would be great if they decided to come back after that, because I think the students will be a big part of growing fashion here."•
__________
If you'd like to share your own style ideas or know anyone who's making waves in the fashion community, contact Gabrielle at gposhadlo@ibj.com. This column appears monthly.
 
Please enable JavaScript to view this content.