"Decisive."
Emmert
That's the word University of Washington Athletic Director Scott Woodward uses to describe Mark Emmert's leadership style.
Emmert, who is departing his post as UW president at the end of this month to become the fifth president of the NCAA, isn't wasting any time making his first round of big decisions.
Though he doesn't officially start his new job until Oct. 1, Emmert, 57, has already removed three high-level NCAA executives; met with National Basketball Association Commissioner David Stern about changing basketball eligibility rules; and sent signals he will take a hard line against cheating.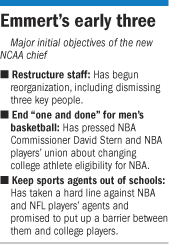 Emmert has also met with Mayor Greg Ballard and other community leaders to see how he and the NCAA can become more involved in the Indianapolis community.
"He's collaborative, but when he sees what he believes is the right course of action, he won't hesitate—at all," said Woodward, who also worked under Emmert at Louisiana State University. "I've had the opportunity to work with many people—high-level government officials, big business executives, non-profit and institutional leaders, and Mark Emmert is as good as anyone I've ever seen."
Emmert makes no bones about his willingness to make changes where he sees fit, but added, "I won't be a change agent for change sake. I'm here to seek changes to make the NCAA more effective in its role in guiding college athletics."
Among those caught up in Emmert's changes were longtime Executive Vice President Tom Jernstedt, who is credited by many as the architect of March Madness; Elsa Cole, vice president of legal affairs; and Dennis Cryder, senior vice president of branding and communications. The combined annual salaries of the three was $1.27 million, according to the NCAA's tax filing.
Bob Walsh, former executive director of the Final Four organizing committee in Seattle, said the quick dismissals, especially of Jernstedt, hurt the NCAA's "credibility."
Emmert makes no apologies.
"This was not a set of decisions that was taken lightly," Emmert said. "Those individuals were extremely good people. I put together a structural model that made sense to me."
Balancing the business side of college athletics may be Emmert's toughest task at his new job. Butler University President Bobby Fong said the pressure from alumni groups and broadcast partners is tremendous.
Emmert has no qualms about generating revenue to support the NCAA and its mission.
"The amateurism is about the participants, not about the support structure around them," he said. "The key with all the money from things like broadcast contracts is, where does the money go? I reject the notion that college athletes should be compensated. But the money in many ways can be used to give these amateur athletes extraordinary singular opportunities."
At UW, Emmert built a reputation as a solid academic leader and an effective chief executive with a special penchant for raising revenue.
Emmert has been president at UW, his alma mater, since 2004, leading the university to its standing as second among all public and private institutions in research funding in 2007 with $1 billion in grants and contracts behind only Johns Hopkins University. Emmert also overhauled the staff at UW, combining five divisions, including external affairs, into one.
Under Emmert, the UW athletic department was one of only a handful of Division I college athletic programs that was self-supporting, generating enough to cover a $60 million annual budget.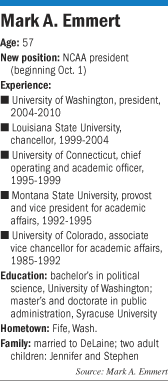 At Washington, he certainly didn't oppose the idea of highly paid coaches. In 2008, Emmert approved a seven-figure annual contract for football coach Steve Sarkisian, but Emmert points out Sarkisian is only the fourth-highest-paid football coach in the Pac 10 conference.
Before his presidency at Washington, Emmert was chancellor at Louisiana State University from 1999 to 2004.
Emmert, a native of tiny Fife, Wash., has seen the upside and downside of college athletics at his last two jobs. During his UW presidency, the school racked up five NCAA titles, and while he was at LSU, the football team won a national title under coach Nick Saban.
Emmert came to UW in the wake of controversy caused by the departure of football coach Rick Neuheisel. And since Emmert arrived at Washington, LSU and its Southeastern Conference brethren have been mired in controversies over NCAA rules violations.
"We know that college athletics can be the front porch, a great marketing tool, for a school," Emmert said. "But we have to make sure the front porch is swept off and maintained clean to have the maximum positive impact."
Emmert follows the late Myles Brand as the second university president to head the NCAA. Brand, who died of pancreatic cancer in September 2009, gained a reputation for emphasizing academic reform in college athletics.
Brand established the Academic Progress Rate, a ground-breaking system for tracking the academic performance of each school, sport by sport.
"Myles Brand changed the tenor of this office and the way people see the NCAA," Emmert said. "Myles is a big reason why we're talking so much about academic reform among student athletes today."
The pressure to continue that progress falls squarely on Emmert.
"There's a high expectation from people in higher education that Dr. Emmert will take the next step in academic reform," said Butler's Fong.
Emmert faces a tough task, said David Ridpath, a professor of sports administration at Ohio University and past president of The Drake Group, a not-for-profit that bills itself as a watchdog for academic integrity in the face of big-time college sports.
"While Myles Brand did some good things, at the end of the day, nothing really changed," Ridpath said. "Many of his initiatives concerning academic reform, including the [Academic Progress Rate], are nothing more than window dressing."
Ridpath also criticized Brand for doing little to curb the commercialization of college athletics, and doubts Emmert will have either the power or the desire to do much better.
"I'm not quite convinced Mark Emmert will want to change things," Ridpath said. "It's a very difficult system to change, and he's up against some very powerful forces. His constituents, namely the university presidents, want the revenue-generating behemoths that fuel the fan base and energize many of their big-money supporters."
Purdue University Athletic Director Morgan Burke thinks Emmert's early initiatives are on target.
"I think he understands the importance of college athletics to the school as a whole," Burke said
Burke applauds Emmert's efforts to look at basketball player eligibility and agents' activities around college campuses. Players are prohibited from going directly to the NBA from high school, but many of the brightest stars bolt college after one year. Critics say that makes their second semester in college a sham.
Emmert said he prefers baseball's eligibility model. Major League Baseball dictates a player can declare for the draft out of high school or must wait until after his junior year in college.
"I intend to talk to the NBA about what would be helpful to our student athletes," Emmert said.
He is prepared to take a hard line against cheaters—athletes and schools—who break NCAA regulations, he said, emphasizing that he supports harsher penalties for rules violators.
This summer, the NCAA unleashed a harsh round of penalties on the University of Southern California for violations in basketball and football. Emmert applauded those penalties, which included a two-year post-season ban and forfeiting 30 scholarships.
And with Emmert's blessing, the NCAA launched a widespread investigation into athletes' improper contacts with agents. Emmert said he can't comment on any specific ongoing investigation, but said, "I think the fact that we have strong enforcement going on is a good thing."•
Please enable JavaScript to view this content.