The fifth annual "Quest for the West" art show and sale generated more than $1 million in sales, the Eiteljorg Museum of American Indians and Western Art said.

The Sept. 11-12 event attracted 300 people, the show's best attendance yet. Sales increased 20 percent over 2009.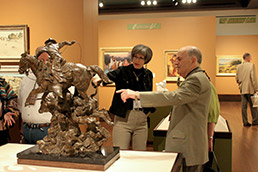 The Eiteljorg Museum's "Quest for the West" art sale attracted 300 people. (Photo Courtesy Eiteljorg Museum)
The Eiteljorg is the only museum east of the Mississippi River to host a major Western art show and sale. The museum uses a portion of the proceeds to build its own collection.

"Quest for the West" honors artists with several awards, including Artist of Distinction. The winner of that prize is featured in a solo exhibition at the Eiteljorg the following year. Work by the 2009 winner, eastern woodlands painter Robert Griffing, will be on display until Nov. 28.