Go ahead and call the Melody Inn a dive bar. Owners Dave Brown and Rob Ondrish don't mind.

"No, no," Brown said. "We relish it."

After all, it's that reputation, spread mostly by word-of-mouth over the past nine years, that has helped two guys who'd never been self-employed build their business into a popular destination for fans of live, original music. Since buying the 38th and Illinois streets mainstay in 2001, they figure more than 7,000 bands have played on the 18-inch-high stage tucked just inside their front door.

How Brown and Ondrish got to this point is a happy accident, as far as they're concerned. Ondrish had worked at the Melody Inn in the 1980s, back when the business served lunch and dinner for an older clientele. Fast-forward to 1995, when he took a job with Indianapolis-based BMG Music, where he met Brown.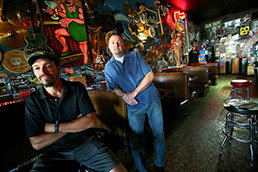 Rob Ondrish, left, and Dave Brown own the Melody Inn at 38th and Illinois streets. When Brown approached Ondrish about buying the bar, he "thought for about three seconds and said, 'Let's do it.'" (IBJ Photo/ Perry Reichanadter)
The two became friends, and the Melody Inn became a place they frequented. Ondrish went to work there again part time, and soon Brown joined him—first as doorman, then bartender, then manager. One day, the owner told Brown he was going to sell the bar. Was he interested in buying?

Brown didn't have the money to do it on his own, so he called Ondrish and said he had a business opportunity. Ondrish's response: "This isn't Amway, is it?"

When he heard the idea, Ondrish "thought for about three seconds and said, 'Let's do it.'"

They arranged a contract sale with the previous owner, putting down a little money and making monthly payments thereafter, including a bigger chunk two years after the sale. And in October 2001, they took ownership, buying a lot of history—Lou Swain's Melody Inn opened in 1935 as a piano bar—and an equivalent amount of headaches.

Ondrish describes the bar they purchased as "a sick horse with three legs" that, among other things, was open only Thursdays through Saturdays.

"An old place is like having an old car," he said. "It's like every week something is needing attention."

It didn't help that they had little money available to make repairs or hire anyone, or that neither of them had any experience running their own business.

But there was a good omen immediately. They'd just taken the keys—the doors weren't even open—when the Manion family knocked on the door.

Bill Manion and his friends started frequenting the Melody Inn when they came home from college in the 1950s and early '60s. He took his children there for their first legal beers. But Bill had died from a brain tumor, and his wife, Kay, sons Mike and John and daughter Sue Wynne wanted to toast his memory. (His other daughter couldn't be there.)

"We drove to the Melody, and the door was locked, but we saw two guys inside with brooms, sweeping the floor," remembered Mike Manion, now a principal with Woodley Farra Manion Portfolio Management. "We knocked on the door and Dave answered. He explained that they were closed and we explained that we had hoped to enjoy one beer in memory of our father. He, of course, invited us in."

The Manions go back to the Melody Inn every Oct. 2 to toast Bill, and a dollar bill they signed still hangs over the bar—as do smashed guitars, posters and other memorabilia on what had been relatively bare walls when Brown and Ondrish took over.

That first year, the partners worked every shift themselves, one working the bar, the other at the door, and started putting money aside to be able to weather the storms that hit a business where the failure rate is said to be around 85 percent.

Soon, the doors were open seven days a week and "the Mel," as people call it, became known as a place friendly to bands of all musical styles and people from all walks of life.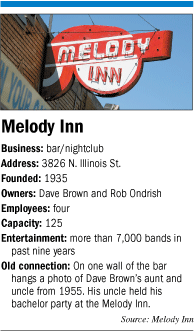 Rev. Peyton's Big Damn Band made its debut at the Melody Inn, and Margot and the Nuclear So and So's played there before most people had heard of them. The California duo She Wants Revenge, which has gone on to sell more than 400,000 CDs, played the Melody Inn, as have the Brain Surgeons, whose drummer is Albert Bouchard, a founding member of Blue Oyster Cult. Bouchard signed one of the many cymbals that cover another Melody Inn wall.

"We've developed a reputation for being a fun place," Brown said. "It's small enough"—with four booths, four tables and a half-dozen barstools —"that 20 people in here feels like a crowd. And that lends itself to a nice live experience to see a band. Local bands know they can come here and approach us about a show even if no one's ever heard of them before and they can play all their own music."

Guitarist Ashley Plummer has performed at the Melody Inn with her bands the Peggy Sues and Neon Love Life.

"The Melody Inn does and always will hold a place of honor for Indianapolis musicians," she said. "You're not really an 'Indianapolis band' until you've played on the Mel's corner stage within its smoke-filled walls."

Over the years, Brown and Ondrish have expanded, adding a second small bar behind the tiny kitchen and a beer garden out back where patrons can get away from the music if they want. They established "Punk Rock Night" on Saturdays and brought on employees.

But it's never been easy. Coolers stop cooling. Credit card machines break. Taxes, fees and licenses take their toll.

"When you really see how many different agencies squeeze money out of small businesses, it's unbelievable," Brown said. "You've got it coming from all angles. It's like someone wants a piece of you every day."

Their advice to would-be bar owners: Talk to a bar owner before you buy to find out what you'd be getting into.

But they said they're growing and building for the future, and they're about to start negotiating to buy the building.

"I wouldn't want to be anywhere else," Brown said. "I can't tell you how fortunate we were to be able to buy this place and then along the way to have cool people help us—employees, promoters, bands. This is our 401(k)."•