JPMorgan Chase has slapped embattled financier Tim Durham with a mortgage-foreclosure suit, and is asking a court to order his Geist mansion sold through a sheriff's sale.
The New York-based banking company said Durham stopped making payments this spring on a $3.5 million mortgage he took out in 2007. Because the mortgage runs 30 years, Durham had barely made a dent in the principal, despite required monthly payments of $18,329.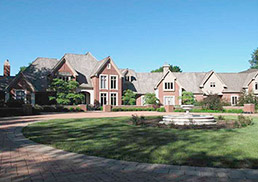 JPMorgan Chase is seeking to foreclose on embattled financier Tim Durham's Geist mansion. (Photo courtesy Multiple Listing Service)
The suit, filed in Hamilton County last month, represents another setback for the Ohio bankruptcy trustee trying to scrape together assets for investors in Akron-based Fair Finance Co., the Durham-owned company that collapsed last year, in large part because of massive loans to Durham and other insiders.
The trustee had hoped to use proceeds from the sale of the home to repay some of the more than $200 million owed to investors—everyday Ohioans who purchased unsecured notes with interest rates as high as 9.5 percent.
But the disclosure of the $3.5 million mortgage, which JPMorgan Chase assumed in 2008 when it took over the failed Washington Mutual Bank, suggests there is little or no equity in the home.
Hamilton County property records show the home also serves as collateral on a line of credit extended by Shelby County Bank that has $1.9 million outstanding.
The loans together approximate the amount Durham has been trying to sell the home for in recent months. Durham in June listed the 10,700-square-foot residence for $5.5 million. It sits on five acres and features seven bedrooms and eight full bathrooms.
The heavy debt on the property "is one example of our disappointments as we go through and look at all the real estate" that could be sold for the benefit of investors, said Kelly Burgan, a Cleveland attorney representing bankruptcy trustee Brian Bash.
Counsel for Durham, 48, has acknowledged he owes tens of millions of dollars to Fair. But the trustee has struggled to collect on those debts because many of Durham's personal and business holdings serve as collaterial on loans to banks that have first priority for repayment.
Records filed with securities regulators show Durham used Fair like his own personal bank after buying it in 2002, with money flowing to support an ostentatious lifestyle, friends and business associates, as well as other companies he owned.
A Shelby County Bank official recently declined to discuss the institution's loan to Durham. Records show the home is not the only collateral the bank received in return for lending to Durham.
Burgan said the best opportunity to recover money for Fair investors may come through the auction of 18 Durham automobiles and the auction of his art collection, which has about 100 pieces. Most of the cars and works of art are free of liens.
"That's pretty much the universe of tangible, identifiable assets," Burgan said.
The art auction, which includes works by Peter Max and other artists, is scheduled for Oct. 16 in Cleveland. The car collection, which includes a Lamborghini and many other high-end rides, is being sold gradually at specialty auctions.
Durham has denied doing anything wrong. His attorneys say in court filings that Fair Finance provided prospective purchasers of Fair's investment certificates offering circulars that disclosed insider loans and other risks.
However, investigators are trying to build a case that Durham duped investors. In a court filing late last year, the U.S. Attorney's Office in Indianapolis alleged Durham was operating a Ponzi scheme, using money from the sale of new investment certificates to pay off prior purchasers.
 
Please enable JavaScript to view this content.