Scallops of paint peeling from the façade of Harriett Beecher Stowe School 64 might as well be tears.
Two years ago, the squeals and shrieks of its 339 elementary students were a hopeful sound for a tired, southeast-side neighborhood. Now the school at 2710 Bethel Ave. is silent—depressingly so.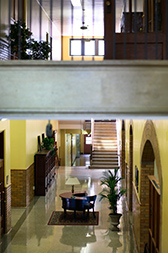 Irvington residents Kevin Mandrell and his wife, Annette, spent more than $400,000 to renovate former School 85 for office tenants. (IBJ Photo/ Perry Reichanadter)
Window shades are pulled except in a room upstairs, where a classroom poster clings to a wall. A Statue of Liberty mural inside the front entrance stands ready to welcome kids who won't be coming back.
School 64 is likely to be the first of three closed schools IPS plans to put up for sale in the next few months. They're among at least 65 IPS facilities shuttered since the late-1950s—victims of demographic shifts such as suburban flight and lower birthrates. Consolidation has become a financial necessity for the state's largest school system.
The sale of the latest three schools could bring some consolation to their neighborhoods, depending on who buys them and how they're used.
Former IPS schools have found a variety of new uses—everything from churches to charter schools to business and community centers.
Or, in another change of demographics in these neighborhoods, perhaps they'll be reused to house their former, aging students in another capacity.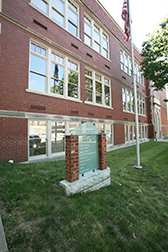 IPS School 9, now occupied by advertising firm Young & Laramore, is an example of successful reuse. (IBJ File Photo)
Steve Young, IPS' chief of facilities management, said he's received calls concerning the soon-to-be offered schools from companies that convert buildings for senior citizen residential use.
"Whether they'll end up bidding on these I'm not sure," added Young. "They're all solid buildings."
Class A buildings, Class B sites
One can't help wonder, however, whether their long-past-prime neighborhoods can attract solid prospects.
Parkview Elementary School 81, near Interstate 70 and Rural Street at 3092 Brookside Parkway North Drive, looks out onto the rolling hills of Brookside Park. Nearby are well-kept brick houses and tree-lined boulevards. But so are old industrial buildings and run-down, wood-framed houses.
 
IPS closed School 81 last year, but already weeds have risen to glory in its sun-bleached courtyards. The only sign of new investment in recent years is a "Little Hands" playground next to the school. It was put up by the Allstate Foundation and Riley Hospital not long before IPS decided to close the school. It goes unused on a sunny afternoon, waiting for kids when they get home from whatever school they now attend.
Kevin Mandrell
Annette Mandrell
A couple of miles northeast, at former IPS Booth Tarkington School 92, 6550 E. 42nd St., the swings out back dangle motionless. Closed two years ago, someone has been mowing the grass around the 1950s-era, one-story school, surrounded by brick houses from the era. The Devington neighborhood is well-manicured for the most part, although the mood is spoiled by a sign across from the school: "Foreclosure House, $24,900."
The school closure "is a big impact on the community," said the Rev. Barry Dixon, pastor at Family Calvary Church, which sits next to the school. The little church could make good use of the school if it had the chance, what with its numerous ministries including a children's outreach and a health fair coming up next month. Dixon even wonders whether the school could be a place to start a ministry for mothers who were recently released from incarceration—or even a music school.
"We could utilize that building. Could we afford [the upkeep]? Absolutely not," Dixon said. He wonders, though, whether a partnership with other community groups might make that possible.
It's not the first IPS school in the neighborhood to be shuttered. Just west, at 5815 E. 42nd, is the former School 53, closed in 1981. IPS records show it was sold that year to Indianapolis Christian Schools for $300,000. Today, there's a sign out front of the sprawling school, "Cathedral of Praise," with a Spanish language church apparently occupying the south end of the school.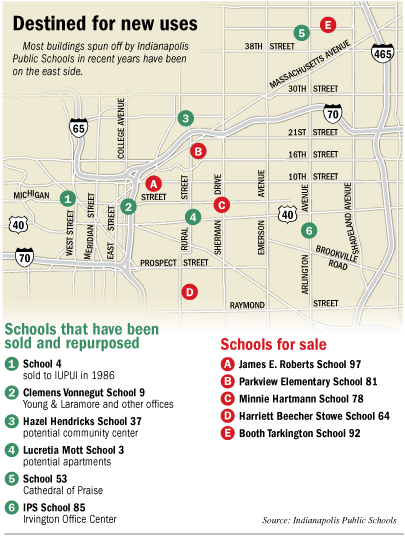 Community needs are key
Often, the highest and best reuse is determined by the residents who live around the abandoned schools.
From a community interest and business standpoint, one of the most successful is Irvington Office Center, in what was IPS School 85, closed in 1997.
The 338 S. Arlington St. site is now home to 17 businesses, from Brown & Brown Insurance to technology firm Tuitive. For the most part, tenants "have a tie to Irvington. It's a neat little tight-knit community," said Kevin Mandrell, who owns the school with wife, Annette.
Occupancy is 100 percent; there's a waiting list for space.
He and Annette grew up in Irvington—she attended the school. In 1998, while looking for new space for his company, then called Diversified Insurance Brokerage Group, Mandrell tossed in a $70,000 bid for the building. He called home to tell his wife he'd bought a school.
The Mandrells have spent $400,000 on improvements. They preserved hardwood floors and fixtures and even called in the company that originally installed the marble terrazzo tile in the 1920s to restore it. Today, the school retains its classic hallways and even sports memorabilia and photos from its glory days.
The reuse project also put the Mandrells in the role of historians and community boosters. Among events their converted school has held is a 50th wedding anniversary for a couple.
"That's where they met, right here in this building" as students, Mandrell said, with awe.
And did you know, he said, that Dwight Eisenhower himself gave a campaign speech for his presidential bid from School 85's auditorium? It's now used partly as a conference center for tenants.
"This building is timeless. It's a beautiful building," he added.
Perhaps the most timeless of former IPS buildings that have found a new use—one related to downtown business—is the former Clemens Vonnegut Public School 9, at 407 Fulton St., built in 1899.
Visible from the split of interstates 65 and 70 on the east edge of downtown, it now houses advertising firm Young & Laramore. IPS sold the school in 1973 for $34,551. In 1997, it was renovated by International Medical Group, which moved to a different Indianapolis location five years ago and sold the school to Y&L, which was running out of space at its Massachusetts Avenue office.
Young & Laramore CEO Paul Knapp marvels at the reconfiguration overseen by Ratio Architects, having taken a shell of a building and pulling off what he says is a successful mix of old and new elements.
There were challenges, however, such as figuring out what to do with the former gym. It's partly used as common space, decked out with two massive sculptures.
"If you can be more creative and allow yourself to dream a little bit," Knapp said, "you could really re-envision this kind of building."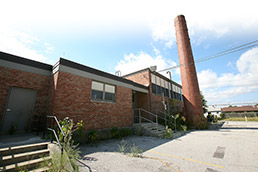 Harriett Beecher Stowe School 64 likely will be put up ?for sale within months. Deemed unnecessary by IPS, it was closed two years ago. (IBJ Photo/ Perry Reichanadter)
Young & Laramore leases about half the 17,000-square-foot building and sublets the other half. Of the six tenants, five appropriately enough are in the education business, including The Mind Trust, which operates an educational entrepreneurship program and a venture fund.
Historic, environmental issues
But school reuse often brings environmental and historic preservation considerations, as well.
One example is the former Lucretia Mott Public School 3, at 23 S. Rural St. It housed Indiana's first "open air" school, where students in the early 1920s sat bundled in parkas during the winter with windows cranked open as a well-intended way to help students who had tuberculosis or were otherwise anemic.
It's been closed now for 30 years, last used by Wheeler Mission Ministries as a women's and children's shelter. Englewood Community Development Corp. now owns it and plans to convert it to 32 apartments in a partnership with John H. Boner Community Center.
A 2008 study by Ratio Architects for Englewood Community Development found plenty of attractive historical elements, such as hidden hardwood floors and terrazzo tile. There also are pressed metal ceilings and impressive storage lockers with tambour doors.
But while structurally sound, School 3 had problems inherent with neglect and age, such as water leaks, an inoperative boiler system dating to its construction in 1905, and old steam pipes covered in wrap "which may contain asbestos," Ratio's study cautioned.
The school also lacks an elevator, mandated by modern accessibility regulations. Virtually all the electric and plumbing systems will need to be replaced. Englewood CDC anticipates spending $6 million to $7 million on the overhaul.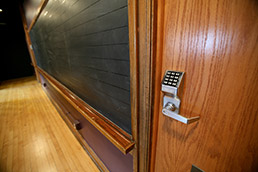 The Mandrells, who bought School 85 in 1998 for $70,000, integrated modern technology into the building's historic flavor. (IBJ Photo/ Perry Reichanadter)
Such historic structures often qualify for historic district tax credits and, when reused for housing, may also qualify for credits for creating affordable housing, said David Kroll, an associate principal of Ratio. The firm has worked on such projects around the state, including at the former Roosevelt School in Elkhart.
"These are [often] major landmarks in the neighborhood and to the community," Kroll said.
Retaining role as anchor
 
Indeed, one such school, the former Hazel Hendricks School 37, is shaping up to be a key part of the Martindale-Brightwood community even in its reuse.
Central Indiana Community Foundation is trying to raise $3 million to help Martindale-Brightwood Community Development Corp. reconfigure the school closed two years ago into a community center.
 
School 37 serves as a Goodwill day camp, but to broaden its use needs heating, ventilation and air-conditioning upgrades, among other improvements. More than half the space has already been designated—the Edna Martin Christian Center and Kingsley Terrace Child Development Center among them.
With help from Indianapolis developer Paul Estridge, the school-turned-community center is set for completion next year. As a community center housing tenants of modest financial means, it will have challenges, however, including an estimated $350,000 annual operating budget.
Officials hope rents can cover that expense.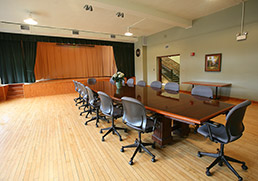 In former School 85, meetings are held where children once performed. (IBJ Photo/ Perry Reichanadter)
One big potential reuse of closed schools is as government facilities.
The city's Department of Public Safety may be getting a good deal on two historic schools IPS closed in recent years that were at risk of demolition.
The John H. Boner Community Center and other community groups in recent months have been talking with IPS about buying School 78, 3734 E. Vermont St., with financing help from Local Initiatives Support Corp.
The groups would lease part of the school with Indianapolis Metropolitan Police Department East District and the Indianapolis Fire Department's headquarters, now at 555 N. New Jersey St., leasing other space.
The Department of Public Safety also completes additional partnerships with community groups for James E. Roberts School 97, 1401 E. 10th St., next to Arsenal Technical School.
The 74-year-old School 97 could serve as a training center for police and firefighters, perhaps offering instruction to IPS students through a partnership with Ivy Tech Community College. An IPS spokeswoman said talks are still under way with the city.
Such government uses are happening elsewhere in the state. Kroll noted that former schools in Greensburg and Danville have been converted to town halls.
Nobody unloads schools like IPS, however. Since the late 1960s, it's sold more than 65 schools, generating $7.3 million in proceeds, according to records.
The most it fetched for a single IPS school was $1.63 million from the 1986 sale of School 4, at 525 Blackford St., to IUPUI.
IPS lists 64 schools still in service.•
Please enable JavaScript to view this content.