Next spring, more will be growing at the Birch Bayh Federal Building and U.S. Courthouse than its ever-expanding bankruptcy ledger.
As part of a $69 million renovation, the federal government plans to install a 28,000-square-foot vegetative roof to help transform the downtown landmark, built in 1905, into a modern-day environmental marvel.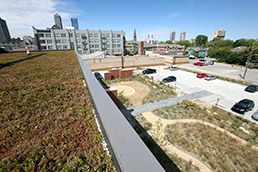 A roof sprouting plants on The Nature Conservancy's new headquarters downtown is a sign of things to come at the federal courthouse. Water collected from the system will be used for toilets and urinals. (IBJ Photo/ Perry Reichanadter)
The complete refurbishment, scheduled to be finished in August 2012, likely could achieve the U.S. Green Building Council's LEED, or leadership in energy and environmental design, certification.
Improvements include the installation of a sprinkler system throughout the building, a rainwater-reclamation system and an energy-efficient heating-and-cooling system.
Yet it's the green roof, touted as the largest in Indianapolis, that elevates the project above scores of others striving to attain some sort of eco-friendly status.
Researchers say green roofs can last two to three times as long as conventional roofs, cut noise, boost air quality, reduce heat islands, lower cooling and heating costs, and absorb or slow storm-water runoff.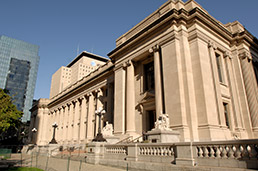 The downtown courthouse is being refurbished at a total cost of $69 million. The new roof will last longer than a conventional version. (IBJ Photo/ Perry Reichanadter)
"More and more people are realizing that green roofs have a positive return on investment, in terms of making use of the space," said Steven Peck, president of the Toronto-based Green Roofs for Healthy Cities. "I think the message is finally getting out."
To be sure, the number of green roofs is increasing, both in the United States and in Indianapolis.
Results of a survey released in May by Peck's organization showed square footage devoted to the roofs grew nationally 16 percent in 2009 from the previous year despite the sluggish economy.
The nation's leading city is Chicago, which contributed 500,000 square feet last year. In Indianapolis, the federal building and courthouse project represents a major leap, more than doubling the 22,685 square feet of space devoted to green roofs in the Circle City last year.
Indianapolis-based Shiel Sexton Co. Inc. is general contractor for project manager Einhorn Yaffee Prescott Architecture & Engineering of Albany, N.Y.
"The nice thing about this is, it's modern technology that we're using on an older building, which is an exciting thing that people will see," said Matt Chalifoux, an EYP principal and project manager for the courthouse renovation. "But it's not technology that will need a lot of oversight."
Indeed, the courthouse roof will contain several varieties of sedum that resist drought. The plants should be established enough within two years to require little, if any, additional maintenance, Chalifoux said.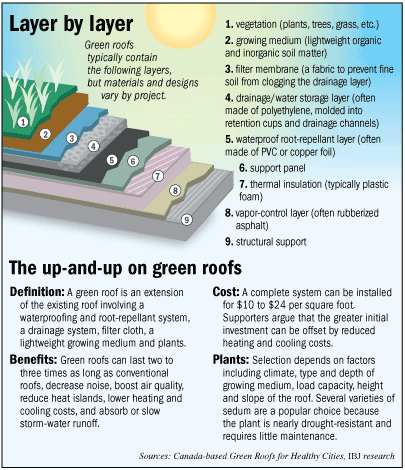 The sedum will be planted in 3 inches of soil mix that is much lighter than typical soil. The 3-inch depth is among the shallowest used in green roofs but the light weight is necessary because of the building's age.
Saturated, the system could weigh as much as 23 pounds per square foot.
The soil mixture will be spread from large bags lifted by a crane or blown into place by a vacuum truck.
The soil mix is not spread directly on the building. Rather, several layers of material, including insulation, a retention board, filter fabric and what is known as a root stop, are installed beforehand.
The layers not only protect the roof membrane but also improve the thermal performance of the roof and assist drainage through the building's storm-water drainage system.
Rooftop drains will collect rainwater and direct it into a filtration system in the building's basement. The filtered water will supply the toilets and urinals throughout the building and courthouse. It is estimated that the combination of storm-water filtration and efficient low-flow toilets could cut usage of city water at least 20 percent.
The roof is expected to cost $16.50 per square foot installed, or $462,000, not including removal of the existing roof and installation of the membrane that will be covered by the vegetative roof, Chalifoux said.
He acknowledged hesitance of some building owners to embrace the eco-friendly technology, but noted the U.S. General Services Administration recognizes the long-term financial benefits. About 20 government buildings nationwide sport green roofs. The one in Indianapolis will be one of few in the Midwest.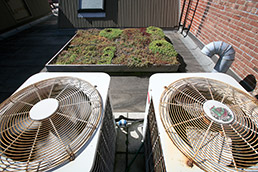 Another example of a local green roof grows at Schmidt Architect's downtown headquarters. (IBJ Photo/ Perry Reichanadter)
"GSA is not selling these buildings, so they're looking at it not for 20 years but 100 years," he said.
Of course, it helps that the Birch Bayh building renovation is made possible by funds from the American Recovery and Reinvestment Act.
Elsewhere in Indianapolis, The Nature Conservancy of Indiana added a green roof in November to its new headquarters at 620 E. Ohio St. The roofs also can be found on the Schmidt Associates building on Massachusetts Avenue and on the nearby 3 Mass building.
For The Nature Conservancy, the installation of a 7,500-square-foot green roof and a smaller, 250-square-foot version is a noticeable complement to its mission.
"We couldn't be more pleased with how it turned out," said Adam McLane, the conservancy's director of operations. "It's been remarkable."•
Please enable JavaScript to view this content.