The city just met a Sept. 20 deadline for securing $29 million in federal money that will be used to acquire, demolish and rehabilitate foreclosed and abandoned homes.
Work already has begun on some of the projects, spread throughout four Indianapolis neighborhoods that were chosen based on factors such as crime and foreclosure and vacancy rates.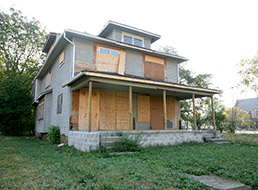 A boarded-up double near the intersection of Park Avenue and 29th Street is due to be rehabilitated. (IBJ Photo/ Perry Reichanadter)
The city's money is part of $4 billion that was distributed to communities across the United States in 2008 as a way to address the country's housing troubles.
Indianapolis must spend its share of the dollars—dubbed the Neighborhood Stabilization Program—by 2013. The recent deadline was the date by which the funds had to be officially assigned to specific projects. Note: It could happen but it's desirable to find funding
Not-for-profit and for-profit developers are handling the rehabilitation projects. In recent months, some of the groups had been struggling to leverage their federal funds with private dollars because of the scarcity of loans in the tough economy.
But in recent weeks, groups such as The Children's Museum of Indianapolis, Local Initiatives Support Corp., Clarian Health and Citizens Energy Group have stepped up to assist the not-for-profit developers, said Bill Taft, executive director of LISC.
Interest in the projects among traditional lenders such as banks also has increased.•
Please enable JavaScript to view this content.