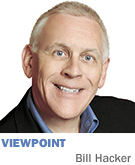 Sports enthusiasts all over the country already are making predictions about whether the Indianapolis Colts have what it takes to get back to the Super Bowl in 2011. Would it be possible for Peyton and company to do it again in 2012, when the Colts could play the biggest game of the year on their home turf?

It's fun to try to predict what might happen. It's exciting to think that, in 16 months, thousands of people will arrive in Indianapolis from around the globe to be part of Super Bowl XLVI. And millions more will watch from their homes. Indianapolis truly will be in the spotlight in February 2012.

My prediction is this: The Indianapolis the world sees in 2012 won't be the same as the one we see today. Because of the opportunity the Super Bowl brings, and the giving spirit of Indianapolis residents, we have a chance to become an even better city. We just need to make sure we make the most of this opportunity.

The city will improve. The machinery already is in place. Obviously, we'll enjoy an economic boom from visitors, and we've all read about the projects on Georgia Street, at Arsenal Technical High School and its near-east-side neighborhood. Other areas across the city will be stronger, too, because of the thousands of people willing to give their time to them.

The question is, are you one of those people?

Early in my career, I had a mentor who taught me the importance of volunteering. I learned that it's not only a social responsibility to give back to the community and help those less fortunate; it's also a way to improve the quality of life for all residents. With the Super Bowl and related projects, we all have the opportunity to make a difference. The plans are in place, but they won't get executed without volunteers.

Imagine what would happen to our city if we didn't have 2,000 volunteers during United Way's Day of Caring, or if 600 volunteers didn't feed the hungry at Second Helpings every year, or if volunteers didn't help tutor or mentor schoolchildren. The Indianapolis community would not be what it is today.

Reading about the community programs already taking shape around Super Bowl XLVI, it would be easy to assume everything's in place and you're not needed. But that would be wrong. You are needed.

Just imagine the impact we could have if every businessperson in Indianapolis helped clean up neighborhoods, plant trees and mentor children. With just an hour a year from each one of us—along with the countless hours many of you already give—we could not just improve the community, we could change it forever.

To use the obvious sports metaphor, it's time for everyone to get off the sidelines, and get into the game.

For me, that's going to mean giving time and money as a member of the Realtor Foundation to help renovate or build homes for the homeless on the near-east side. This initiative will mean 32 residences for homeless families. But, it's not just about providing shelter. Each family will receive services from the John H. Boner Community Center to help them get back on their feet. And, when they do, another homeless family will be able to move into the residence, so that, one by one, we're helping more families.

It's a big undertaking, and it's going to take a lot of help. But when the first family moves in this fall, we'll realize that the Super Bowl in Indianapolis is not just about a football game.

Indianapolis has a strong history of volunteerism. I guarantee that will be one of the stories that gets told when the Super Bowl comes to town, and there's no doubt Indianapolis is going to be a better place because of it. The only question is, will you be a part of the story?•

__________

Hacker is a real estate agent with Re/Max Legends Group and a board member of the Realtor Foundation, the philanthropic arm of the Metropolitan Indianapolis Board of Realtors.