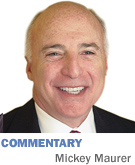 Like most veterans of the entrepreneurial wars, I have made mistakes. That propensity is magnified by the higher-risk profile I have chosen—startups and turnarounds, both treacherous undertakings.
To create a disciplined investment philosophy, I evolved from my experience, "The Ten Essential Principles of Entrepreneurship You Didn't Learn in School"—at least I didn't learn them in school. Over the course of 10 columns, I will feature each of these essential principles. This is the seventh installment.
Quality of life
(When it's springtime in Alaska, it's 40 below.)
In business school, students are supposed to acquire the tools necessary to make business decisions. But never in a single class did I learn that a thorough analysis of a business opportunity should include the inquiry: "How will this decision affect the quality of my life?" The Q Factor.
The Harvard University Graduate School of Business offers a class titled "Running and Growing the Small Company." The MBA candidates taking the class are required to read and evaluate case studies and offer advice and solutions to the problems and issues presented.
A few years ago, Indianapolis native Jeremy B. Dann, Harvard MBA '98, prepared one of the case studies, a 30-page report on IBJ Corp. and its sister company, MyStar Communications Corp. (owner at the time of WTPI-FM, WZPL-FM and WMYS-AM), which provided the fodder for class discussion. The material was sprinkled liberally with quotes from our managers and presented key issues facing IBJ and MyStar in an imaginative, interesting and lively manner. I was invited to respond to the class discussion in any way I deemed appropriate. I looked forward to it.
In all of the sessions, obviously bright students were moderated, prodded, cajoled and challenged by their professors to present and defend strategies for our companies. The battle raged—buy, expand, sell, go public, unload, put it on the Internet. I smiled throughout the debates thinking that many of these leaders of tomorrow, although bright, lacked the seasoning and experience that with intelligence brings good business judgment. One important criteria guiding my decision-making was almost completely missing from this debate—the Q Factor.
As with most of these essential principles, the quality of life analysis has a subjective element. Everyone has a different Q Factor depending upon age, wealth, health and many other criteria, and that Q Factor is in a constant state of flux.
When you are contemplating a business decision, omit the Q Factor at your peril. One half of your waking hours during the week are spent at the workplace. Those hours, if not fun, should at least meet your tolerance expectations. Think—does this decision require me to be up all night, be out of town most of the week, work during the dinner hour, be in a business I find distasteful, deal with customers I don't respect, take me away for long periods from my spouse and family, or cause me to move to a city in which I do not wish to live? Often, you may have to make sacrifices with regard to quality of life, but make that choice subject to a conscious analysis.
Years ago, I used to travel for business to racquetball clubs in Texas and New York, cable TV systems in Michigan, radio stations in Wisconsin, and movie-making in LA.
At this stage in my life when applying the Q Factor as part of the screening process, I invariably reject business opportunities requiring travel outside of Indiana. Driving down Meridian to work every day suits me just fine. Real estate mogul Gene Glick put it this way: "A fat dog won't hunt."
The Q Factor—Did you learn that in school?•
__________
Maurer is a shareholder in IBJ Corp., which owns Indianapolis Business Journal. His column appears every other week. To comment on this column, send e-mail to mmaurer@ibj.com.
Please enable JavaScript to view this content.