Indianapolis-based My Health Care Manager has won a nearly $1.2 million grant from the National Institutes of Health to help it further develop its software system that helps seniors and their care givers navigate the health care system.
My Health Care Manager will collaborate with the Indiana University School of Informatics at IUPUI to add text-based searching capabilities so its software can find the latest research on geriatric health issues and the latest information from senior care agencies.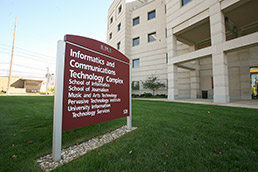 The Indiana University School of Informatics in Indianapolis will help My Health Care Manager improve its software. (IBJ Photo/ Perry Reichanadter)
The software, called Senior Care Navigation System, or SCANS, is known technically as an automated knowledge acquisition system. It scans databases of medical research articles and other resources in order to present care givers—whether nurses or family members—with recommended actions and tools to make decisions about the senior they are caring for.
"We are losing billions of hours and dollars in lost productivity as families struggle to provide much-needed assistance for loved ones based upon fragmented, incomplete and outdated information," said Jane Niederberger, president of My Health Care Manager, in a statement.
Also supporting the effort, with a $75,000 grant, is the Indiana Economic Development Corp. Two years ago, the state's main economic development agency helped fund the creation of My Health Care Manager's software with a $1.9 million grant from the Indiana 21st Century Research and Technology Fund.
 
Please enable JavaScript to view this content.