While one appealed to more refined tastes and the other involved a fair amount of drinking, both the International Violin Competition of Indianapolis and Art vs. Art are similar in that they violate the "everyone's a winner" mentality that permeated our culture during the latter years of the last century. Thanks in part to "American Idol," "Project Runway" and other TV battles, though, the last decade seems to have seen a rise in our appreciation for competition. And I'm all for that, within reason.
I caught only the final evening of the IVCI competition this year, and had the pleasure of hearing three different kinds of passionate playing—all compelling, all excellent. American Benjamin Beilman, 20, seemed to bring a youthful sense of discovery to every note of Sibelius' Concerto in D minor for Violin and Orchestra. There was both joy and awe in his playing and, under lights that seemed hotter for him than for the other competitors, it was easy to root for him. Ultimately, he finished third ($10,000).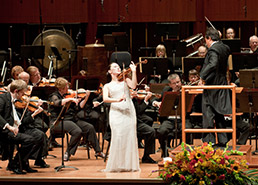 Gold Medalist Clara-Jumi Kang, who began violin lessons at the age of 3, stood out to the judges of this year's International Violin Competition of Indianapolis. (Photo Courtesy Denis R. Kelly Jr.)
Twenty-year-old Haoming Xie, of China, was rangier, by turns aggressive and nearly silent in his playing of Tchaikovsky's Concerto in D Major for Violin and Orchestra. While less riveting to watch than the others, some artists, including Xie, show the work behind the work. That shouldn't diminish the fact that he excelled in a brutal battle. He finished in fourth place ($7,000).
South Korean Soyoung Yoon, at 25, brought more maturity to her playing, showing the value of confidence and pacing in a powerful performance of the same Sibelius Beilman tackled. To her credit (and that of the Indianapolis Symphony Orchestra), this didn't seem like a repeat of the version we heard just an hour or so earlier. I recall on a past visit to the IVCI finals being annoyed at having to hear two of the same pieces in a single concert. With Yoon and Beilman offering very different reads, the double play
actually added to the interest and excitement. Yoon finished in second place, landing $15,000.
But the IVCI is more of a decathlon than a sprint. The finals were only the climax of a competition in which players had to show their stuff in nine different programs. Each of the three I saw also scored additional prize money in these other categories (e.g., Xie's Best Performance of a Sonata other than Beethoven, which was worth $1,500).
Without seeing all, it's foolish to speculateon who deserved to be considered best among the best. The big winner, this time around, was Clara-Jumi Kang of Germany/South Korea, who walked away with the $30,000 Gold Medal prize, plus additional category winnings. Perhaps more important, she'll also be the recipient of high-profile gigs arranged by IVCI.
__________
The same night Kang was playing in the finals at the Hilbert Circle Theatre, I was at the Vogue, where Art vs. Art was taking place.
In case you missed the memo, Art vs. Art is a made-in-Indianapolis event (courtesy of Primary Colours) that begins with a paint-out where artists and would-be artists are given a canvas, paint supplies and four hours to create what they want. Those canvases are then photographed and put on line, where interested parties cast their votes for favorites. At the main event at the Vogue, the bottom 32 are offered for sale for $50 each. Attendees vote for favorites from the remaining, moving 16 onto the final competition.
That's when the real fun/horror begins. Under the malicious guidance of host Michael Wiltrout (of the popular tongue-in-cheek musical group the Leisure Kings), the paintings are paired, the audience votes (helped by a decibel meter) and the winner moves to the next round. The loser, meanwhile, faces The Wheel of Death, which chooses a method for its destruction.
Can it be saved? Only if someone in the crowd is willing to buy it at auction, with a minimum first-round bid of $150. That minimum goes up as the rounds progress, leading to more mayhem later in the show as works price themselves out of the increasingly drink-influenced market.
So while we saw many of the works sell, we also saw others suffer blows from the "Molly Hatchet," dunked in a tank of chocolaty muck when the wheel landed on "BP," and sprayed with, well, let's not go into that one.
I can recall push-back in the early years of Art vs. Art, when some seemed to equate the destruction of art—no matter how hastily made—with book burning. Those with such objections would be wise to stay away. More important, I think, were the patrons buying original art for perhaps the first time, artists making money—and increasing their visibility—and audience members having a blast at an edgy event Indy has birthed. If you want to make a case for the coolness of Indianapolis, this would be one place to point.
I only hope the powers that be can avoid having the paint-out day on the same afternoon as the Penrod Arts Fair next year. Perhaps that could raise the average quality of the work and open it up to a wider range of visual voices.
Even as it stands, though, I'm trying to talk talented members of the IBJ art department to try it next year—knowing full well their work might end up in a chipper/shredder.•
__________
This column appears weekly. Send information on upcoming arts and entertainment events to lharry@ibj.com. Twitter: IBJArts and follow Lou Harry's A&E blog at www.ibj.com/arts.
 
Please enable JavaScript to view this content.