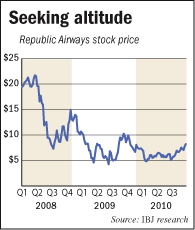 This time last year, one might have wondered whether Bryan Bedford was suffering from altitude sickness.
That's when the chief executive of Indianapolis-based Republic Airways Holdings, which for 33 of its 35 years profitably flew regional jets under contract for other airlines, closed on the purchase of a scheduled carrier, Frontier Airlines.
Denver-based Frontier was in bankruptcy, as was Milwaukee-based Midwest Airlines, the first scheduled operator Republic bought, only three months earlier.
A year later, Bedford looks instead like the wise man on the mountaintop. Republic not only beat analysts' estimates in the second quarter, but also posted a profit. That's despite the rigors of integrating two airlines and taking on a completely different, highly risky segment of the airline industry.
Republic "has won a battle," Sidoti & Co. analyst Stephen O'Hara opined recently on second-quarter results. But, he added, "The war is not over yet."
Indeed, Republic didn't have much time to celebrate. Just weeks after the new player in scheduled service announced solid second-quarter results, the perils of the scheduled market became even more apparent.
Arch-enemy Southwest Airlines, which already battles Frontier in Denver and points west, on Sept. 27 announced it was buying Orlando-based AirTran for $1 billion.
AirTran has been trying to assert itself as the hometown carrier in Milwaukee, where Midwest (now renamed Frontier) is based. Now they'll have Southwest with a bigger market share in Milwaukee, said Robert Mann, president of airline consultancy RW Mann & Co.
"You're tangling with the 800-pound gorilla," he said of Dallas-based Southwest. "It's going to be a battle. It's a work in progress" for Republic.
The scheduled market is a whole different animal from the contract flying Republic has known. The latter is not as susceptible to seasonal travel or fare swings. And in regional flying, the scheduled carrier shoulders the effects of fluctuating fuel prices rather than Republic.
Now, Republic "faces both regional airline and traditional airline risks," noted Deutsche Bank, in a second-quarter report.
So why was it, again, that Bedford wanted to move into the schedule business?
Regional flying potential limited
In case head-scratching industry insiders were still wondering, Bedford rehashed his strategy at a Raymond James airline conference earlier this year.
Republic's fixed-fee business—the term it now gives its longtime contract flying business—has been fairly consistent, Bedford noted. It has long-term contracts with American, Delta, United, US Airways and Continental Airlines. Profit margins have been around 7.5 percent to 8.5 percent, pretax.
"The fixed-fee business, the outlook is stable. We have consistently performed well in both terms of operating costs and margins and cash flow," Bedford said at the conference.
But he reiterated that the growth prospects for fixed-fee flying "quite frankly we think are limited."
He noted that the legacy carriers have been consolidating and shrinking or closing hubs, which reduces demand for Republic's services.
One notable consolidation under way is the merger between United Airlines and Continental Airlines, both of which contract with Republic for regional service.
Labor issues also threaten the fixed-fee business. Labor contracts, except for that of Delta, are up for renegotiation.
If airlines seek to outsource more of their routes to larger-capacity regional planes, labor unions representing mainline pilots will push back, demanding less outsourcing and smaller planes for contract routes, he noted.
With those threats looming, Republic opted to transfer to scheduled flying its skill at reducing costs and improving efficiency, such as in deploying the best aircraft mix. The new scheduled service, operated under the Frontier name, is known internally as Republic's "branded" unit
The fixed-fee business is likely to shrink over time, Bedford said, "and the risk of doing nothing … we thought from a shareholder perspective was not acceptable."
Bedford could not be reached for comment.
Integration challenges
Though Republic is still immersed in integration, it started off with some good bones in Frontier. The costs associated with flying a narrow-body jet—things like crew costs, aircraft rent and maintenance—are $2,700 an hour for Frontier compared with about $2,800 an hour for AirTran and Southwest and $3,500 for United, which is Frontier's big competitor in Denver, according to carrier data from earlier this year.
"So that's what we purchased with the Frontier asset, which is a very little low-cost carrier with a high market share in Denver," Bedford told analysts.
That's not to say it's a turnkey acquisition. Republic has been weighed down by the cost of integrating Frontier and Midwest Airlines under the Frontier brand. That includes combining reservation and back-office systems. This month, Republic plans to begin operating them fully as a single entity.
Integration costs also involved changes in aircraft, particularly at Midwest, which operated Boeing 717s. Those were replaced with larger Embraer regional jets and with Airbus planes. For example, in November, Republic plans to place additional Airbus aircraft in Milwaukee that it says are more efficient in serving the Northeast business markets of Boston, New York and Washington, D.C.
Combining systems and re-fleeting isn't cheap. In the second quarter alone, Republic took an $18.5 million charge for aircraft return costs and other integration expenses.
The company reported a pretax loss on its branded business of $14.2 million in the second quarter. Bedford said Republic would have turned a pretax profit of $2.9 million in that business if integration expenses were excluded.
"The type of integration RJET is attempting has never been done before, but we do not view this as a reason why it cannot be done. We think results in [second quarter] prove RJET is making progress in integrating the brands and has been able to maintain its presence despite removal of the Midwest name," wrote O'Hara, the Sidoti analyst.
Landing business fliers
Beyond integration costs, Republic is starting to make progress in both reducing costs and generating additional revenue. This includes lassoing more business passengers during the last quarter, noted Deutsche Bank, which said Republic did better than it expected in the second quarter.
Frontier's "Class Plus" program aims to lure more lucrative business passengers with perks such as free checked bags and better seating. Republic's vice president of revenue production, Greg Aretakis, attributed more than 25 percent of the fare increase Frontier saw in its Denver network last June to increasing use of the business product.
Already, the branded business amounts to 60 percent of Republic's $683.3 million in revenue during the second quarter, when the company as a whole posted a $2.6 million profit.
Analyst Mann said with all the focus on the branded business, he wonders whether Republic can continue to do well in its traditional, fixed-fee flying segment.
Revenue in that segment fell $42 million, or 16 percent, in the second quarter. Part of that decline involves moving the former regional business that Republic used to fly as a contractor for Midwest into the branded revenue column.
Mann sees more competition in the regional business in the months ahead. "The concern I have is that they'd take their eye off that ball."
Bedford, from his newfound perch, is looking at scheduled service as the future.
"It's going to create some opportunities for nimble low-cost carriers," he told industry types, "and quite frankly we think that's the growth business of the future."•
Please enable JavaScript to view this content.