The typical downtown cyclist may think of the Indianapolis Cultural Trail as nothing more than a very accommodating extension of the sidewalk.
Payne
When it's finished in 2012, the eight-mile urban trail will represent $62.5 million in public and private investment. Brian Payne, who has spent the past nine years turning his concept of the trail into reality, doesn't want to see it treated like common pavement.
"It's something that's a world-class amenity," said Payne, president of the Central Indiana Community Foundation. The foundation is building the trail in conjunction with the city of Indianapolis.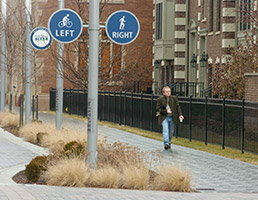 The Cultural Trail will be maintained by an independent, not-for-profit organization. (IBJ Photo/ Perry Reichanadter)
By November, the trail will have its first full-time, dedicated staff person, an executive director hired by Indianapolis Cultural Trail Inc. The not-for-profit organization will try to raise more than $700,000 a year for the trail's ongoing maintenance, and it will market the trail as a tourism and economic-development engine.
The Cultural Trail may be the first recreational path in the Indianapolis area to have the backing of a separate not-for-profit board. Payne said that's justified, considering it has attracted $27.5 million in philanthropic investment.
Indianapolis Cultural Trail Inc. became active this year with the appointment of an 11-member founding board. The membership includes many of the trail's leading patrons: Lori Efroymson, Myrta Pulliam, Margot Eccles and representatives of the Eugene and Marilyn Glick Family Foundation, which gave $15 million to the trail.
"People who have made that kind of investment are very concerned that their investment is going to be well-taken-care of," Payne said.
Though the Cultural Trail is his brainchild, Payne is not on the board of directors.
"I'm ready to pass this baby off to the community as a whole," he said.
Most of the organization's roughly $1 million budget will be spent on maintenance. A $6 million endowment, to be available by the end of this year, will provide $300,000 a year for those expenses. The rest will have to come from grants and donations.
That fundraising requirement is the reason Payne said he resisted handing management of the trail to an existing organization. Although Indianapolis Downtown Inc., for example, easily could fold the Cultural Trail into its promotion activity, Payne said that group's board isn't expected to be heavily involved in fundraising.
Members of the cultural trail's board will give a minimum of $1,000 or $5,000, depending on whether they're older or younger than 40. They'll also work on an annual gala, raising $100,000 or more, Payne said.
Indianapolis Cultural Trail Inc. was modeled after the Central Park Conservancy in New York City. Payne said he hopes serving as a Cultural Trail director will be considered one of the city's most prestigious board posts.
Payne has high expectations of the new executive director. That person will spend a lot of time schmoozing with donors. He or she must also be willing to hop on a bike every morning, do a round of the trail and, if need be, pick up broken glass.
"I tend to do that routinely on my walks down the trail," Payne said.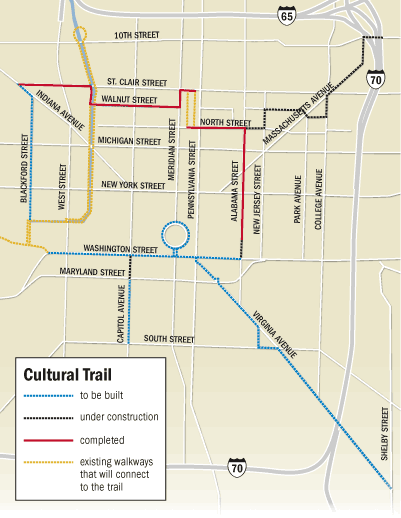 The trail is designed to connect the downtown area's five designated cultural districts, plus Broad Ripple via the Monon Trail. Its wide paths are built over existing parking or traffic lanes.
This year, the Cultural Trail was completed north of downtown. The northeast section, which follows a portion of Massachusetts Avenue and connects to the Monon Trail, is scheduled to be complete in November.
The remaining 4-1/2 miles includes Washington Street and Monument Circle and a long southeast corridor to Fountain Square. Thanks to a $20.5 million federal stimulus grant announced in February, those sections will be substantially complete by the 2012 Super Bowl. Landscaping and remaining work are to be finished by that summer.
"Other than our fountain project, it's the most anticipated development in our neighborhood in a long time," said Paul Baumgarten, manager of the main street program for Fountain Square.
The city launched its cultural tourism initiative in 2002, but tax revenue and grant money that supported it has since dried up. Fountain Square has Baumgarten working full time on tasks such as maintaining a website with up-to-date information about events and businesses, but his position is supported by other not-for-profit groups.
The Cultural Trail will have more resources than any of the neighborhoods it serves, but Payne said, "We're not going to compete with the cultural districts that we created the trail to support."
One of the trail's many promised benefits is an increase in tourism. Payne predicts that convention-goers will start devoting time to exploring the trail.
Indianapolis Cultural Trail Inc. will be measuring that effect, Payne said, as well as counting users of the trail and tracking new real estate developments.
Another ongoing project of the cultural trail will be the launch of a community bike-share program, Payne said.
Sotiris Hji-Avgoustis, professor of tourism, conventions and event management at IUPUI, has been surveying Indianapolis visitors since the city launched its cultural tourism initiative.
"The trail alone is not going to be the force behind the city becoming a more attractive cultural destination," he said. "What the trail provides is access to multiple small attractions, and a way to market them," he said.
"It's a wonderful idea. It's something that will probably help our city brand itself," Hji-Avgoustis said.
Hji-Avgoustis said it will take time for the trail to affect the pattern of visitor stays. Convention goers who want to explore it will probably plan to return the next year with their families, he said.•
Please enable JavaScript to view this content.