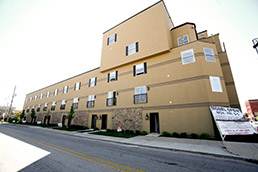 The city gave Di Rimini LLC a list of 35 points where the project differs from the one approved. (IBJ Photo/ Perry Reichanadter)
Neighbors wondered for months whether the Di Rimini apartment project at the southeast corner of Capitol Avenue and St. Clair Street eventually would resemble the renderings they had seen.
The 31-unit building taking shape had fewer and different windows, less limestone and more synthetic stucco than promised. Two-story aluminum and glass storefronts were missing. The portion along St. Clair had three stories instead of four and was missing vertical columns.
Several directors for the not-for-profit Near North Development Corp. expressed concerns at a board meeting, leading the group to ask in an e-mail on Sept. 2 for the city planning department to take a look.
A week later, the Department of Code Enforcement issued a stop-work order for the project at 733 N. Capitol Ave. Senior planner Jeff York gave developer Di Rimini LLC a list of 35 points where the project built differs from the one approved. (UPDATE: City planners not impressed by developer's proposed fixes.)
The violations pose the biggest test yet for the city's 2-year-old urban design guidelines, which developers and planners created to provide a basic framework for massing and scale of projects in the central business district. Neighbors and other developers are watching closely to see whether the city enforces the new rules.
IBJ.COM EXTRA
Scroll to the end of this story to see a complete list of the 35 violations.
The city's planning staff met five separate times with Di Rimini principal Jeff Sparks and his attorney to ensure the project would meet the guidelines, said Mike Peoni, administrator for the city's department of planning. After the developer agreed to a long list of changes, a hearing examiner approved the proposal in October 2009, and the Metropolitan Development Commission gave its blessing in November. Construction began early this year.
Peoni said the developer thought "they were getting the project approved conceptually" and not each specific detail. He said Sparks was apologetic and humble in a recent meeting and has promised to produce new renderings showing planned fixes for the building, which replaced a vacant lot.
Those likely would include stone covering for the entire first floor rather than just sections, more windows with lintels and sills as promised, railings on the third level, landscape planter boxes, and balconies that line up with entry doors to give the building a more vertical look.
"We as a staff are trying to work out a solution with the developer," Peoni said. "If we can't get this worked out administratively, they're going to have to go back to another public hearing. The burden is on them."
Sparks, reached on his cell phone, said he had no comment, then hung up. He and his attorney, Jeff Bellamy of the local firm Thrasher Buschmann and Voelkel, did not return repeated phone messages.
Sparks has the 34,000-square-foot building listed for sale on LoopNet with an asking price of $6.7 million—about $216,000 per unit. The listing says the "upscale multifamily housing development" geared toward students is scheduled for completion by Oct. 1, and that about half the units have been leased by a for-profit college.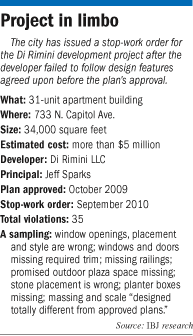 Signs outside the building promote open houses every weekend and by appointment for the apartment units, which are being offered for $1,590 per month (includes one-car garage, stainless appliances and all utilities, including Internet and cable).
But no one will be moving in until the developer can reach terms with city planners. If they can't agree, the current approval could be voided and ultimately the fate of the project could wind up in court.
"How did this happen? How could a plan that started as a promising project get turned into something that is a ghost of what was planned?" Urban Indy blog author Curt Ailes wrote in a post Sept. 28. One reader said the building looks like a Motel 6.
The changes from the agreed-upon building design have angered neighbors, particularly those who have followed the rules while investing in their own properties.
It's the first time John Andrews, director of business development for locally based Shiel Sexton, can remember a developer securing approval for one set of plans and building another.
Shiel Sexton, a general contractor, has its headquarters a few blocks to the north, and Andrews had been watching with dismay as the building took shape in recent months.
"The renderings and what's built don't match up—it's disappointing," said Andrews, also a board member of the Near North Development Corp., which supported the original plan. "Everybody will watch intently as this unfolds to see what happens. Clearly, we all see what's taken place here and we'll see what the repercussions are for breaking the rules."
Andrews said there are often good reasons for zoning variances, but such a blatant disregard of the rules should not be tolerated.
The building is a much more serious challenge to the urban design guidelines than the most prominent previous violation—a bright-yellow façade on a downtown Buffalo Wild Wings restaurant that the developer agreed to tone down in 2008.
"There are a lot of times people don't follow what they're supposed to be doing, but it's usually not this major," acknowledged York, the senior city planner. "Before, we had minor issues that could be worked out with minor changes. I think this is a test."•
Violation inventory

The city has found the following problems with the Di Rimini project:

St. Clair Street elevation
• Window openings are incorrect size and windows are of incorrect style.
• Window placement is incorrect.
• Stone placement is completely wrong in that it is constructed in sections as opposed to completely covering the first-floor level.
• Windows are missing on the second level. The sliding doors are present but no windows, as shown on the approved plans.
• All windows and doors do not have the required trim noted on the approved elevations (lintel and sill).
• Railings on the second level were to provide shelter to entry doors below, which means the railings are in a different location than approved.
• Railings are missing on the third level.
• The fascia board below the cornice is missing.
• The cornice is too narrow—massing appearance is uneven.
• No vertical elements with up lighting are present.
• Railings on the second level are essentially flush to the building façade— they should project two feet from building.
• Railings on the third level are missing; they should be present and project out one foot from building.
• Lack of steps, with railings to entry doors; constructed doors are at grade level.
• Entry doors lack sidelights as shown on the approved plans.
• Landscape planter boxes along St. Clair are missing.
• Massing and scale of "tower" at northwest corner of building is designed totally differently from approved plans in that it should not be at that height at the property line.
• Northwest corner of building has incorrect placement of windows, size of openings and style. Detailed trim is also missing. This corner overhangs street below and may be beyond property line.
• Northwest corner of building seems to indicate a balcony is being constructed—not per plans.
• North Plaza is missing. There is no common space (outdoor) at grade level, no two-story glass-enclosed space (now replaced with living space, apparently).
Capitol Avenue elevation
• Massing and scale of building is designed totally differently from submitted plans.
• Southwest corner of building is designed wrong in that the southern portion extends to the street (Capitol Avenue). It should be recessed and provide South Plaza, which is not present. There is no common area at grade level where South Plaza was proposed, no two-story glass-enclosed space (now replaced with living space, apparently).
• The fascia board below the cornice is missing.
• The cornice is too narrow—massing appearance is uneven.
• No sidelights for doors are provided. No trim is present (lintel and sill).
• Stone placement is wrong in that it is constructed in sections, as opposed to completely covering the first-floor level.
• No vertical trim with up lighting is present.
• Landscape planter boxes are missing.
• Window openings, placement and style are all wrong. Some windows are missing, especially on the second level. No trim present (lintel and sill).
• Balconies are under construction, when none were proposed or approved.
• Details of storefront windows and doors were never submitted for administrative approval.
• Railings on the second level should be projected two feet from building.
• Railings are missing from the third level, should be present and project out one foot from building.
• Windows were constructed on the fourth level, where no windows were approved—there should be ventilation screens.
• Fifth-level windows are the wrong style and opening size and are missing railings (one-foot projection) and awnings.
• Stone may not be Indiana limestone, which was called for in the plans.
Source: Indianapolis Department of Metropolitan Development
 
Please enable JavaScript to view this content.