Employment in Indiana's auto industry has stabilized, and manufacturers even are hiring in small numbers.
Hoosier automakers and parts suppliers added 10,000 workers this year through August, bringing total employment in the sector to 100,400.
That total is still far from the high two years ago of 113,900, but safely away from the trough of 78,700, reached in June 2009.
"You start to get automotive rolling again, and it has a big job multiplier," said Kim Hill, director of the Automotive Communities Partnership at the Center for Automotive Research in Michigan. "More and more people get work, they start buying more cars."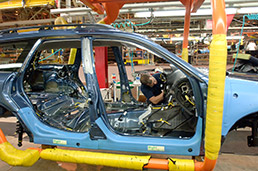 Increased demand from auto-assembly plants, such as Subaru in Lafayette, has led to hiring at central Indiana parts factories. (File photo)
The minor resurgence is beginning to show up in places like Shelbyville, a rural city that's home to at least eight manufacturers that supply the auto industry. A new Japanese joint venture, KN Platech, this summer decided to move into part of a factory that's been vacant for two years. The company, which makes boards for trunk floors, plans to hire 90 people over the next 12 months, said Dan Theobald, executive director of the Shelby County Development Corp.
Ryobi Die Casting, already a large Shelby County employer, added a new production line to build transmission casings for Hyundai. As a result, Ryobi will add 72 jobs through 2011.
Thanks to increased demand from its primary customers, Ford and General Motors, the Ryobi plant has increased employment from 646 to 766 since January, Human Resources Director John Chrzanowski said. About 70 of the new hires are temps.
"They've taken off great guns," Theobald said.
Looking across the Midwest, the ramp-up in production is actually slower than economists predicted at the start of the year, Hill said. How quickly factories add labor will depend on U.S. auto sales, which are still far below pre-recession levels.
IHS Global Insight in Lexington, Mass., predicts U.S. auto sales will reach 11.5 million this year and 12.3 million in 2011. Last year's sales were a historic low at 10.4 million.
It will be several more years before U.S. sales volumes reach a more "normal" level of 15 million, Hill said.
Feeding assembly plants
Indiana has four assembly plants fed by hundreds of suppliers. General Motors' truck assembly in Fort Wayne and Subaru in Lafayette are creating new demand. GM, seeing surprising demand for trucks, added a third shift in Fort Wayne. Subaru has been cranking up its lines in Lafayette since unveiling its 2010 Outback and Legacy models last year. The company recently announced that it would convert 100 temp positions to full-time, permanent status.
Hill thinks it's just a matter of time before Toyota in Princeton and Honda in Greensburg add fuel to the comeback.
Manufacturers are cautious about bringing back labor. Subaru, which employs 3,300 people in Lafayette, its only U.S. production facility, converted 100 positions to permanent status after speeding up its lines five times, running overtime shifts and adding temps.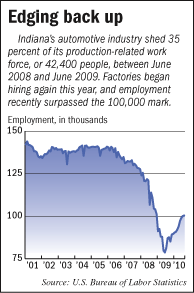 The company uses 28 suppliers in Indiana. Many of them are working overtime to keep up with the demand, said Tom Easterday, senior vice president at Subaru of Indiana Automotive.
Individual suppliers tend to guard their employment numbers. Keihin IPT in Greenfield, for example, is hiring temporary employees through Spartan Staffing, but the company declined to comment. The company makes fuel systems and motorcycle parts for Honda.
"The data are showing us the trend now is hiring back permanent, full-time workers," said Carol Rodgers, deputy director of the Indiana Business Research Center at Indiana University.
Rodgers doubts that employment in the auto sector will reach 2004 levels of 140,000, but she said it might recover as far as 120,000.
In the long run, auto-manufacturing employment is on a downward path.
"Automakers are a lot more efficient, so it doesn't require as many man-hours per unit to build a vehicle," Easterday said. "Same thing with parts. So the employment numbers may not go back up proportionally to what it was prior to the recession."
Efficient vehicles
New, more efficient vehicles are driving production increases. The Greenwood-based bearing division of Nachi America, for example, is seeing a "huge" amount of business from Ford, Vice President of Operations Dan Nebesio said.
"They're very strong in smaller-size vehicles," Nebesio said. Nachi supplies the automotive industry through axle and air-conditioning makers. The company didn't lay off production workers in Greenwood during the recession, so the pace of hiring is modest. Nebesio said he's added about 15 production workers over the past 12 months, bringing employment to 130.
Next year, Mitsubishi Heavy Industries will begin the process of hiring 65 people in Franklin. The company has a multiyear contract for its smaller, more efficient compressor.
"It's a new product. That's the reason for the new business," said Bob Francis, general manager of administration at the plant.
Indiana's automotive sector includes the RV makers clustered around Elkhart, where massive layoffs and unemployment in the teens attracted a visit from President Obama last year. In the Indianapolis area, work revolves around parts suppliers.
Auto-parts suppliers shed 27 percent of their work force between 2008 and 2009, when average employment fell from 59,400 to 43,300.
Employment in the subsector continued at 43,000 in August, on par with the level seen last year when the federal "cash-for-clunkers" program boosted sales.
Hill of the Center for Automotive Research thinks the industry's recovery is inevitable. The number of U.S. households is growing, and the average number of cars per household has not declined.
"It has to go up," Hill said. "There's a lot of macroeconomic trends in the industry's favor."•
Please enable JavaScript to view this content.