Awards generally don't mean much when you have a resume like Ted Boehm's, which starts with his time as clerk for U.S. Chief Justice Earl Warren, features a list of civic contributions practically as long as the Monon Trail, and concludes with 14 years as an Indiana Supreme Court justice.
"You get a little recognition in my line of work," Boehm (pronounced Boam) said with a small smile.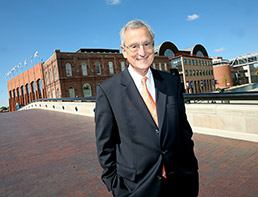 Ted Boehm, shown here at White River State Park in front of the NCAA headquarters, played a central role in drawing amateur sports downtown. (IBJ Photo/ Perry Reichanadter)
But winning IBJ's Michael A. Carroll Award is something special because "Mike Carroll was a friend of mine whom I admired a great deal," he said. "We were all very, very sorry to see his productive life cut short so terribly. So this, unlike many awards, does have a significance to me that transcends the usual."
Boehm is the 17th recipient of the award, given annually to a man or woman who has demonstrated the former deputy mayor's qualities of determination, humility and devotion to the Indianapolis community. Carroll was one of four civic leaders killed when two small planes collided over southern Marion County on Sept. 11, 1992. The pilots also died.
Boehm, 72, who stepped down from the Indiana Supreme Court on Sept. 30, can look around the city and point with pride at the projects he's started or had a hand in. The Meridian-Kessler Neighborhood Association. The Penrod Society, which led to the creation of the Economic Club of Indiana. The Indiana Sports Corp., which set in motion Indianapolis' strategy to become an amateur sports capital.
He's been a managing partner at Baker & Daniels, general counsel for two divisions of General Electric, and counsel for Eli Lilly and Co., argued two cases before the U.S. Supreme Court (won one, lost one), drafted the legislation that created White River State Park, helped bring the Pan Am Games to Indianapolis in 1987 and the FIBA World Basketball Championship in 2002, and has served on the Cultural Development Commission since 2001.
His motivation has been simple: "I'm of the JFK generation," he said, beginning to recite President Kennedy's famous words, "Ask not what your country can do for you; ask what you can do for your country."
"That message resonated with me as a person right out of college, in first-year law school," he said. "I found it a very satisfying way to contribute, and I've had an interesting life as well as a successful profession."
Friends know Boehm as serious and smart, but he has a playful side, too. Sandy Knapp, the first president of the Indiana Sports Corp., has a photo of Boehm, former Mayor William Hudnut and Amigo, the Pan Am Games parrot mascot, dancing the can-can at a pre-Pan Am Games event.

Some years later, at a birthday celebration for Knapp, someone showed up dressed as Amigo. As the costumed character danced around her, she remembers "wondering what crazy idiot was inside that costume." When she discovered it was Boehm, "I was speechless," she said. "And I'm rarely speechless."
From Shortridge to Harvard
Boehm graduated from Shortridge High School, Brown University and Harvard Law School. After clerking for the Warren Court (he saw the Warren Commission investigating the Kennedy assassination being formed and thinks it came to the correct conclusion), he returned home and started nearly five decades of civic engagement by helping found the Meridian Kessler Neighborhood Association to deal with concerns about white flight from the city and the destabilization of established neighborhoods.
That led to Penrod and the Economic Club—"We were just trying to make Indianapolis a more interesting place"—and then the Indiana Sports Corp. Boehm and other civic leaders had hoped to score an NFL expansion team, but in 1978 Congress passed the Amateur Sports Act, which mandated creation of a separate governing body for each Olympic sport.
"All of a sudden," Boehm said, "you had clean, pollution-free bodies of people that had to be somewhere."
They decided amateur sports would be perfect for economic development, as long as the city could house and stage major events. From that came the idea to build sports facilities with an eye toward giving IUPUI—then a medical school with some night programs—an identity, Boehm said. The Indianapolis Tennis Center was built in 1979, the track and field stadium and the Natatorium in 1982.
"Some people have called me the architect of the amateur sports strategy," Boehm said. "Jim Morris is the architect. I might be the engineer. Or maybe the plumber. He's the architect."
"A lot of people were," said Morris, president of Pacers Sports and Entertainment. "But there are few people who've made more of a contribution to Indianapolis over the last 40 years than [Boehm] has."
Bigger and bigger events
The Sports Corp.'s first major event was the National Sports Festival in 1982, which brought athletes from around the country to Indianapolis. That put the city in position to host the Pan Am Games in 1987 when Chile, which had been awarded the '87 games, and then Ecuador, backed out, citing economic considerations.
Boehm and then-Mayor Hudnut were part of a delegation that traveled to Mexico City to meet with the Pan American Sports Organization to bid for the games, which ultimately brought an estimated $175 million to the city's economy and earned Indianapolis the distinction of being the first host city to break even financially on the games.
At that time, Boehm was managing partner with Baker & Daniels, where he handled complex litigation, including securities fraud and antitrust cases. He said he managed sports as if it were another project.
He was on the Supreme Court—appointed by then-Gov. Evan Bayh in 1996 as the 104th justice in the court's history—when he served as co-chairman of the 2002 FIBA World Basketball Championships. The organizers figured they merely needed to sell out the U.S. team's games to make money. They didn't count on a mediocre U.S. team and 9/11, which hammered domestic tourism.
"I think we would have been fine if either of those events had not occurred," Boehm said. "But that was a serious setback for the Sports Corp."—which it has recovered from, he added.
Career public servant
Boehm has spent most of his life in public service, but the only time he ran for office—for the state legislature, in 1970—he lost. So when Bayh named him to the Supreme Court, "it seemed like a good way to actually have a career formally in public service."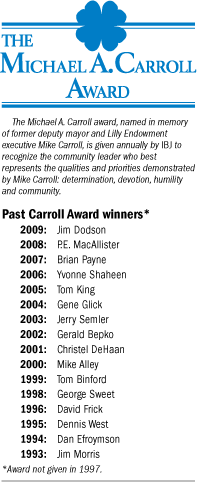 He said he brought to the court insights he'd gleaned at GE and Lilly into how large organizations work. He's proud to have helped fix how jury pool lists are organized.
"We got the Department of Revenue and the Bureau of Motor Vehicles to work together to develop a list from tax returns and from driver's licenses and IDs," Boehm said. "The voter lists from many counties had only about 60 percent of the people on them. By merging the lists, we got something that's more current and updated frequently. And more inclusive."
When Boehm, a Democrat, announced his retirement from the bench, Republican Gov. Mitch Daniels said in a statement: "There is no replacing Ted Boehm. The best we can hope for is someone who might learn from his example and grow over time into a judge of first-rate caliber."
Boehm said the governor's comment reflects the Indiana Supreme Court's effort—and his own—to be as non-partisan as possible.
How down the middle is he? Well, in retirement—when he's not working as a part-time senior judge for the Indiana Court of Appeals, or doing mediation and arbitration—he expects to spend Februaries in Florida with his wife, Peggy, watching baseball spring training. He may be the only person there who roots for both the Chicago Cubs and St. Louis Cardinals.
"I'm not really a partisan as much as I enjoy the game," he said.
Jim Morris of the Pacers said Boehm is the kind of person who "has an unusual commitment to simply want to make things better. When somebody has the passion and commitment that he has and also has the skills and talent and brainpower that he has, it's an incredible combination. Mike Carroll would be very proud to have Ted receive this award. And I am, too."•
Please enable JavaScript to view this content.