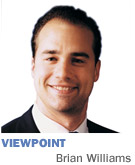 While the transfer of the Indianapolis Water Co. to Citizens Energy Group significantly increases the debt burden for ratepayers, the debt issued to fund the transfer does provide the city of Indianapolis with an opportunity to address decades of infrastructure neglect.
Rather than simply building and repairing streets, sidewalks, bridges and parks, ratepayers and taxpayers should demand that these projects set standards for construction in Indianapolis by reusing or recycling materials, using environmentally friendly products, and designing public spaces to encourage physical activity.
Deconstruction is a method of taking what is commonly considered waste and reclaiming it into useful building material. Industry estimates are that 10 jobs are created for every ton of recycled material. Indianapolis-based Workforce Inc. is successfully recycling e-waste and cardboard, plastics, paper and glass for merchants in Broad Ripple, Fountain Square and Mass Ave. Engaging Workforce Inc. to lead deconstruction efforts for "Rebuild Indy" would minimize materials sent to landfills, provide opportunity for at-risk workers, and help develop commercial demand for these services.
Every street or sidewalk project should require the use of permeable or pervious paving. These paving solutions allow rainwater to seep into the ground, recharging ground water and reducing storm runoff. Indianapolis must protect its aquifers. With a greater volume of water in our aquifers, Indianapolis can begin to improve the quality of its water by diluting contaminates. As part of its settlement with the federal government, Indianapolis must reduce the number of storm runoff events and reduce the volume of water involved in those events. Permeable and pervious paving are established solutions that grant obvious benefits.
When and where possible, Indianapolis should use Indiana-based manufacturers that are making products that make a difference. For example, Green Tree Plastics in Evansville makes construction materials as well as park benches from recycled plastics. Terra Green Ceramics in Richmond recycles glass and ceramics for tiles. Shouldn't we engage Hoosier companies that employ our neighbors to make products with a positive environmental impact while we rebuild our capital city?
Finally, given the scope of the Rebuild Indy effort, Indianapolis should require every project to follow the "Complete Streets" guidelines, which are gaining traction around the country. Complete Streets policies encourage municipal planners and engineers to design thoroughfares with all users in mind, including drivers, public-transportation vehicles and riders, pedestrians and bicyclists, as well as older people, children and people with disabilities. Streets designed with sidewalks, raised medians, better bus stop placement, traffic calming measures and treatments for the disabled improve pedestrian, bicycle and motor-vehicle safety and encourage physical activity.
When the majority of all trips are three miles or less, we should encourage more walking, biking or mass-transit solutions. If done successfully, Complete Streets designs help reduce oil consumption, thereby reducing pollution and improving individual health by encouraging walking or biking.
If well-thought-out and implemented, Rebuild Indy can not only improve our infrastructure, but also improve our economy, our environment and our health. That is a return on our tax dollars and rate dollars that is acceptable, given the amount of debt for which my children and I are now responsible.•
__________
Williams is regional venture partner of Hopewell Ventures, a Midwest-focused private-equity firm. He can be reached at bwilliams@ibj.com.
Please enable JavaScript to view this content.