A former spa and plastic surgery center in Carmel's Village of West Clay. A nine-hole golf course and driving range in Lebanon. A lakefront church camp and retreat in Syracuse. A chain of car wash and lube centers in five Indiana cities. More than 900 acres of tillable farmland in Huntington and Wabash counties.
Where do we want to start the bidding?
Each of these properties is scheduled to hit the auction block in the coming weeks, and dozens more offerings are in the works. The wave of auctions suggests banks and other underwater real estate owners finally are poised to let go of a glut of properties.
Auction sales—often at a 50-percent discount to the loan value—are helping provide a baseline for valuation and could mark a bottom for the real estate market, observers say.
The pitch to potential sellers from Chris Carbone, managing partner of Indianapolis-based Gallivan Auctions & Appraisers, goes like this: The market is so flooded with available properties that traditional real estate listings aren't getting much attention from today's buyers.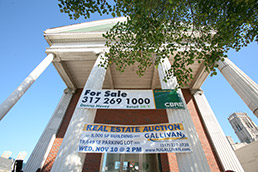 Auction signs have appeared all over, including on the former Gatling Gun Club at 709 N. Illinois St. … (IBJ Photo/ Perry Reichanadter)
Absolute auctions, where there's no reserve and the property goes to the highest bidder, tend to quickly separate lookers from buyers. Gallivan has seen demand for auctions double this year. The company has four sales scheduled and another four categorized as traditional listings that probably will become auctions, Carbone said.
"There are a lot more assets in the marketplace than there ever have been before—a large supply and short demand," he said. "The auction method produces a time-definitive date. In a marketplace that's saturated, it produces a means for sellers to get to the end gate: a sold property."
Mostly banks
Auction sellers often are banks, which signaled late last year they would take a more aggressive approach to unloading properties in 2010, dropping the "extend and pretend" strategy that allowed owners to hold onto properties in hopes valuations eventually would rise to match loan values.
Retail centers were among the first properties to hit the auction block, followed by farmland and office space, Carbone said. Most of the space is being touted for its turnaround potential.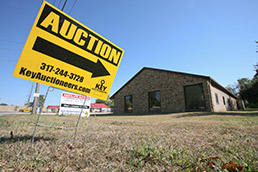 … and an office/warehouse building at 2151 N. Franklin Road. (IBJ Photo/ Perry Reichanadter)
Banks are motivated sellers for a couple of reasons: Properties held more than 90 days are treated differently for tax purposes, and bank regulators are demanding regular appraisals and write-downs to match market values, said Wendy D. Brewer, a partner in the business reorganization group of Benesch/Dann Pecar.
Most banks are happy if they can recover the liquidation value they have marked on their books—often more than 50 percent below the original value of the loan, Brewer said. She said one property with a $1 million loan fetched about $400,000.
Some auctioneers are even offering guaranteed sale prices to help convince banks to offer backlogged properties. It could take a few years to clear out the inventory, but buyers are out there: "A lot of people with money have been waiting for a bottom," Brewer said.
Tip of the iceberg
The commercial real estate market seems to be bottoming according to a traditional script, following the residential bust by 18 to 24 months, said Don Erler, an auctioneer for the Louisville office of Irvine, Calif.-based Sperry Van Ness.
Banks started with a knee-jerk reaction to foreclose, then became more conservative about taking action against owners not paying their mortgage after they realized they couldn't do much better with the properties.
Erler plans to offer six tracts of development land across the street from a Meijer and Kohl's in Jeffersonville on Oct. 15. The properties, now controlled by Huntington Bank, are a remnant of a development by Louisville-based Icon Properties that included a successful residential component and a strip center.
"I've never been so busy in all my life," said Erler, whose group has sold 35 properties at absolute auction this year, mostly in Kentucky and Ohio. "It's good for me, but not for a lot of people—there's a lot of people hurting."
Erler said his sales all have a bank connection "in one manner or another," including voluntary foreclosures where title holders enter into agreements that define what happens if the property sells but don't generate enough to pay off the mortgage. If the auction is a total disaster, the bank can bid since it doesn't have title. He's seen that happen only a few times, even though prices have been well below those of a few years ago.
"I think everyone is beginning to get comfortable with what we actually have in front of us," Erler said. "They now have determined what these properties are worth, and they know sooner or later they have to go through the sale process. It's going to take a long time. This is the tip of the iceberg. I think it will take four or five years to clean out inventory."
Up for bid
Real estate is by far the fastest-growing segment of the auction industry, said Chris Longly, deputy executive director of the National Auctioneers Association, a trade group based in Overland Park, Kan.
About $58.6 billion across all types of real estate traded hands through auctions in 2008, the most recent year the group conducted an industry survey. That trails the $83.1 billion raised by car auctions.
"Auctions force buyers to be decisive," Longly said. "That for-sale sign doesn't force me to call my broker and make an offer. They also establish what the market is willing to pay."
Gallivan plans to auction two warehouse buildings in the 2300 block of East 44th Street in Indianapolis for Fort Wayne-based Star Financial Group Inc. on Oct. 19. And a sale of the 160-year-old Gatling Gun Club at 709 N. Illinois St., built in 1850, is scheduled for Nov. 10. The club is shutting down after its membership dwindled.
The former Camp Azusa in Syracuse, which sits on 45 acres and includes a 15,000-square-foot lodge, went up for auction late last year but no one met a reserve. Carbone said a buyer has the camp under contract, but Gallivan still is listing it online with an asking price of $695,000.
The former golf course and driving range in Lebanon is scheduled to be offered in two tracts of 12 acres each Oct. 13, by Avon-based Key Auctioneers.
Key also has the contracts to sell car wash and lube centers in Anderson, Pendleton, Fortville, Greenfield and Elwood on Oct. 20, and the former home of the Khara Spa and plastic surgery center in the Village of West Clay, most likely in November.
The farmland in Huntington and Wabash counties is scheduled for auction Nov. 9, and is being offered by Schrader Real Estate & Auction Co., which is based in Columbia City.•
Please enable JavaScript to view this content.