It was a beautiful day to eat outside, so a colleague and I headed to Fountain Square's Shelbi Street Café & Bistro (1105 Shelby St., 687-4857) for a meal in its much-heralded rooftop dining area.

Shows you how much we know: The roof's open only for dinner, and only between Memorial Day and Labor Day. I guess that'll have to remain on my to-do list until next year, but we sat by the window so we could at least pretend we were eating al fresco.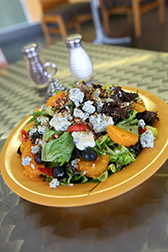 Shelbi Street's must-have Gingham Salad piles on fruit, nuts and blue cheese. (IBJ Photo/ Perry Reichanadter)
The lunch menu is pretty simple—soup, salads, sandwiches, pizza and a couple of entrees to keep things interesting—and everything's under $10.

We asked if there was a must-have dish and ended up with the Gingham Salad ($4.50 for a side salad, $6.95 for a dinner portion). It would have been easy for the lettuce to be lost amid the mandarin oranges, assorted berries, toasted pecans and poppy seed vinaigrette (not to mention the blue cheese we 86'd), but the mixed greens held up well against the onslaught and made it clear why this is a customer favorite.

My Baby Leaf Spinach Salad ($4.50, $6.95) was similarly successful, even if the bowl wasn't quite as full. The signature ingredient was tossed in a sherry vinaigrette and topped with goat cheese, dried cranberries and toasted pine nuts, touching each one of my taste buds between tines and tummy.

Our sandwiches also were solid. At $9.95 including the chef's daily side dish—mixed vegetables when we were there—they would have satisfied even without the pre-meal greenery.

My guest was intrigued enough by the Salmon Cobb to give it a go. Served on Ciabatta bread, the namesake fish provided a sturdy center for the rest of the ingredients, beginning with a firm splint of bacon (yes, salmon and bacon) and accented with well-proportioned lettuce, tomato and guacamole (and blue cheese crumbles, for you non-haters.) The salmon is available grilled or blackened, which our server warned would be spicy. It wasn't even slightly, but that's OK since the sandwich didn't need any masking.

Since he made the adventurous choice, I opted for an old favorite, the Panini, and substituted a cup of black bean soup for the squash-heavy veggie mix. It was a good choice—the soup was thick, well-seasoned and darn tasty. The sandwich, which featured spicy ham, salami, pepperoni and provolone cheese, literally oozed flavor. But unlike every other panini I've tried, this one wasn't grilled. Turns out not all paninis are pressed—another lesson learned during my trip to Fountain Square.•

__________

Third in a month-long series of "street" restaurant reviews.