As the hotel industry struggles through its most difficult financial period in more than 30 years, suburban hotels are being hit especially hard with a number of them closing, near bankruptcy or up for auction.
The trend isn't merely local, but central Indiana hotels outside downtown Indianapolis, industry analysts said, are in more peril than most due to the city's downtown convention strategy and the opening of the 1,005-room JW Marriott in February.
"If you're running a hotel outside downtown, and you don't have really deep pockets, you'd better run for cover," said Tim Worthington, president of locally based Platinum Hotel Solutions, and a 35-year industry veteran. "It's going to be really tough in the 'burbs in 2011. People in this industry are scared to death."
Mark Eble, a hotel consultant and Midwest regional vice president for San Francisco-based PKF Consulting Corp., said suburban hotels in Chicago, Louisville and Cincinnati also are hurting.
"Convention centers and tourism are clearly the drivers of this trend," Eble said. "Indianapolis may be more vulnerable to this trend due to its strategy of growing its convention traffic."
Several suburban hotels have already hit the wall this year. In July, it was announced a Holiday Inn along Interstate 69 just north of 96th Street would go up for auction.
Officials for locally based Dora Brothers Hospitality Corp., which owns the 78-room hotel, decided to sell the property after it could not secure financing from lender Regions Bank to make needed improvements. Dora principal Tim Dora said Regions didn't want any more hotel loans.
In October, two Baymont Inn Hotels, one in Greenwood, the other in Plainfield, were set to be sold by auction. The Oct. 21 auction was announced after the creditor of the 81-room hotels took control of the properties through foreclosure. The Plainfield hotel is near Interstate 70 and State Road 267. The Greenwood hotel is near Interstate 65 and Main Street.
Late last year, foreclosure proceedings started on a Knights Inn near Interstate 465 and State Road 37 on the city's south side and resulted in the sale of the property.
"I think you may see a bit more financial distress in the hotels along the interstates simply because the supply in some cases outweighs the demand right now," Eble said.
Revenue per available room, a key financial indicator in the hotel industry, is down across the board, but data compiled by Tennessee-based Smith Travel Research shows how suburban hotels are hurting more than their downtown counterparts.
Revenue per available room in Indianapolis' downtown-area hotels declined from almost $77 in 2007 to about $72 in 2010. Meanwhile, during the same period, hotels in the west-side suburbs saw a decline from more than $44 to $35.50. On the north side, revenue per available room plummeted from $52.50 to $42, while south-side hotels fell from $39 to $30.60.
Worthington thinks the troubles for central Indiana hotels are far from over.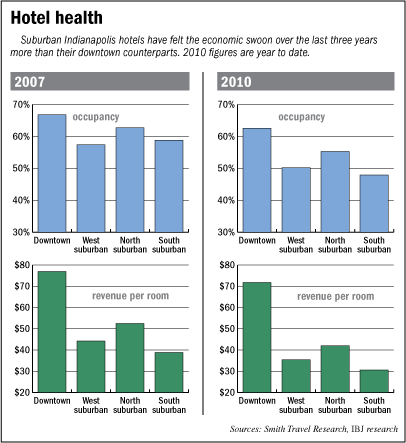 "I think there are dozens and dozens of suburban hotels here just barely hanging on," Worthington said. "In the long term, as the economy rebounds and our convention business matures, we'll be in good shape. But the next year or two will be rough."
Not all suburban hotels are faring poorly.
Glenn Brooks, vice president of General Hotels Corp., which operates 13 hotels from Terre Haute to Indianapolis, said his firm's suburban hotels are rebounding nicely this year.
"There are still strong reasons to choose to stay at a suburban hotel," Brooks said. "Those close to a number of businesses or a sports complex tend to do better. They're also in some cases less expensive and can be easier to access."
Key to General Hotel's success with its suburban properties is increased marketing and property upgrades, Brooks said.
According to Smith Travel Research's most recent quarterly report, revenue per available rooms for suburban hotels nationally has grown from $47.38 to $48.99 from 2009 to 2010. That lags behind urban hotels, which have seen gains this year over last of $82.74 to $89.37.
"The revenue declines, bankruptcies and foreclosures—especially among suburban properties—over the last two years have been at record levels," Eble said. He doesn't expect a recovery until 2013 or 2014.•
 
Please enable JavaScript to view this content.