The Glick family's philanthropic building blitz is finished.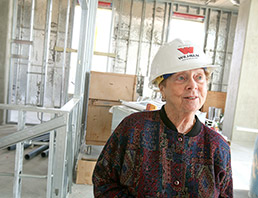 Marilyn Glick tours the new Eugene and Marilyn Glick Eye Institute at IUPUI. (IBJ Photo/ Perry Reichanadter)
After pledging $62 million for a series of high-profile capital projects, Eugene and Marilyn Glick's charitable foundations are making programs and services their top priority.
"We are unlikely to do any building projects going forward," daughter Marianne Glick said after a recent hard-hat tour of the IU School of Medicine's eye institute. The Glicks made a $30 million lead pledge in 2007 for construction, plus a research endowment.
The shift away from bricks and mortar comes as Eugene and Marilyn, ages 89 and 88, hand off leadership of their sizable foundations to the next generation.
Marianne, the eldest of four daughters, and David Barrett, a grandson-in-law and CEO of the Gene B. Glick Co., are most active in running a $143.7 million family foundation, plus a donor-advised fund at the Central Indiana Community Foundation.
The family also has a donor-advised fund at the Jewish Federation of Indianapolis. (Neither CICF nor the Jewish Federation discloses the value of individual funds.)
Glick
The fact that the Glicks are backing off construction may come as a surprise to Indianapolis residents who've noticed the family's name gracing the downtown Cultural Trail, the Indiana History Center and the Children's Bureau's new headquarters on Martin Luther King Boulevard.
But the new emphasis on programs may be welcome news for charities that have struggled through the recession just to cover operating expenses.
"They'll be able to touch more organizations, so that's exciting," said Bryan Orander, a consultant to not-for-profits.
The family's next round of grants, to be announced in November, will include a "major" initiative in the self-sufficiency arena, Marianne Glick said. Foundation officials declined to go into more detail about the next project.
Broad interests
Gene Glick made his money in building and managing low-income apartment complexes, and he and Marilyn have a long track record of philanthropy. Their interests are broad—arts, education, helping disadvantaged youth and preventing blindness.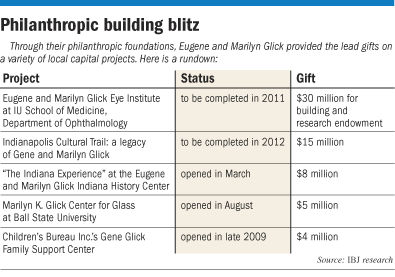 The family developed a new strategy last year, and it doesn't deviate much from the past. Arts and education are still top priorities. The others are self-sufficiency/job skills, "alleviating human suffering," and "helping those in need."
Those priorities seem to align with work already under way at United Way of Central Indiana, as well as at CICF.
"Maybe we can see some of these efforts that are small, but work, go more to scale," United Way CEO Ellen Annala said. "Then you can begin to see greater impact."
The family also decided to close the door to unsolicited applications.
"We want to take the initiative as board members," Barrett said.
Soon, however, the Glick family's gifts for programs and services won't match the level of giving for recent capital projects. That's because the family foundation has enough commitments outstanding to cover its required distributions through 2013.
In the fiscal year ended Sept. 30, 2009, the Eugene and Marilyn Glick Family Foundation made future commitments totaling $28.3 million. Foundations over time must give away on average 5 percent of their assets to maintain tax-exempt status.
The Glick foundation, which ended last year with a fair-market value of $143.7 million, distributed $6.8 million.
At that rate, the foundation's outstanding commitments are enough to cover four years of distributions. Jodi Wright, a Gene B. Glick Co. spokeswoman, said grants this year and for the next several years will come solely from the Glick Fund at CICF, which last year made about $1 million in grants.
Decades of philanthropy
Even without their names on half a dozen buildings, Gene and Marilyn Glick were bound to be known as leading philanthropists. The summer youth-employment program Gene started in the 1970s, for example, continues today under the Children's Bureau.
"You add up those dollars and the cumulative lives affected, 100 kids each summer, that's really a huge impact," Children's Bureau CEO Ron Carpenter said.
One of Marilyn's early projects was starting the auxiliary fund for Prevent Blindness Indiana.
The couple's respective interests in helping kids and art converged to benefit the Indianapolis Art Center. The Glicks gave $6 million for the center's Michael Graves-designed building in Broad Ripple, plus $2.4 million for outreach programs.
Why the building spree?
"Part of their desire is the visibility of that legacy," Carpenter said. "Gene Glick was very proud of what he accomplished, and also his love of the community."
Gene is chairman emeritus of the family foundation, while Marilyn, the chairwoman, continues to play a role in decisions. Late last month, she attended the dedication of a glass-making center, named in her honor, at Ball State University in Muncie. The next day, she toured the eye institute.
"I am so pleased that so many of my dreams have come true," Glick said.
She and her husband began inquiring about IU's eye research efforts long before pledging their single-largest gift in 2007.
"They called our house several years ago and asked why IU doesn't have a world-class eye institute," recalled Linda Cantor, whose husband, Louis Cantor, is chairman of the ophthalmology department.
The Cantors have been friends of the Glicks for three decades. The Glicks designated $20 million of their gift for construction costs, which total $26 million, and $10 million toward establishing a research endowment.
Cantor is trying to raise an additional $30 million for the endowment.
"They really enabled us to take this whole program to the next level," she said.
Barrett, 40, said he and the other directors—who include the Glicks' daughters Arlene Grande, Alice Meshbane and Lynda Schwartz, plus longtime Gene B. Glick Co. executive Jim Bisesi—want to make a similar impact.
With one of the state's largest private foundations at their disposal, they may have that opportunity. The Glick family foundation, established in 1983, is the 13th-largest foundation in Indiana. It ranks far ahead of those funded by other wealthy people from Indianapolis, including Melvin and Bren Simon and Christel DeHaan, according to a 2008 survey by The Foundation Center.
"One of the goals of our foundation is to provide transformative gifts," Barrett said. "We have a talented and diverse board. It's also our goal to be creative and probably begin some initiatives."•
Please enable JavaScript to view this content.