Welcome back to IBJ's video feature "Inside Dish: The Business of Running Restaurants."
Our subject for this installment is La Mie Emilie, a French cafe opened on Aug. 7, 2009, in the Carmel Arts & Design District. The mother-daughter team of Emilie Myers and Cathy Egler brought it to fruition in three short months, after a fateful trip to Paris in May 2009 and a bit of serendipity.
Myers, 24, spent her entire childhood around the restaurant business. Egler, 54, owned The Pie Safe pastry kitchen and eatery in Zionville from 1986 to 1995, and her daughter waited tables in the establishment before turning double-digits. Egler closed the restaurant after it had evolved to a point where it was scantly profitable, but she later developed an itch to try again. Meanwhile, Myers had turned into a hard-core Francophile, visiting France several times and studying the language in college.
Egler occasionally would suggest that they open an eatery together, but Myers demurred. "I didn't think she'd take me up on the deal; it was a pipe dream," Egler said.
After Myers began a career in marketing, she soon realized she'd rather be her own boss. While working as a product development coordinator for BDI Marketing in Carmel, she enrolled in an MBA program at the University of Indianapolis with a bent toward international business. On a trip to Europe in May 2009 through the program, she and her mother found themselves in a Parisian cafe.
"I looked out the window and said, 'Let's do it, Mom. Let's open a cafe. You've been bugging me for years,'" she recalled.
They quickly scouted a location in Carmel and began developing the menu, based on casual French cuisine while including pastries and American-style favorites from the Pie Safe's offerings. Several weeks into the project, Myers was laid off from her job, so the die was cast.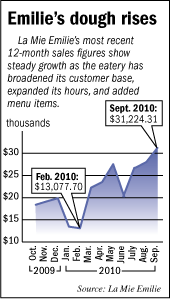 Dick Egler, Cathy's husband and Myers' stepfather, agreed to bankroll much of the $40,000 startup. (His contribution to date is about $48,000, while the women have invested $12,000.) The space included furnishings and kitchen equipment left by the former tenant—Bistro de Paris, also a French restaurant—which helped save on expenses and speed the transition.
Despite Egler's hands-on experience and Myers' marketing smarts, they had several lessons to learn. Although La Mie Emilie was intended to open only for breakfast and lunch, customers clamored for dinner. Wine wasn't originally on the menu, and customers balked. The partners quickly relented on both counts.
Egler's pies helped prop up sales during the holidays and typically lean winter months. As the restaurant developed a customer base and expanded its offerings, sales began to grow again in the spring (see chart). However, for the 12 months ending Oct. 1, 2010, the restaurant had recorded a net loss of about $50,000.
"It's hard to take, and I guess that will drive me to get more customers in the door," Myers said. With little faith in traditional advertising, she hopes to generate positive word of mouth, exploit social media, contribute items to local festivals and charitable events, and explore online promotions such as Groupon.
In the video at top, Myers and her mother discuss the origins of the eatery and the young woman's intense learning curve as she stepped from the classroom to a real-life managerial position. As far as going back to school to complete her MBA, she now wonders if it wouldn't be more appropriate to go back and teach classes.
 

Concept:

A French cafe and patisserie open for breakfast, lunch and dinner (selected days) with some American fare and pies from Zionville's late The Pie Safe.

Owners:

Emilie Myers and Cathy Egler

Gross sales/net income:

$290,000 in gross sales; net loss of $50,000 between Oct. 1, 2009 and Oct. 1, 2010.

Goals:

To operate at break-even point and then continue to grow sales; eventually hire managers so the owners can have more flexible schedules; and grow sales from catering.
Please enable JavaScript to view this content.