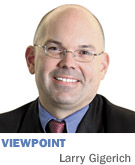 Ten years into the 21st century, most people understand that a strong education system is vital to ensuring long-term economic development success. Where things become fuzzy is in defining what comprises a strong education system and, more important, the required outcomes of that system.
In the past, a successful education system was tied to graduating students from high school and preparing them to work in a manufacturing or agricultural business setting. In Indiana, many people who grew up with my parents and almost everyone who grew up with my grandparents graduated from high school (if they made it that far) and went straight into the work force. This is one of the key reasons higher education was not valued as highly in Indiana as it should have been. Now, 30 years later, because of the shift away from manufacturing and agriculture and toward emerging industries, Indiana must adjust its focus to ensure the future needs of companies are met. This will allow the state to continue capturing economic development projects over the long term.
So, how does Indiana need to evolve to meet the needs of the work force of the present and future? To begin, there must be an expectation by all Hoosiers that the minimum acceptable level of education achievement in the state be a two-year associate's degree. While it can be argued that the ultimate goal for everyone in the state should be a four-year bachelor's degree, there is a need for people with two-year degrees.
In addition, Indiana's educational systems must look for ways to help Hoosiers retrain and "re-career" for jobs. Take the closing of the General Motors metal-stamping plant in Indianapolis; no longer will people be able to go from high school into a $30-per-hour job, and the people losing their jobs at this facility will not be able to find new manufacturing jobs paying $30 per hour in the Indianapolis area.
How do we get to where we need to be? It starts with the K-12 education system and a need for Hoosiers to recognize that all K-12 schools in Indiana (public and private) need to improve. There is a notion in our country that support for education is either public or private. At best this is sad; at worst it is offensive. Given the need to strengthen our place in the economy, we need all of our schools to devote more resources to the classroom, reward teacher performance and teach the curriculum necessary to prepare every student to continue their education beyond high school.
Moreover, all parents must have the freedom to choose what is best for their children, be it public, charter, alternative or private school. No one knows better what a child needs than the parent. Elected officials and government bureaucrats should not tell parents what is best for their children.
The communities, states and countries performing the best in educational achievement are typically those with the highest income levels and the best quality of life. To see the effects of lower educational achievement levels in our country, consider the earning potential of people who at a minimum do not possess an associate's degree. Let there be no mistake: we live and work in a global economy. We must make sure that everyone is educated for a global economy. With a clear understanding of the key factors affecting educational achievement and a sound plan to improve educational attainment levels, Indiana can be successful in the 21st century and beyond.•
__________
Gigerich is managing director of Ginovus, an Indianapolis-based provider of national site selection, public-policy development, community comparative analysis and economic development incentive procurement and management.
Please enable JavaScript to view this content.