After a decade in the costume business, Cheryl Harmon has seen it all—from perennial favorites like Elvis and Santa Claus to unconventional choices such as body parts and bathroom appliances.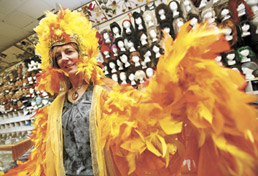 Cheryl Harmon, owner of Costumes by Margie, is the fourth owner since Margie Grimes opened the business in 1966. Costume rentals at the store range from $46 to $80. (IBJ Photo/ Perry Reichanadter)
"Nothing's too bizarre, because we are about costumes and creating," said Harmon, 51, the fourth owner since Margie Grimes founded the business in 1966.
Unlike many of its competitors this time of year, Costumes by Margie isn't a strip mall box store full of packaged—and disposable—costumes for sale. The shop at 38th and Illinois streets is a throwback of sorts, with a variety of clothing and accessories available to rent and a staff ready to help put together whatever disguise a customer can dream up.
Some items are available to buy, but most of Margie's business is rentals. Costumes range from $46 to $80, an all-inclusive price that covers an entire look. If someone wants to be Alex de Large from "A Clockwork Orange," for example, he'll get the suit, mascara, cane and the signature derby hat.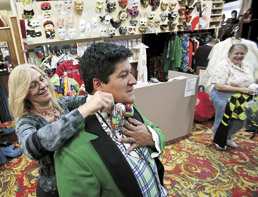 Cheryl Harmon helps fit Douglas Jave as Mayor of Munchkinland. Harmon says that when she bought the store in 2000, many of its costumes were outdated and worn out. She replaced the costumes, hired younger employees and launched an online presence. (IBJ Photo/ Perry Reichanadter)
Harmon admits she knew little about how to operate a business when she bought the store in 2000, but she has learned the ropes along the way. Her background is in costuming, where she got her start working for her uncle Ron Spencer when he was director of Theater on the Square.
During one production, Harmon befriended previous Costumes by Margie owner Karen Frye. A few years later, when she was expecting a baby, Frye called to ask if Harmon wanted to buy the store.
Harmon, who declined to disclose the purchase price, ran into two challenges upon becoming owner. First was learning how to balance the books and manage the company's finances. Second was making the shop more current.
Harmon said many of the costumes were outdated and worn out, so she bought new costumes and brought in younger employees.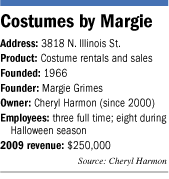 She also created an online presence for the shop. It's a simple site with photos of many of the costume selections but few bells and whistles—just like the bricks and mortar version.
"We aren't Party City," Harmon said. "When visitors go to the website, I want them to get a feel for the store."
Another challenge for Harmon and the few other small costume shops around the city has been the emergence of temporary stores that pop up around Sept. 15 and vanish after Oct. 31. Harmon said it's disheartening at times because she doesn't feel like she is being supported as a local business that is open 12 months a year instead of just two.
"I'm amazed that the government allows these pop-ups to come in," said Janine Caufield, owner of Louisville-based Caufield's Novelty Inc., a wholesale costume distributor. "They should be supporting their local businesses."
While the Halloween season is a busy time for Costumes by Margie, Harmon said it makes up only 30 percent of the shop's $250,000 in annual revenue. Year-round business comes from providing costumes for corporations, not-for-profits, churches, schools and community theaters.
Last spring, Bishop Chatard High School relied almost entirely on Costumes by Margie for its production of "The Wizard of Oz." Harmon made several trips to the school to provide costumes and do alterations.
"As a high school production, we had a limited budget," said English teacher Patty Valentine. "They were very accommodating to our needs."
Arizona-based Discount Tire likewise was impressed when local managers turned to Costumes by Margie for help with the automotive chain's 50th anniversary celebration, where party-goers dressed as flappers and gangsters from the 1930s.
"Cheryl was incredible," said Scott Imel, a Discount Tire manager in Indianapolis. "We had a lot of last-second guests, and she was concerned with everyone looking picture perfect."
Although there's usually a "hot" Halloween costume every year, Harmon said her customers tend to be more original. Many of the franchise stores have deals with movie studios that dictate which costumes they can sell each season. Following the release of "Pirates of the Caribbean," for example, it was Captain Jack. This year, Harmon guesses it will come from "Alice in Wonderland." However, given the wide variety at Costumes by Margie, she doubts she'll get more than a dozen requests for the Mad Hatter.
Although Costumes by Margie does stock some licensed apparel, she also offers up no-name variations like Mr. Mouse and Sponge Boy. Harmon said there's a thin line between what's acceptable and what's copyright infringement. As long as the costumes don't use the same name as the character they're modeled after and don't appear exactly alike (for instance, Sponge Boy has no nose), they are OK.
Costumes by Margie has survived more than 40 years, outlasting other costume stores that couldn't handle the changing times, increasing competition or faltering economy. Harmon credits the store's old-school approach to customer service. She does very little marketing, but satisfied customers spread the word.
Carol Beverly, owner of Indianapolis-based Kids Party Power, has used Costumes by Margie for over 20 years and believes it's better than ever.
"The costumes are better, there's more variety, and they work harder for their customers," she said.•
Please enable JavaScript to view this content.