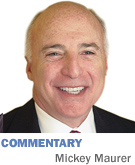 Like most veterans of the entrepreneurial wars, I have made mistakes. That propensity is magnified by the higher-risk profile I have chosen—startups and turnarounds, both treacherous undertakings.
To create a disciplined investment philosophy, I evolved from my experience, "The Ten Essential Principles of Entrepreneurship You Didn't Learn in School"—at least I didn't learn them in school. Over the course of 10 columns, I will feature each of these essential principles. This eighth installment is delivered to you as a PDF:
PDF—pace/discipline/focus
(The cheetah always eats the impala that doesn't know which way to run.)
In business school, students are taught decision-making based upon data. We probably all learned to prepare, analyze and evaluate financial projections and make business decisions, but never in my classes were the concepts of pace, discipline and focus discussed.
I know a real estate developer who, to paraphrase Will Rogers, never met a deal he didn't like. Apartments, condos, office buildings, shopping centers—he did them all. Now he's dealing with foreclosures, lawsuits and possible personal bankruptcy. He said, "If the economy had not tanked, I would have amassed riches untold. How was I to know?" He is partially correct. The economy was a factor, but he may have been able to prevent his current disastrous position had he not made the mistake of PDF.
Even if you believe in an investment, measure the downside risk and ask yourself, "What is the worst reasonable outcome?" Then ask, "In light of all my activities, am I prepared for this scenario? Do I have the personal resources to sustain me through this downside situation?" If the answer is no, you should slow the pace of your investments. The race does not go to the one who makes the most deals. If you make only one or two sound investments a year—and if you live a long time—you will be one of the richest people in Indiana.
It takes discipline to make a pace decision—to pass up an opportunity with upside potential. Among the guilty are real estate developers, many of whom either make no pace analysis or fail to include general economic circumstances in that calculation.
Too many businesspeople want to reap the harvest before it is ripe—a mistake of discipline. I always operated my businesses with a philosophy perhaps too conservative for most. I did not distribute money out of an investment until the loan had been completely paid or nearly so, whether it was cable television, radio stations or real estate. By the time I sold those properties, they were encumbered by little or no debt. Drive the Ford—buy the Lexus later.
Pace mistakes often manifest themselves in focus mistakes. Focus also requires discipline—the discipline to limit your business activities to what you can manage competently. When a business is in a vulnerable stage, some owners have a desperate tendency to make up for deficiencies by branching into unrelated endeavors when they should be concentrating at home. I have seen otherwise sane businesspeople enter into the strange (to them) arenas of restaurants, auto racing and rock-band promoting. They should be focusing on a healthy bottom line in their own businesses before taking a flyer.
PDF: pace, discipline and focus—did you learn that in school?
____________
I thought you might enjoy fan mail I received from gentlemen members of the Highland Country Club in response to my last column.
"You are indeed a bigoted Racesist [sic]", and, "You see, Mickey, its [sic] dumb asses like you who don't get the facts and make comments about people and clubs; is what is wrong with this world."
In contrast, I respect the approach of two other members who made cogent points without personal insults and I apologize to the Highland members for painting them all with too broad a brush.•
__________
Maurer is a shareholder in IBJ Corp., which owns Indianapolis Business Journal. His column appears every other week. To comment on this column, send e-mail to mmaurer@ibj.com.
Please enable JavaScript to view this content.