Is it fair to review a restaurant when it is trying to serve a packed house of customers who all have arrived and leave at roughly the same time?

Of course, it isn't.

But I'm going to do it anyway because, under such potentially adverse conditions, I was served an outstanding meal when I visited The Jazz Kitchen recently to see The Max Weinberg Big Band (see thoughts on the show itself at www.ibj.com/arts).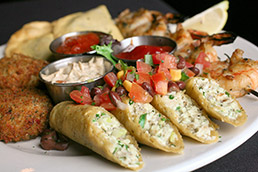 For a taste of Jazz Kitchen offerings, start with the Appetizer Sampler featuring crab cakes, shrimp and more. (IBJ Photo/ Perry Reichanadter)
The appetizer side of The Jazz Kitchen menu includes Homemade Crab Cakes ($10), Grilled Shrimp Cocktail ($10), Taquitos de Speed ($9) and Jamaican Patties ($9). But you can try them all on the Appetizer Sampler ($22). Well, usually. The kitchen was out of the Taquitos, but was more than willing to supplement our already abundant platter with extra shrimp. The Crab Cakes were moist and marvelous—even better with Creole mayonnaise. The flaky Jamaica Patties were fried just right and filled with flavorful ground beef. And the shrimp had the added bonus of a tomato horseradish that indicated care that really matters when you are eating in a dark space.

The menu also includes Filet Mignon ($24), Honey Bourbon Glazed Pork Chop ($16) and a nice range of other seafood and pasta dishes. I didn't have the patience to wait for the Paella ($38 for a two-person serving). It's been years since I've done it, but I still remember the delicious combination of shrimp, scallops, sausage, chicken, saffron rice and more that few eateries here even attempt. But you have to give the kitchen at least an hour's warning so, instead, I had Satchmo's Etouffee ($13), with chicken and andouille sausage in a strong, dark sauce that was even better the next day when I took care of the leftovers.

There are pizzas and burgers as well, but the Jazz Kitchen doesn't slouch on these familiar bar staples. Our JK Bistro Burger ($9) consisted of one-half pound of never-frozen ground sirloin direct from L.E. Kincaid & Sons Meat Market on nearby Illinois Street. Served on a corn-dusted bun, it's one of the city's best burgers.

With the concert over, we rushed through the White Chocolate Blueberry Bread Pudding that deserved to be savored. Yes, it's as good as it sounds. Outside, another crowd was already lining up to hear the music—and test the kitchen.

Note: If you are a Jazz Kitchen newcomer and want to sample both the food and music, stop in on Mondays, when there's usually no cover charge. On Nov. 1, that means saxophonist Frank Glover and his new group Kilho. On the 8th, pianist Gary Walter and the Icarus Ensemble perform. For a full schedule—and a menu—visit www.thejazzkitchen.com.•

__________

First in our month-long series of reviews of double-letter restaurants.