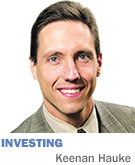 The stock market comes through once again. The experts spoke, surveys were held, the common man had his say and, in the end, it's the greatest predictive tool known to man left standing.
You want a better understanding of the future? Look to the stock market, it will tell you everything you need to know.
The heavy selling that hit equity markets in the spring and summer of 2010 brought the Dow Jones industrial average below 10,000 for a few weeks. You may recall this as the period when the double-dip mentality was firmly entrenched in our everyday conversation. Americans were worried that big government spenders and high taxers were going to hold power in Washington, leaving the economy and employment picture to keep sputtering along.
The stock market knew different, though. If stocks keep moving higher during the earlier stage of a bull market, it means economic conditions are going to improve. Well, long before the election, the Dow not only soared back above 10,000, but it is currently hanging at almost 11,200. Talk about a statement!
Over the last few weeks, you have probably heard plenty of talk about how political gridlock is bad for the economy and will not help the employment situation at all. Yale University political scientist Jacob Hacker says we are going to face a period of drift.
I appeared on CNBC last week with Christian Thwaites of Sentinel Asset Management who echoed similar thoughts. He said with gridlock, the politicians won't be able to get anything done. That is exactly the point. Don't you think they've done enough to us already?
After undoing a few of the worst legislative pieces in American history that were passed earlier this year, I don't want them to do anything. We're Americans. We'll do it for ourselves. The stock market, economy and the job market will keep improving as long as that thought runs the show.
As I've spent the last few months listening to the stock market and blissfully knowing the future (all you critics who read my column, please relax and take that statement with a grain of salt), I've noticed a growing number of experts who are confused and confounded by the rising stock market. They refuse to believe what their eyes are telling them and they certainly don't believe it can continue. So, they hem and haw and give you an explanation on one hand and some half-hearted answer on the other.
Don't listen to them. Ignore the calls of the cautious. They'll turn bullish in a year when the stock market is even higher. By then, it will be almost time to sell.
With the election over, the stock market should, for the most part, keep trending higher for the next few months at least, and possibly much longer. There is a possibility, however, that the next few weeks could be a little dicey.
You may have heard an old Wall Street saying that goes, "Buy the rumor, sell the news." Now that the news of a Republican victory is here, shorter-term traders may sell and take some profits.
As I mentioned earlier, the markets knew the outcome beforehand and there are some profits to be had. I don't expect to see anything nasty, maybe in the 3-percent to 8-percent range. And even that may not come to pass.
Despite a fragile short-term condition, there was so much negativity built up over the last few months that this market could keep cranking higher for another 10 percent on the upside. The best strategy in a situation like this is to get some exposure, and add to it on dips.•
__________
Hauke is the CEO of Samex Capital Advisors, a locally based money manager. His column appears every other week. Views expressed here are the writer's. Hauke can be reached at 203-3365 or at keenan@samexcapital.com.
Please enable JavaScript to view this content.