A city investment in the $100 million Conrad Indianapolis project has begun to pay dividends four years after the luxury hotel made its debut.

The privately held company that developed and owns the 23-story project has made three payments totaling $85,680 this year to the Metropolitan Development Commission.

The city put up $25 million for the hotel, restaurant and condo development at the corner of Washington and Illinois streets, including $3.75 million in exchange for the economic equivalent of an 8-percent stake.

The city received the most recent payment of $4,080 in October after payments of $44,800 in June and $36,800 in July, said Deron Kintner, executive director of the Indianapolis Public Improvement Bond Bank.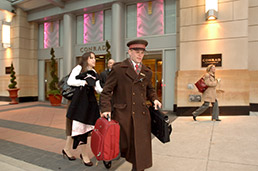 A bellhop carries luggage outside the Conrad Indianapolis, now profitable in its fifth year. (IBJ File Photo)
The project agreement gives the city a share of any dividends, proceeds from financing, or distributions from a sale of the hotel. The recent payments fall into the category of dividends from the hotel's operation.

If the 2010 payments indeed represent an 8-percent share of dividends, Conrad's owners—a partnership of Kite Realty Group Trust veterans Al Kite, John Kite and Tom McGowan—would have earned more than $1 million so far this year from the hotel.

The Conrad project also is due to pay about $461,000 in property taxes in 2010, records show, as its tax liability phases in over a 10-year abatement period. The non-residential portion of the project is assessed for tax purposes at $68 million.

McGowan said the hotel is performing "in line with our expectations" and the owners are paying the city as agreed. He declined to elaborate on the hotel's performance, citing competitive concerns. A spokeswoman for the hotel itself also declined to discuss the hotel's numbers.

The payments to the city suggest the 241-room hotel is in a strong financial position, said Mark Eble, a hotel consultant and regional vice president for Philadelphia-based PKF Consulting Corp.

"It certainly has to be good news, it seems to me," Eble said.

Conrad Indianapolis has exceeded expectations in the last few years after struggling to compete in a rate-sensitive market and establish an identity with travelers unfamiliar with the relatively young Conrad brand, Eble said.

In its first year, the Conrad lagged downtown's average occupancy of 65 percent by 15 points and also was plagued by an underperforming restaurant, du Soleil, since replaced by Capital Grille. The hotel in 2009 added a wine bar called Tastings.

The hotel earned national honors in 2009 and 2010, including recognition as a Top 100 U.S. Hotel in the Condé Nast Traveler Readers' Choice Awards, and as the No. 3 hotel in the United States on the annual Expedia Insiders' Select List.

The next concern is a new competitor, JW Marriott, which is scheduled to open in February 2011, and will feature a luxury component expected to go head-to-head with the Conrad.

It's not unusual for local governments to fill funding gaps for hotel projects, either through tax abatements or direct cash infusions, in the interest of attracting visitors and creating jobs. The city is pitching in more than $50 million toward the $450 million JW Marriott hotel complex.

But the hybrid model adopted for the Conrad was unusual. The original Conrad deal called for a direct subsidy of $21 million, but the developers came back after negotiations had ended and said they needed more equity to build the project.

Bart Peterson, the mayor at the time, didn't want to give the developers all the equity, so the parties settled on a so-called participation agreement that falls short of an equity interest.

The contract gives the city the right to review the hotel's books as opposed to receiving regular reports, in part to prevent the release of specific information that could put the hotel at a competitive disadvantage.

The city commissioned audit reports from Katz Sapper & Miller in 2007 and 2008 indicating no distribution was due, and the accounting firm has not yet delivered its report for 2009, Kintner said.

Bonds the city sold to fund its portion of the Conrad are backed by revenue from two parking garages: the Circle Block garage next door to the hotel and the World Wonders garage at Circle Centre.•