When it comes to old-school eateries, Mississippi Belle (2170 E. 54th St., 466-0522) goes to the head of the class. There's nothing pretentious about this understated, strip-mall storefront just west of Keystone Avenue. It's just good food, served with a friendly smile. That always earns an A in my book.

The menu reads like a cookbook full of Grandma's favorites: pan-fried chicken, slow-roasted pork, meatloaf, roast beef, marinated ribs. Liver and onions are served on Thursdays, whole fried catfish on Fridays, and Southern-fried pork chops on Saturdays.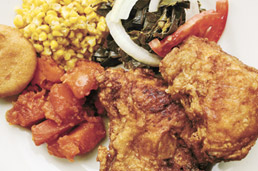 Fried chicken anchors a family-style meal at Mississippi Belle. Whole fried catfish is served on Fridays. (IBJ Photo/ Perry Reichanadter)
All the meals are less than $15 and are served family-style with a soft drink—no milk, oddly enough—hot-water corn bread, and sliced onions and tomatoes. Each diner picks a meat and the table chooses four sides to share. It's probably possible to order four sides and end up with something that's not swimming in butter or gravy, but really, what's the point? We went whole hog (and fowl), picking mashed potatoes, sweet potatoes, fried corn and greens to go with our fried chicken and pork chops. The greens narrowly won out over macaroni and cheese, so at least we knew where the high road was, even if we didn't exactly take it.

I don't regret a thing (with the possible exception of saying no to dessert, even though there's no way I could have finished it). Let's just say my first experience with fried corn—cut fresh off the cob and plopped in a skillet full of buttery heaven—definitely won't be my last. Sweet and mashed, the potatoes were starchy perfection. And the greens? Mmm, mmm good.

And then there was the meat. My chicken was fried crispy but still managed to stay juicy all the way to the bone—no small accomplishment when you invite your guests to "relax and eat as much as you want," as Mississippi Belle does. The pair of breaded pork chops were just as moist and tasty, avoiding the dreaded sogginess that can ruin fried food.

I was still working on my first plate of chicken (breast, wing, leg and thigh) when our server stopped by to tempt us with the daily pie selection, so I avoided eye contact and kept chewing. My companion, however, instantly ordered a slice of chess pie ($2.49), which reminded me of a slightly more substantial version of sugar cream. OK, so I took a bite. She ate the rest, I swear.

With our plates mostly clean, I headed up to the register with enough cash to cover our meals and tip. Credit cards? Not here. And if you need a receipt, well, just ask to keep your check. There's no extra charge for the grease stain.•

__________

Third in a month-long series of double-letter restaurant reviews.