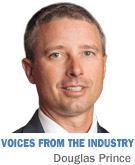 When I walked into the conference room last month, my clients thought they knew what was coming. This was a quarterly update meeting for their firm's retirement plan, so they expected thick stacks of paper reports and a lot of time flipping through pages.
When I handed each of them an Apple iPad tablet computer instead of paper, they got quiet. As I helped them open files and fill in passwords, they began to chatter enthusiastically. In no time, we were down to business, gliding from page to page, quickly accessing information that formerly would have required time spent leafing through papers.
Maybe it would make me seem more virtuous if I could say I was compelled to adopt this high-tech alternative by a deep-seated concern for the environment, but my initial motives were driven by efficiency and cost control. While it's hard at this point to pin down total cost savings, if we look at paper costs alone, I would estimate savings of $3,000 to $5,000 per year.
As a small business, we're continually striving to improve our services while maintaining or reducing our client fees, and technology has done a lot to help us accomplish this goal. Still, I am acutely aware that my industry is incredibly paper-intensive, and I can't ignore the environmental impact we make with our endless printing of reports.
This isn't my firm's first effort to reduce paper use. A few years ago, we quit printing copies of reports during the first few stages of creation and during the review process, opting instead to complete these tasks on the computer screen. More recently, we gave each of our employees a second computer screen so they could work more proficiently with more than one document without printing.
A few of our clients launched their own "go-green" campaign by requesting that they receive our reports by e-mail before quarterly meetings, so they could then review the content on their individual, employer-provided laptops. Other clients had similar requests for advanced electronic delivery in preparation for more group-oriented meetings in which reports are projected on a screen or whiteboard.
Our paper-saving campaign found new energy after I learned at a conference about a California firm that was using iPads for client reports. Impressed, I came back to Indianapolis and bought six iPads and told my team we were replacing paper reports.
Of course, making the shift to paperless meetings wasn't simple. Even as easy as the iPad is to use, we still experienced a learning curve, and we struggled with the usual Mac-PC issues. We had to find the right software and, because we're dealing with clients' financial information, we had to make sure all data was absolutely secure.
Through our learning process, we were able to identify the key benefits of embracing the iPad:
• Reduced environmental impact. In the financial services industry, everything has to be documented, reviewed, communicated and reported, often to various people. The iPad promises to be a major leap forward in paper reduction, saving an estimated 500,000 sheets of paper each year—and urging us to find other ways to conserve. For example, I'm switching to reading The Wall Street Journal and other publications online, a process that could eliminate the equivalent of a 6- or 7-inch stack of newspapers each week.
• Increased efficiency. Obviously, it's a lot more efficient to run your finger along an iPad screen to find information than to thumb through stacks of paper, and using the computers eliminates a lot of clutter. We can also record meeting notes in a more timely fashion.
• Cost reduction. The iPad isn't cheap, but the cost savings go well beyond the investment, and it continues to show up in a variety of places. For example, we've reduced newspaper costs as well as the costs associated with repeated printing, binding, shredding and filing.
• Quicker access to information. With the iPad, I can have immediate access to any information that's available on the Internet, as well as anything that can be quickly sent or found via the Web.
• Reduced stress on the body. When we were carrying paper to every meeting, our decisions about what to bring along often was dictated by how much we were willing to carry. With the iPad, I can bring volumes of information with no extra effort.
It didn't take long for me to see how these benefits manifested in that first client meeting with the iPad. I had worried that the clients might not understand the iPad, or might resist this approach—after all, change is difficult. But they grasped it quickly, enjoying the chance to control what they looked at, vary type size and scan information quickly. And they certainly seemed supportive when I explained the "green" impact the iPads would have.
Still, I do have to admit that, in one way, the iPad did inhibit efficiency slightly. More than once, I had to pause when one of our clients looked up and asked, "Can we keep these things?"•
__________
Prince is managing director of The Prince Group at Stifel Nicolaus & Co Inc. Views expressed here are the writer's.
 
Please enable JavaScript to view this content.