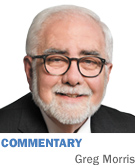 I'm tired of keeping my mouth shut. It's time to take a stand. As Dennis Miller says in some of his stand-up routines, "I hate to get on a rant, but … "

I've been saying for longer than I can remember that I can't believe how people dress these days. I'm talking at work, at events, at a funeral, at school, really just about anywhere.

Far too many times, I'll attend an event and notice folks who are dressed like they were getting ready to clean their garage or cut the grass instead of enjoying a night out.

Business attire at a fundraiser does not mean wearing something you might wear while fishing. Black-tie optional does not mean jeans, a corduroy sportcoat and loafers with no socks. A black tie event without the optional designation means you should be dressed in formal wear. Who knew?

At work, unless you are selling swimming pools, I really don't think flip-flops are acceptable. Yet, I see them. There are volumes of books and articles on proper dress at work, so I won't try to cover what is appropriate. If you are unsure of what it takes to dress for success, there are plenty of research materials available to help you.

Sloppy dress in a professional work setting reflects a sloppy approach to work. I realize this isn't always the case, but it is almost always the perception, and we know that perception becomes reality. Serious dress is a statement about who you are and reflects a serious attitude about your work.

I know the tech folks reading this are thinking I'm way off base. I acknowledge this particular business sector probably gets a pass, but I still say you should dress up your "tech attire" when dealing with customers face to face.

But seriously, what is going on here? At what point did we let our quest to be comfortable diminish the expectation of proper attire? If you get clothes that fit you correctly, they shouldn't be uncomfortable. What happened to wanting to look sharp?

I know I'm painting this picture with a broad brush and that many occupations have varying levels of expected dress. I'm good with that. If your job doesn't require traditional business attire, the same principles apply. Whatever proper attire is for your personal situation, it should be a simple matter of taking pride in your appearance. Too many times, that seems a lost art.

Let's get the money excuse off the table. You don't have to shop at Nordstrom, Saks, Brooks Brothers, Ann Taylor or any number of other high-end stores to dress appropriately. But, even in these stores, you can find great bargains. In addition, almost every retailer that sells clothes has ongoing sales with amazing discounts. The fact is, there's not been a better time in recent memory to take advantage of deep discounts on quality items than right now.

I suggest it's time to beef up your wardrobe. Men, your job is easy. Men have it so much easier than women. Ladies, I know it is more difficult to assemble the right clothes and accessories for each occasion. I can't even begin to advise you. But help is available if you seek it out.

I've attempted to use humor to illustrate my point of view, but I do want to get serious for a moment. I want to give a plug to an excellent endeavor here in Indianapolis … and that is the Dress for Success organization. Their mission is to promote the economic independence of disadvantaged women by providing professional attire, in addition to a network of support and the career development tools to help women thrive in work and in life.

Dress for Success Indianapolis helps women in need become self-sufficient by giving them the confidence and clothes needed to get a job. Then they follow up with the support they need to develop a career. It's no accident that proper attire is one of the cornerstones of helping these disadvantaged women achieve self-sufficiency. What a great program. I know they would appreciate your donation of time, talents and money.

In closing, you already know you only get one chance to make a first impression. So, let's raise the bar for what is appropriate attire for each occasion.•

__________

Morris is publisher of IBJ. His column appears every other week. To comment on this column, send e-mail to gmorris@ibj.com.