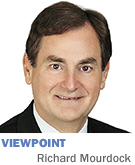 Soon, and for the first time in history, American retirees will be better educated than the American work force. Never before has a country "dumbed down" across generations like this.
Demographers tells us that, by 2018, our retirees will have more formal education than those who are still working. In a globalized world as complex and interconnected as ours, all our citizens need to have the skills and experience that come with higher education—whether that means technical schools, community college, or a traditional four-year institution. And we want to start here at home.
In Indiana, we find that students often have the drive, desire and grades to go beyond high school, but they struggle to keep up with the cost of tuition and student loans. We also find far too many students who have given up on the dream of a higher education simply because they think it unaffordable.
The evidence is hard to ignore: According to the U.S. Census Bureau, Indiana ranks in the bottom five states in percentage of adult residents with a bachelor's degree. This low level of college graduation is producing a work force that is not prepared for the jobs of the 21st century, a reality that makes it difficult to attract industries that will provide the level of employment and salaries we desperately need.
Fortunately, there are groups working to do something about it. In September, the second annual Indiana Forum on Financial Access to Higher Education was held. The nearly 30 participants (representing business, education, not-for-profit and government sectors), discussed and developed concrete steps that can be taken to help make a higher education more attainable for all Hoosiers.
Of the several themes that emerged during the wide-ranging and productive discussions, the need for a change in culture across the state became clear. From urban areas to our most rural counties, all must be pulling toward the common goal of getting more students to advance to—and graduate from— higher-learning institutions.
We also need to do a better job of showing students that, even if they don't attend a traditional four-year college, there are still plenty of opportunities to continue their education. Trade schools, community colleges and other post-secondary institutions all offer valuable training and work force development. In an economy as troubled as ours, it is more important than ever for employees to update their skills.
The educational community, community groups, not-for-profits, churches and others must also play a part in teaching all Hoosiers the importance of saving for college as part of an overall effort to improve financial literacy. Students in the eighth and 12th grades are now required to study the topic in schools, but lessons on saving, investing and spending are important for everyone to learn.
Employers should play a critical role in advancing our vision for financial literacy relevant to education. Businesses can offer Indiana's CollegeChoice 529 savings plan to their employees as a benefit, and the tax-advantaged plans can be funded through automatic payroll deductions.
Soon, CollegeChoice plans to offer an additional way to save for college: certificates of deposit, which are insured by the Federal Deposit Insurance Corp. Hoosiers will be able to apply the tax credit normally offered to those who invest in mutual funds to those who are simply buying a certificate of deposit at their local bank.
The long-term prosperity of our state and country depends upon raising the number of citizens with advanced educational degrees. High school diplomas are no longer a passport to success in the 21st century. We cannot solve the educational dilemma easily, but we must all be part of the solution. Encouraging everyone to save for their education is an important early step.•
__________
Mourdock is state treasurer of Indiana.
Please enable JavaScript to view this content.