Allison Transmission and one of its key suppliers must keep working together, despite a sour relationship, the Indiana Court of Appeals has ruled.
Speedway-based Allison has been battling Freudenberg-NOK since late 2009 over a warranty claim for defective parts. The dispute reached a boiling point early this year, when Freudenberg, which is Allison's sole supplier of bonded piston seals, threatened to stop shipping.
Calling the threat a "nuclear option," Allison claimed a stop-shipment essentially would shut down an operation that works on military vehicles and employs 2,700 people in Indiana. A Marion Superior Court judge last March issued an injunction to keep the parts coming, but Freudenberg appealed—a ruling the appeals court affirmed in late September.
The two sides continue to hash out the multimillion-dollar defective-parts issue in the lower court.
Allison spokeswoman Melissa Sauer would not comment on pending litigation, but said Allison is running at full production.
"So we don't have any issues," she said.
Freudenberg-NOK is Allison's sole supplier for 28 parts, most of which are bonded piston seals, commonly called O-rings.
The court battle offers a glimpse at the amount of time and money both sides have invested in custom-making a small and inexpensive, yet crucial part.
At one point, the Court of Appeals noted, an Allison representative said the tools that are developed to make the parts cost as much as $1 million. Allison has said it could take as long as 22 months to find a new source, a claim Freudenberg disputes.
Allison didn't specify in its initial claim how much it's seeking in damages, but Freudenberg's appeals court filing said it amounted to a "multimillion-dollar" warranty claim. The company says Allison paid less than $10 per part, yet wants to recover $5,000 per failed transmission.
Sauer said she could not comment on whether Allison is seeking a new supplier.
Sarah O'Hare, Freudenberg-NOK's vice president of human resources and communications, said the Plymouth, Mich.-based company wants to keep Allison as a customer.
Although the case is unresolved, she said, "Two reasonable corporations can disagree, and there are channels to navigate that. It doesn't preclude us from wanting to work hard to obtain contracts in the future."
Allison is the largest maker of automatic transmissions for commercial trucks, but it's unclear how it ranks among Freudenberg's customers. The company makes O-rings for a number of industries.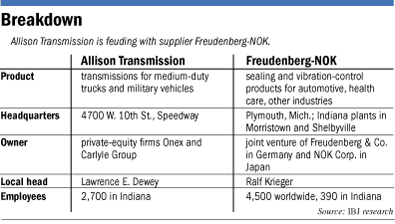 "The question becomes, 'Is Freudenberg also supplying someone else? Is Allison taking all of Freudenberg's capacity?'" said Steve Tam, commercial-trucking analyst for ACT Research in Columbus.
The Court of Appeals ruling threw a wrench in Freudenberg's efforts to exit its relationship with Allison.
While Allison expects to receive some parts through December 2011 and others through December 2013, Freudenberg argues the relationship exists on an order-by-order basis.
The two companies operate on so-called "scheduling agreements," which don't specify future quantities. Because of the lack of specifics, the supplier's attorneys argued, the agreements don't amount to a "requirements contract."
The appeals court shot down that notion, saying, "the terms and conditions specifically require FNOK to deliver goods 'in such quantities' as Allison directs in subsequent releases."
The court also rejected Freudenberg's argument that Allison could find another supplier at any time. A "plain reading" of the standard agreement, the court said, "shows that Allison was obligated to buy exclusively from FNOK."
The case could cost Freudenberg millions.
Allison alleges that seals received from October 2007 to February 2009 were defective and caused "widespread failures in Allison transmissions around the world." From 2007 through 2008, Allison produced more than 100,300 transmissions, each containing two of the parts.
Freudenberg denies the parts were defective, though it did change its manufacturing method in February 2009. Allison says it didn't experience any defects after that change. Allison wants Freudenberg to reimburse its costs, plus damages.
The suit Allison filed in September 2009 was the second it had brought against the supplier.
"Freudenberg decided it no longer desired, and in fact cannot practically afford, to do business with Allison," the company said in its appeals court filing.•
Please enable JavaScript to view this content.