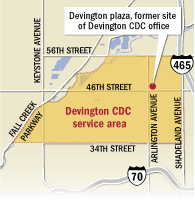 Devington Community Development Corp. and its leader, Sharon Arnold, tried to tackle a host of ills in their neighborhood before closing the CDC's doors this month.
Bingo games three nights a week drew elderly people out for socializing. A large community garden taught kids about agriculture. A literacy center took in troubled high school students. And, Arnold says, ex-prisoners found jobs.
At the same time, the CDC at 46th Street and Arlington Avenue became embroiled in disputes with a local minister, as well as its landlord at Devington Shopping Center. The charity, which the landlord accused of failing to pay rent, vacated its offices, bingo hall and kitchen in late October.
One local not-for-profit executive who partnered with the CDC said she was pleased with its work this spring and summer.
"It was a very good and positive start," said Diana Daniels, executive director of the National Council on Educating Black Children, an Indianapolis-based group that put one of its literacy centers at the Devington CDC's offices. "I don't know what happened out there."
Daniels said her not-for-profit earlier this year provided more than $7,000 for the center, which hosted 15 teens from around Marion County who'd been expelled from their schools. The education group recruited a counselor as well as a teacher to work with the teens on reading skills.
The group gave Arnold $1,800 to start the program again this fall, but Daniels said she didn't realize the CDC was in a dispute with its landlord. When Daniels' staff went by to visit in late October, the space was vacant.
The CDC had occupied 18,000 square feet, rent-free, in the shopping center since November 2008. Anchored by a Kroger, the plaza has a few small-business tenants and a vacant storefront on its east end.
The center's owner, Edna Salim of Mineola, N.Y., said she and her brother-in-law offered the free office space with the understanding Arnold would provide a donation receipt for tax purposes. According to an eviction lawsuit the landlord filed last summer, Arnold never executed the lease nor provided a donation receipt. She also had signed leases in October 2009 for more than 8,000 square feet of additional space to use as a bingo hall and kitchen, for which the CDC owed $5,000 per month.
Except for one $3,000 payment, Salim said, the CDC failed to pay rent on the bingo hall, despite a steady business. Visiting Indianapolis last spring, Salim said, "I saw that it was really, really crowded. For a Tuesday night, it was packed. She never paid anything."
With Salim's company, Indianapolis Real Estate Holdings, demanding back rent and $12,000 a month going forward, the CDC reached an agreement Oct. 27 to vacate all its space by Nov. 1.
Arnold, who is working from her home, said the CDC will start some of its programs anew in January, assuming it can work out a lease with Indianapolis Public Schools for the former School 92 on 42nd Street.
The bingo hall, which advertised nightly payouts of $5,000, was indeed popular, but Arnold said it wasn't "rolling in dough." She blames the shopping center maintenance man for convincing the landlord that its not-for-profit tenant was taking a profit.
"A little over $1 million went through there in 11 months," Arnold said. "Out of that $1 million, you've got all these expenses you've got to pay. We used it as a social thing for elderly people."
Arnold said that after paying expenses of $12,000 to $20,000 a month, just $6,000 was left for charitable purposes. She said she gave the money to neighborhood residents for items such as bus passes or utility assistance.
The Devington CDC will have to file an annual report with the Indiana Gaming Commission, but that isn't yet due. (Five other charities in the state with revenue of $1 million or more from bingo licenses reported average expenses of $27,000 a year.)
The CDC's legal troubles didn't end when it closed its doors at the shopping center. A local attorney and minister, Richard Jones, filed suit in Marion Superior Court in October against Arnold and the CDC's directors on behalf of 26 plaintiffs.
Among the plaintiffs are Marion County City-County Councilor Paul Bateman, whose district serves the same part of the city, and Arnold's foe, maintenance man Todd Wilson, a resident of Fortville.
Other plaintiffs are members of local churches, business owners or associations, which, according to the CDC's bylaws, should be allowed to become voting members, Jones said.
"Sharon Arnold, the executive director, turned them away," Jones told IBJ. "She is not allowing voting membership."
The lawsuit, which includes vague allegations of mismanagement, asks the court to overturn the CDC's current leadership.
Arnold said the suit is the result of a feud that started in March when she asked Jones, Bateman and another plaintiff, Elaine Walters, to leave the portion of the CDC's office space they'd been using for the past year.
The eviction suit the CDC filed against Jones and Rick Jones Ministries in July doesn't mention Bateman or Walters.
Efforts to reach neighborhood residents who serve on the CDC's board were unsuccessful.
'A real CDC'
Before Arnold decided to make it her life's work in 2008, the Devington CDC was a little-known organization that owned a four-unit apartment building and offered a $500 scholarship for Arlington High School students, tax returns show.
Indianapolis has more than a dozen active CDCs, which serve low- and moderate-income neighborhoods and typically take the lead on rehabbing real estate. The Devington organization, launched in 1979, is not a member of the Indianapolis Coalition for Neighborhood Development, which fosters collaboration among CDCs.
Arnold, a former general contractor who had served on the CDC's board for several years, said she was appointed executive director in February 2008. She said she told her fellow board members at the time, "'I'm going to run it as a real CDC.'
"They said, 'Fine, go find the funding,'" she recalled.
The organization's tax return for that year shows similar activity to years past with $18,808 in revenue and $34,000 in expenses, including depreciation. Arnold, reached at home by phone, said she would e-mail a copy of the CDC's 2009 tax return, but did not.
Arnold said she and Deputy Director Naeemah Jackson have not drawn salaries but did receive program-management fees through various grants the CDC landed this year. Those grants included $39,000 from the city of Indianapolis for crime prevention and a $100,000 Community Development Block Grant for home repair.
City spokeswoman Jessica Higdon said only a portion of the CDC's grant, $19,500, has been released, pending the completion of an annual review.
Under the block grant, Devington CDC repaired eight homes at an average cost of $12,000, said John Bartholomew, a spokesman for the Department of Metropolitan Development. He said the city turned down the CDC's application for $200,000 in 2011.
Arnold said the Devington CDC hasn't folded. She hopes to start a class for ex-offenders in January at the vacant IPS School 92. IPS facilities chief Steve Young said the school board may consider a long-term lease for a nominal rent with the understanding that the CDC would be responsible for maintenance costs, which he estimated at $30,000 a year.
A new calling
Arnold said she decided to become involved in community-development work after having a serious accident in September 2005 and spending the next year on the mend.
"I'm not supposed to be here," she said. "The Lord said, 'I got something else for you to do.'"
Arnold previously ran a home-building company, Cardinal Enhancement Corp., which worked on the first phase of the Fall Creek Place redevelopment. City officials shut Cardinal out of future phases of work after it didn't meet performance deadlines. The company filed for Chapter 7 bankruptcy in 2003.
The next year, Arnold said, she worked in the mayor's office in Lawrence but left that summer to care for her aging parents. The Indianapolis Star had reported in June 2004 that she and her husband, William, formerly the city's deputy controller, were delinquent on their property taxes.
The chance to run the CDC, which had been led by state Rep. John Bartlett before he ran for office, arose just as Arnold was getting her life back in order, she said. She was "ready to step up to the challenge," she said.
Not everyone in the neighborhood was impressed with Arnold's leadership. The Rev. Barry Dixon of Family Calvary Church said he was invited to meet Arnold and other CDC board members to see if his church could get involved in the ex-offender re-entry program.
Dixon said the meeting left him with a fuzzy picture of the CDC's activities.
"We didn't see any structure in it," he said. "We thought they wanted more of a financial partner, rather than volunteers and things of that nature."•
Please enable JavaScript to view this content.